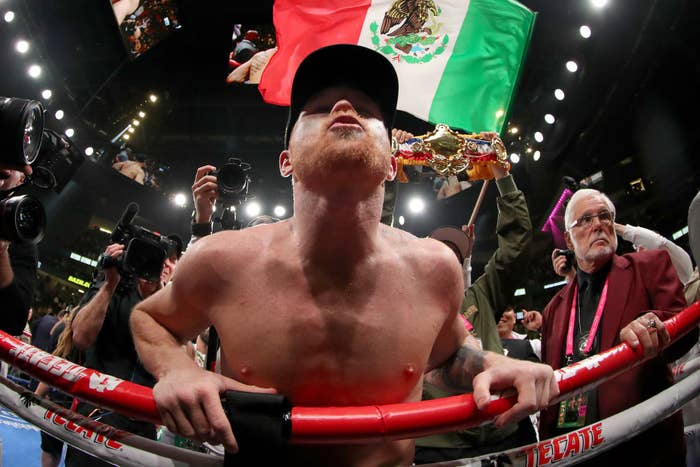 Andre Rozier, Danny Jacobs's trainer, kept telling his fighter, "Don't wait too long." Jacobs had a history of starting off slowly in some of his biggest fights. It happened in his fight with Gennady Golovkin in 2017. It happened again Saturday night against Saul "Canelo" Alvarez. And in the same way the sluggish start may have cost Jacobs against GGG, it definitely cost him against Canelo.
In front of 20,203 at T-Mobile Arena, Alvarez was a winner by unanimous decision over Jacobs. Two judges scored it 115-113 in Alvarez's favor while the third scored it 116-112 for Alvarez who became the unified middleweight champion of the world adding Jacobs's IBF belt to his collection alongside the WBA and WBC belts he already held. Complex Sports scored the fight 115-113 in favor of Alvarez.
Alvarez (51-1-2, 35 KOs), one of the top five pound-for-pound boxers in the world, was dominant during the early rounds and was in clear control through the first half of the fight. He kept backing Jacobs up, who had trouble landing much of anything through the first six rounds. Similar to what happened in his showdown with GGG, the fight changed for Jacobs in the second half when he became much more aggressive. The Brooklyn native started landing hard punches and excellent combinations. He began to control more of the ring, and quickly won several rounds to make it close as it entered the championship rounds. Jacobs arguably landed the hardest shot of the fight when he clocked Canelo in the ninth round that had Canelo's corner concerned. But Canelo showed yet again he has a granite chin and it was too little, too late for Jacobs as Canelo closed like a champion.
"It definitely took me a couple rounds to get my wits about me, to figure out his rhythm, because he's a pop shotter," Jacobs (35-3, 29 KOs) said. "He was a fast guy, very slippery."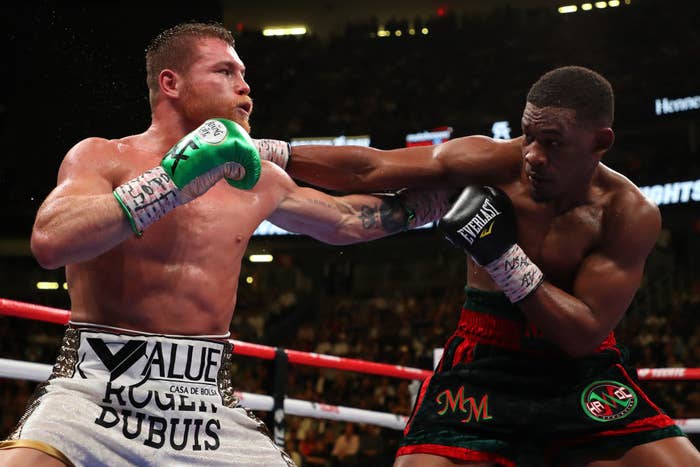 Entering the fight as the nearly 6-1 betting favorite, Canelo headlined yet another Cinco de Mayo weekend boxing main event in Sin City and the crowd was intensely partisan toward the Mexican native. They cheered wildly when he was announced the winner and the controversy that hovered around the fight early Saturday turned out to be a non-issue.
Jacobs reportedly failed to meet a contractual weigh-in. ESPN said Jacobs came in 3.6 pounds over an agreed 170-pound re-hydration limit, subjecting him to a heavy fine believed to be near $1 million. Jacobs was scheduled to earn at least $10 million for the fight.
"I'm just a naturally big middleweight," Jacobs said, acknowledging that he incurred a hefty fine for the infraction. 
Where Canelo goes next remains to be seen. Golovkin, who returns to action June 8th, was in attendance and has stated his desire to fight Canelo for a third time. Most boxing fans want to see a third installment of their rivalry that produced two incredibly dramatic fights, including the controversial second fight that Canelo narrowly won. But since Golovkin is no longer a champion, that could complicate matters since Canelo appears to be over the idea of another fight with a belt-less GGG.  
"No, for me, it's over," Alvarez said. "But if the people want another fight, we'll do it again, and I'll beat him again."
Meanwhile, a rematch with Jacobs wouldn't be the worst thing since the fight turned out to be a good one. It's probably not going to happen so whoever Jacobs takes on next he knows exactly what he needs to do to if he expects a different result.