Aaron Judge Is the Rare New Yorker Who Liked Living in Times Square
We caught up with the reigning A.L. Rookie of the Year, Yankees slugger Aaron Judge, to talk about the upcoming season and how living in Times Square last year wasn't as bad as many would think.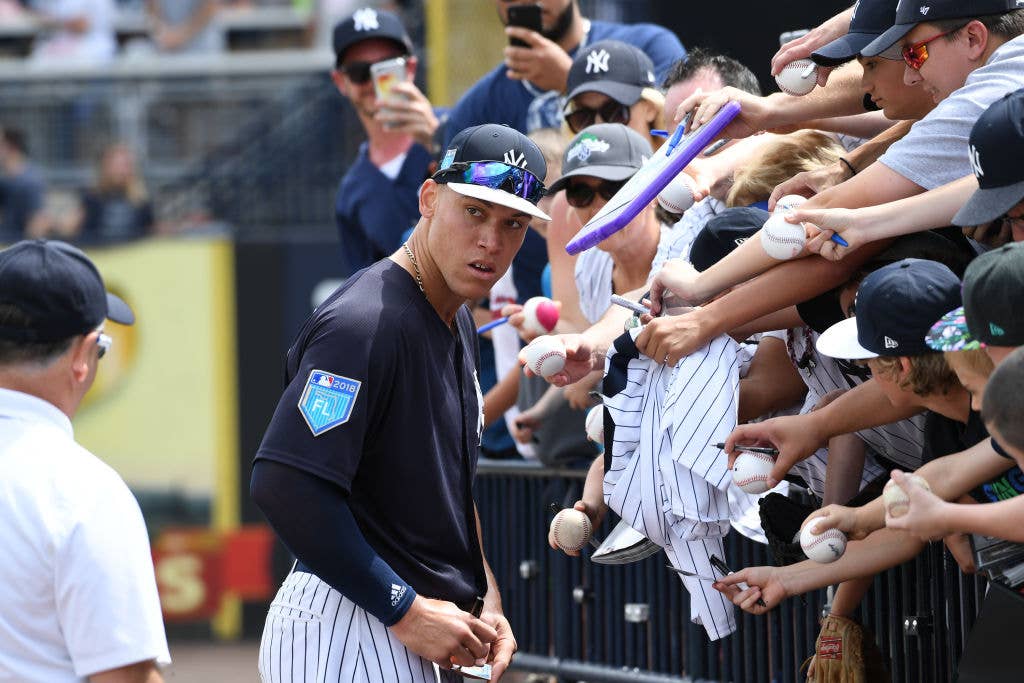 Getty
TAMPA, FL - MARCH 18: Aaron Judge #99 of the New York Yankees signs autographs before the spring training game between the New York Yankees and the Miami Marlins at George M. Steinbrenner Field on March 18, 2018 in Tampa, Florida. (Photo by B51/Mark Brown/Getty Images)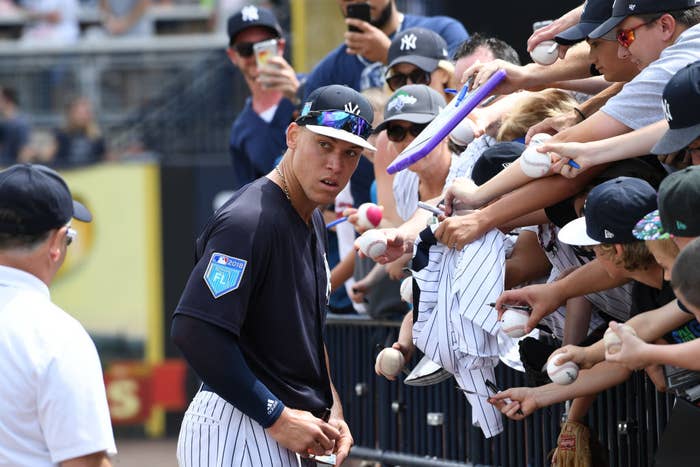 The idea is preposterous, considering how large of a human being he is and the fact he was in the middle of a breakout season playing for baseball's most famous franchise. But, last year, if there was one place where Aaron Judge could roam the streets of New York freely, it was Times Square.
Seriously. Times Square. The over-crowded, Disney-fied neighborhood most New Yorkers avoid like the plague and the same one the 2017 A.L. Rookie of the Year—shockingly—enjoyed calling home.
"I enjoyed it just because there were so many tourists that not a lot of people recognized me," says Judge. "People didn't know who I was. I could walk around Times Square whenever I wanted and not really get bothered too much." 
Three weeks before his sophomore season begins with the Yankees, Judge is explaining over the phone why he really didn't mind the Crossroads of the World. However, he's happy to report that his commute to Yankee Stadium is easier now that he's relocated to another area of town. And the 25-year-old Judge is also hyped to announce he's one of the newest Adidas athletes, joining an ever-growing list of stars taking their talents to the Three Stripes family. But Judge, all 6'7" and 282 pounds of him, is by far the biggest and baddest slugger Adidas has on its baseball roster, and he'll debut some premium gear when the Yankees open their highly anticipated 2018 season Thursday in Toronto against the Blue Jays. 
"We can't give it away any spoilers yet, but we've got some things in the works that will be pretty nice," says Judge, who belted an American League high 52 home runs last season. 
We caught up with the Yankees slugger to chat about why he signed with Adidas, which teammate has the hottest sneaker game, his reaction to the Bronx Bombers trading for Giancarlo Stanton, and why living in Times Square wasn't that bad. 
(This interview has been edited and condensed for clarity.) 
Tell me why you've taken your talents to Adidas and switched things up from last year.
I just felt like Adidas was a brand that really fit me. Not only are they on the field, but off the field stuff. Lifestyle really jumped off the page with Adidas about me. They're not only there to tell my baseball story, but my personal story. It really just drew me in. 
So tell me what you're going to be wearing on the diamond this season.
We've got some things in the works. We can't give it away any spoilers yet, but we've got some things in the works that will be pretty nice. 
Some things for Opening Day and beginning of the season.
Some cleats and stuff in the works right now that should be good to go for Opening Day, so I'm looking forward to it.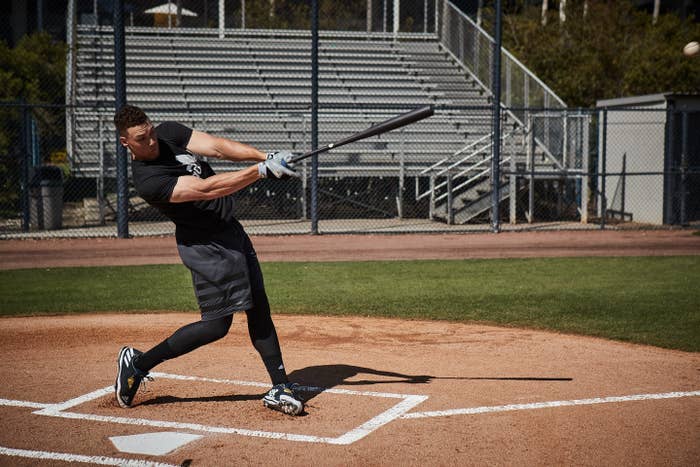 The roster of athletes and artists that Adidas has is pretty impressive. Which ones inspire you the most?
I think about two guys in football—Dak Prescott and Aaron Rodgers—who are at the top of their game right now in the sport they play. Those are two guys I'm looking forward to meeting and working with in the future. 
Now that you're stepping up your style game, who has the best collection of kicks on the Yankees? 
Aroldis Chapman. He's always rocking a new pair of shoes, new pair of something he's rocking to the field every day.
This time last year, it's crazy to think you were fighting for a roster spot. Then you blew up. Give me an idea of how much your life has changed over the past 12 months.
To be honest. It hasn't changed much. I just try and keep everything simple. In my world, nothing's really changed. It's just business as usual. The biggest thing is going out to eat, walking the streets, instead of somebody saying, "Hey, you're a tall guy. What sport do you play?" It's kind of like, "Hey, Aaron, what's going on?" That's the biggest difference. 
I would guess it's a lot harder to walk around New York these days compared to last year when you did that bit for Jimmy Fallon and nobody recognized you.
It's a little tougher, but New York's a busy town, busy city. Usually people don't have time to sit down and talk your ear off. It's kind of a quick, "Hi, Aaron, how's it going" or "Hey, Aaron, good game." It's not too bad. 
Now about this season. The addition of Giancarlo Stanton is all the talk with you guys. Tell me how you reacted when the Stanton trade was going down?
[Yankees general manager Brian] Cashman gave me a call a couple of days before when it was in the works and asked me what I thought about bringing in Stanton. I said anytime you can bring in an N.L. MVP and add him to your team why not? I was excited for what he's going to bring to this team. He's a complete player. He's a great clubhouse guy. He's going to fit right in with the team we have. 
Who hits the ball harder?
That's a tough one right there. I probably have to give it to Stanton.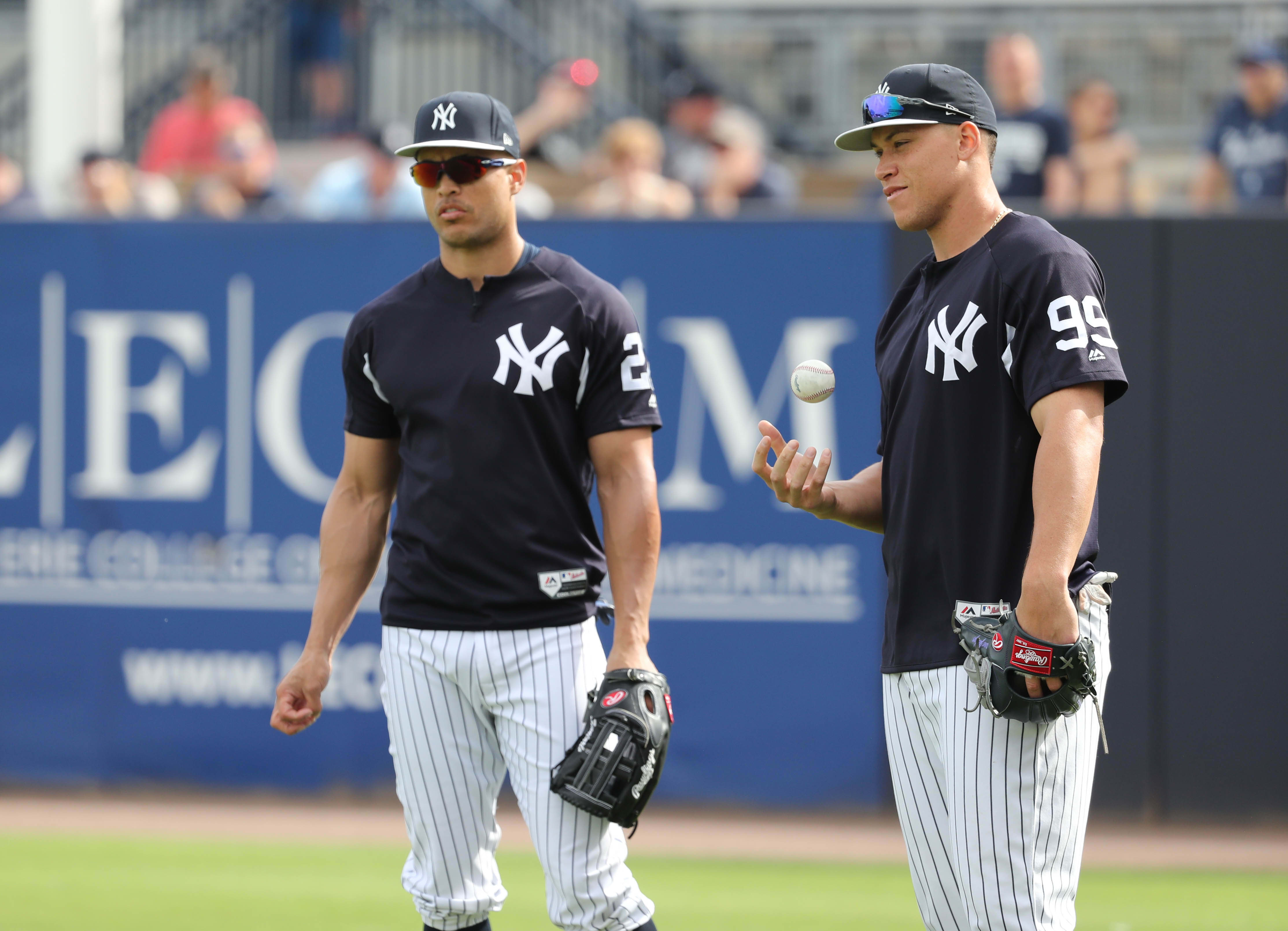 One of the main talking points of this off-season was changes to the pace of play. You're a guy that skews younger than most stars in baseball. In order to attract younger fans and for the health of the sport, do you think significant changes need to be made over the next 5-10 years?
To be honest, I don't have much to say about that right now. 
You're sticking with No. 99. Generally after guys come up and establish themselves, they change numbers. Why haven't you changed your number?
I didn't change my number because that was the first number, the first uniform the New York Yankees gave me. Who would turn down a jersey from the New York Yankees? I would never say, "Hey, I don't like that jersey, give me another one." It fit me and I just kind of rolled with it. 
Few more New York questions. I know last year you lived in Times Square, right?
For the most part, yeah. 
Did you move out and pick a better neighborhood?
Yeah, I moved out, got a new place in the Murray Hill, Midtown area. 
A little bit easier commute coming from the East Side of Manhattan than Times Square.
Oh yeah. Much easier.
Who gave you the idea to live in Times Square?
No one really gave me the idea. That's just all I knew. I got called up at the beginning of the season and they just put me in a hotel and I kind of stayed. Going into the season, I never really knew what was going to happen so I just kind of went back to what I knew, which was Times Square.