Dodgers' Trevor Bauer Under Investigation for Alleged Assault (UPDATE)
Trevor Bauer of the Dodgers, who is reportedly being investigated by the Pasadena Police Department, is denying allegations that he assaulted the woman.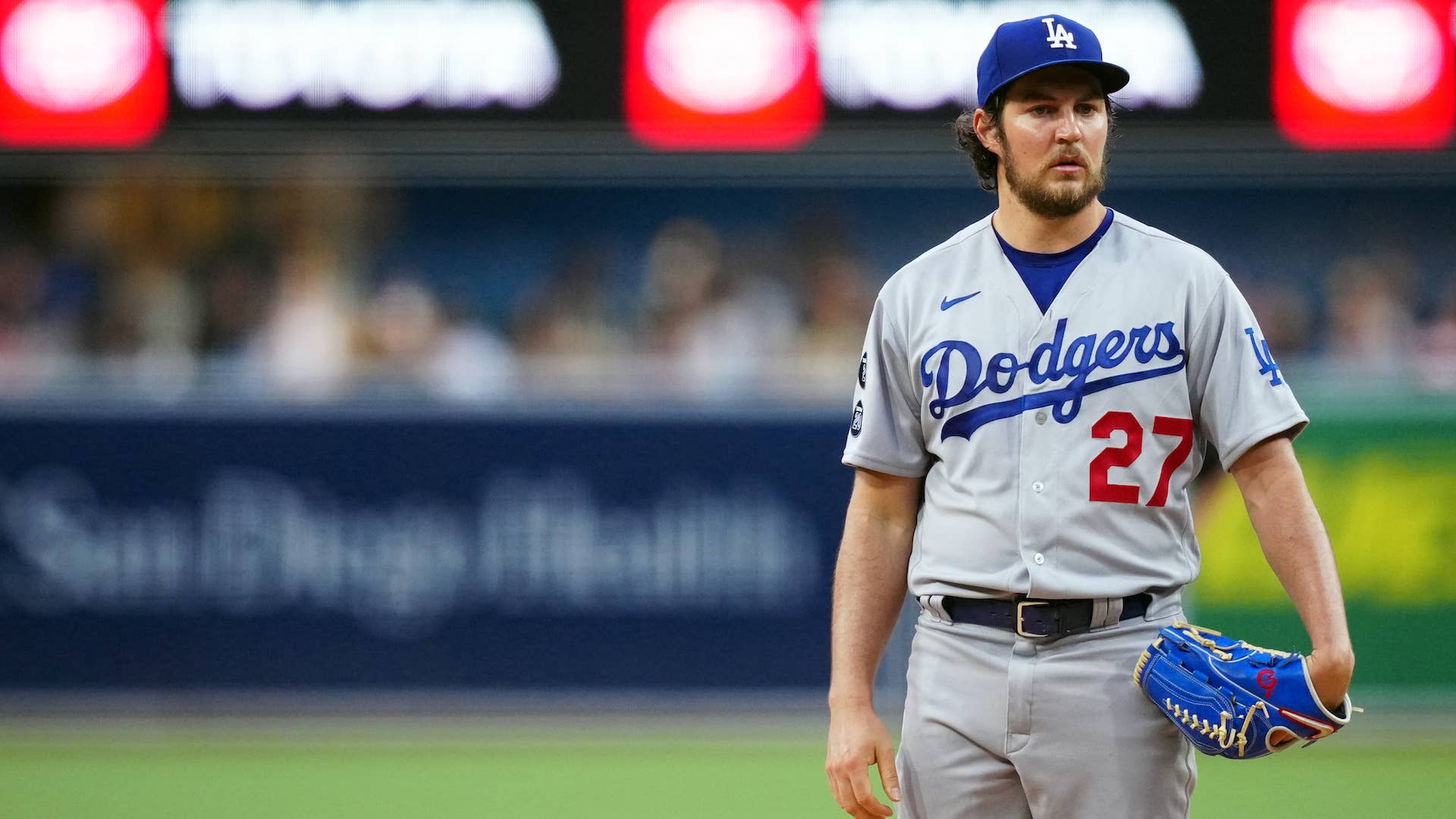 Getty
SAN DIEGO, CA - JUNE 23: Trevor Bauer #27 of the Los Angeles Dodgers pauses between pitches during the game between the Los Angeles Dodgers and the San Diego Padres at Petco Park on Wednesday, June 23, 2021 in San Diego, California. (Photo by Daniel Shirey/MLB Photos via Getty Images)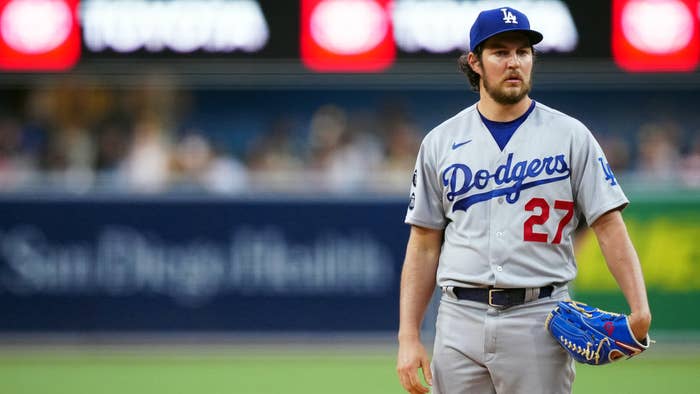 UPDATED 7/2 3:45 p.m. ET: Major League Baseball has placed Trevor Bauer on administrative leave three days after an assault allegation was made against him.
"MLB's investigation into the allegations made against Trevor Bauer is ongoing," the MLB commissioner's office said, as reported by the Associated Press. "While no determination in the case has been made, we have made the decision to place Mr. Bauer on seven-day administrative leave effective immediately. MLB continues to collect information in our ongoing investigation concurrent with the Pasadena Police Department's active criminal investigation."
This news comes a day after the Los Angeles Dodgers reportedly said he'd be starting on Sunday despite the allegations. 
The MLB's latest action falls under the joint domestic violence, sexual assault and child abuse policy, which the league adopted, alongside the players' association, in 2015.
UPDATED 7/1, 6:14 p.m. ET: Trevor Bauer will still start on Sunday despite the assault allegations that have been made against him, the Dodgers said.
"It's actually out of our hands," Team manager Dave Roberts said, per TMZ. "Regardless of what direction the organization wanted to do, it's something that – this is what has to happen. And so it's out of everyone's hands."
Roberts continued, "Their recommendation was for us to use our scheduled Sunday starter and to move forward and have him start that game Sunday."
UPDATED 6/30, 7:55 p.m. ET: The Athletic has published a report detailing the disturbing accusations against Bauer. The Dodgers player is being accused of assaulting the alleged victim on two separate occasions and has since denied the allegations and said that he and the women had rough but consensual sex.
According to court documents obtained by TMZ, the 21-year-old said she met Bauer on Instagram. The alleged victim says she eventually met up with Bauer in real life on April 21 and "lost consciousness" after he "wrapped my hair around my neck and choked me."
During a second meeting, the woman claims that Bauer choked her until she was unconsciousness and woke up to find him punching her head.
See original story below.
Trevor Bauer of the Los Angeles Dodgers is denying allegations that he assaulted a woman.
TMZ reported that Bauer is being investigated by the Pasadena Police Department and is cooperating with authorities. The publication also reported that the alleged victim received a temporary domestic violence restraining order against Bauer on Tuesday. 
"The order is a result of a recent assault that took place at the hands of Mr. Bauer where Ms. Hill suffered severe physical and emotional pain," Marc Garelick, an attorney for the alleged victim, said, per TMZ.
Bauer released a statement through his attorney Jon Fetterolf claiming that the Dodgers pitcher had a "wholly consensual sexual relationship" with the woman.
"Mr. Bauer had a brief and wholly consensual sexual relationship initiated by [the accuser] beginning in April 2021. We have messages that show [the accuser] repeatedly asking for 'rough' sexual encounters involving requests to be 'choked out' and slapped in the face," the statement said. 
The statement continued, "In both of their encounters, [the accuser] drove from San Diego to Mr. Bauer's residence in Pasadena, Calif. where she went on to dictate what she wanted from him sexually and he did what was asked. Following each of her only two meetings with Mr. Bauer, [the accuser] spent the night and left without incident, continuing to message Mr. Bauer with friendly and flirtatious banter. In the days following their second and final encounter, [the accuser] shared photos of herself and indicated that she had sought medical care for a concussion. Mr. Bauer responded with concern and confusion, and [the accuser] was neither angry nor accusatory."
You can read the statement in full below via ESPN's Jeff Passan.
The Dodgers have yet to comment on the news.