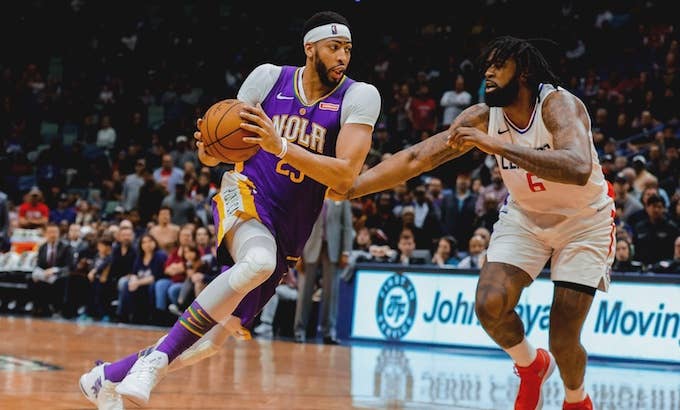 Anthony Davis is having a monster year. The 24-year-old New Orleans Pelicans big man is putting up a whopping 26.5 points, 10.6 rebounds, and 2.1 blocks per game while shooting a career-best 55 percent from the floor. In other words, aside from Milwaukee's 23-year-old unicorn Giannis Antetokounmpo, Davis is the young player most GM's would choose to build a team around.
Until recently, dealing Davis was next to unthinkable. But with his teammate and fellow superstar DeMarcus Cousins out for the season due to injury and not likely to return when his contract expires at the end of the year, dealing Davis suddenly doesn't seem so far-fetched.
According to a new report from Sporting News' Sean Deveney, the Boston Celtics and Golden State Warriors are among the teams clamoring for a chance to acquire the service of the 6-foot-10 former Kentucky Wildcat this summer. 
"Several teams—Boston, most prominently, but also Golden State, San Antonio and Chicago—will go into this trade deadline not only with their own rosters in mind, but with some consideration for the potential of a Davis trade this summer," Deveney reports.
So, why would the Pelicans consider dealing such a valuable asset? Well, without the towering one-two punch of Boogie and Davis, the Pelicans' window for winning is quickly closing. 
"A.D. is obviously a great player, but they're stuck and his free agency is coming faster than you think," one general manager told Deveney. "It is hard to operate under the gun with a situation like that, so it is something they'll need to at least explore this summer. If (General Manager Dell Demps) stays on, he is going to want to find ways to keep building and maybe even take a chance on keeping DeMarcus. But if Dell goes, there are four or five teams hoping hard for a fire sale."
It's hard to imagine how good the Warriors or Celtics would be if they landed Davis. Both teams are already incredibly stacked, but as we've seen in recent months—with the likes of Carmelo Anthony, Paul George and Blake Griffin all changing teams—in the NBA, anything is possible.