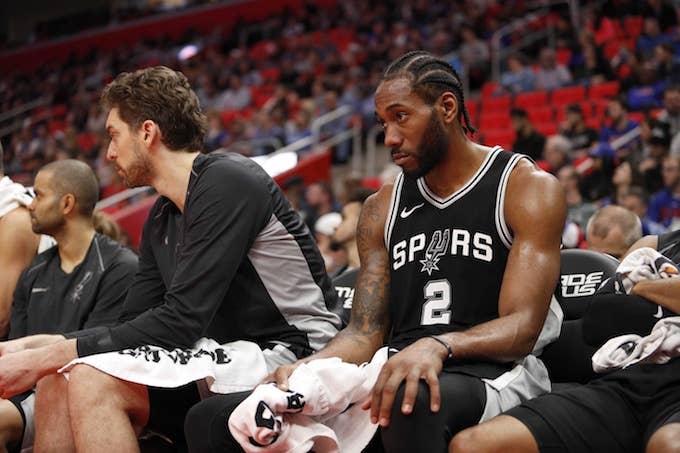 When he's healthy, San Antonio Spurs forward Kawhi Leonard is one of the best two-way players in the NBA. Last year Leonard finished third in NBA MVP voting, behind only Russell Westbrook and James Harden, made his second consecutive all-NBA First Team, and made his third consecutive all-Defense First Team.
The 26-year-old has long appeared as one of the brightest young players in the league. The problem is, Leonard has not been healthy this year. He has appeared in only nine games this season. And apparently, his relationship with the Spurs has not been healthy either.
Monday, we wrote about how differences of opinion regarding Leonard's right quadriceps injury and potential return to the court had created a rift between the young star and the franchise. Apparently, that rift is very real.
Jalen Rose, one of the most plugged-in NBA commentators, appeared on ESPN's First Take Tuesday and said he is hearing that Leonard wants out of San Antonio. Why would he want to leave? Rose offered a lengthy explanation.
"The reason why is tenfold," Rose said. "One is, they've been unable to attract elite-level, all-NBA caliber free agents to come play with him… We always talk about players going to join large market teams… We never say, 'Who's going to San Antonio to go play with Kawhi?' And here's why I think players have not done that. The Spurs Way looks like opportunity dressed in overalls. It looks like work. And people don't really want that. Players talk about wanting to win and wanting to be a champion, but ultimately they want to do it on their own terms.
"When you go to San Antonio, guess who's the CEO of that organization? Gregg Popovich. It's going to be his way. So for Kawhi and also the way his injury situation was handled. You see him in the lineup. You see him out of the lineup. Is it his quad? What's going on with his history? Was he misdiagnosed?... When you talk about the next super team, it's probably going to be wherever Kawhi Leonard ends up."
Stephen A. Smith, who's also plugged in with a lot of sources around the league, said he has been hearing the same thing and had been hearing murmurs of Kawhi's dissatisfaction in San Antonio since last season.
​​It will be fascinating to see how this shakes out. Leonard is under contract through next season with a player option for the following year, but if the Spurs think he's really considering leaving, we may see the young star dealt before this year's trade deadline (Feb. 8).