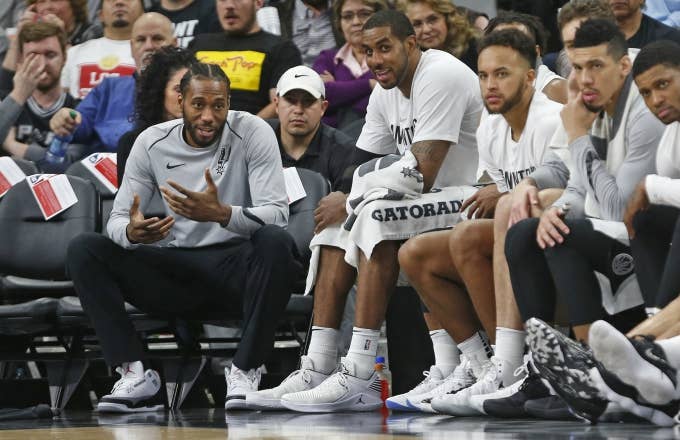 When a team holds a players-only meeting, you know something's up. It's a warning sign that trouble is brewing. So when ESPN's Adrian "Woj" Wojnarowski reported the Spurs held a players-only meeting to urge Kawhi Leonard to return to the court, the story quickly blew up.
Sources on ESPN: Spurs held players-only meeting, imploring Kawhi Leonard to return to lineup. Story:

https://t.co/ylqbBXzR0S
Woj reports that veteran guard Tony Parker spearheaded the meeting, but "several teammates spoke up." The report states the meeting was "tense and emotional at times." 
Leonard, an MVP finalist a year ago, has played in only nine games this season, and he hasn't seen the court since Jan. 13. When he will return from his injured quad has been a subject of much debate this season, with some reports indicating Leonard was healthy and voluntarily not playing.
Spurs sharpshooter Danny Green, however, responded to Woj's report—he says it's not true.
So, what's the truth? We'll have to wait to find out whether the meeting actually happened, and if it did, what was actually said. But we can say with near certainty that this isn't something Woj made up; someone in the organization leaked it to him.
The Spurs currently hold onto the No. 6 seed in the hotly contested Western Conference. Only four games separate the teams in the No. 3 (Portland) and No. 8 (Utah) slots with about 10 games remaining for each team.