Everything You Need To Know About Joe Burrow
With the virtual 2020 NFL Draft approaching, here's everything you need to know about the likely No. 1 pick, Joe Burrow.
USA Today Sports
Jan 13, 2020; New Orleans, Louisiana, USA; LSU Tigers quarterback Joe Burrow (9) warms up before the College Football Playoff national championship game against the Clemson Tigers at Mercedes-Benz Superdome. Mandatory Credit: Chuck Cook-USA TODAY Sports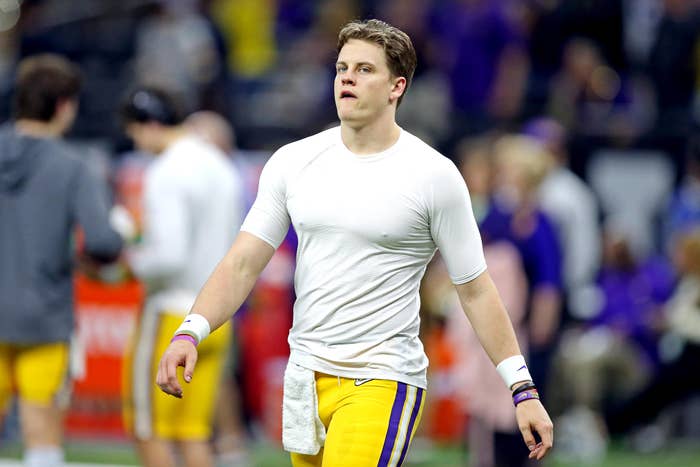 The status of the 2020 NFL season isn't yet certain, but whenever the next season does start, we're in for some fascinating storylines. 
Will Tom Brady make a Super Bowl run with Bruce Arians and the Bucs' vaunted receivers? Will Bill Belichick's Patriots maintain their stronghold on the AFC East without TB12? Will the once-promising Texans self-destruct? Which young QBs will take the next step?
In addition, we're already dying to see what a handful of big-name rookies can do on the field. With the virtually conducted NFL draft approaching (Thursday-Saturday, April 23-25), we're here to tell you everything you need to know about the likely No. 1 pick, Joe Burrow.
His Dad Was an NFL Player & College Coach
Yep. Joe's old man, Jim Burrow, was a defensive back for Nebraska and was drafted by Green Bay in the eighth round of the 1976 draft. He played one season with the Packers, then went on to a successful career as an All-Star in the Canadian Football League. His time in the CFL included stops with the Montreal Alouettes, Calgary Stampeders, and Ottawa Rough Riders. 
After retiring, he became a college coach, making stops at Washington State, Iowa State, Nebraska, North Dakota State, and Ohio University. He retired as the Bobcats' defensive coordinator after the 2018 season. He was Scout's Mid-American Conference Defensive Coordinator of the Year in 2009. Jim said wanting to attend Joe's games played a part in choosing to retire.
Pops Wasn't the Only Other Athlete in the Family
Joe comes from athletic roots. His grandma, Dot Ford, was an absolute baller. She once dropped 82 points in a girls high school game in February 1950. Yes, 82 points. Buckets.
In addition, Joe has two brothers who played college football. Jamie (middle linebacker) and Dan (free safety) both played on the defensive side of the ball at Nebraska. Both were standout players in their own right.
Joe Had a Prolific High School Career in Ohio
With dad coaching at Ohio U, Joe went to nearby Athens High School. He led his school to three consecutive playoff appearances and put up jaw-dropping numbers—11,416 passing yards, 157 passing TDs, 2,067 rushing yards, and 27 rushing TDs. He won Ohio Mr. Football and Gatorade Player of the Year as a senior in 2014. 
He excelled on the hardwood, too, making the first-team all-state team as a point guard.
He Started His College Career at Ohio State
Burrow received offers from Boston College, West Virginia, Vanderbilt, and Maryland, but he ultimately chose to stay relatively close to home to play football for Urban Meyer and Ohio State in 2014. Burrow redshirted his first year at OSU, then spent two years backing up JT Barrett. 
Burrow got spot action in those two years—like that late-game action against Nebraska—and showed glimpses of promise.
Urban Meyer Was Tough on Him
Meyer is noted as a demanding coach, and he certainly didn't take it easy on Burrow. The now-former OSU coach was convinced to sign Burrow by Texas coach Tom Herman.
During Burrow's time in Columbus, Meyer reportedly chastised him, offering digs like: "Not enough velocity, Joe...you're a Division III quarterback...you throw like a girl." Yikes. That doesn't mean Meyer has anything against him today, though.
He Lost the Ohio State Job to Dwayne Haskins 
Entering 2018, Barrett was gone—but OSU's starting job was given to now-Redskins QB Dwayne Haskins.
Burrow decided to get out of the crowded QB room and transfer to another powerhouse, LSU. He was immediately eligible as a grad transfer because he had graduated from OSU in three years. Smart guy!
He Quickly Made His Mark at LSU 
Burrow won the job for Ed Orgeron's squad ahead of his "junior" year. He quickly made his presence known and gave football fans a reason to remember the name. During an early-season game against SEC foe Auburn (No. 7 at the time), Burrow tossed for 249 yards and a touchdown, leading LSU to a 22-21 win and claiming SEC Offensive Player of the Week for his efforts. 
He won the same award two weeks later after leading a win against Ole Miss. LSU had a successful 2018 season, ending with a dub over UCF in the Fiesta Bowl, and finished ranked No. 6 in the country. Burrow put up big numbers (2,894 passing yards, 16 TDs)—but they were only a glimpse at what was to come.
His Senior Year Was Nuts
Joe Burrow became JOE BURROW in the fall of 2019. He was named SEC Co-Offensive Player of the Week after a big Week 1 win over Georgia Southern—sharing the recognition with Tua Tagovailoa and launching a yearlong 'who's the best' competition that continues today (as Tagovailoa is considered the other top QB prospect in this draft class).
Burrow went on to piece together an unbelievably epic senior campaign, breaking the single-season FBS record for passing TDs with 60 and ranking third all-time with 5,671 passing yards. He also set a record for passer rating (202.0). It's an understatement to say the man went off.
He Was Clutch in the Biggest Moments
In the 2020 national championship game, LSU was favored heavily against Clemson—and proved worthy of the hype. Burrow was at his best, posting 463 passing yards and six total TDs in leading his squad to a 42-25 win. He was awarded the game's offensive MVP…because, duh.
He Delivered an Incredible Heisman Speech
To no one's surprise, Burrow claimed the 2019 Heisman Trophy, receiving more voting points than anyone had before. He wrecked the competition. In his speech, though, he didn't focus on himself or shout about how "nobody believed in me!" 
Instead, he used the platform to deliver a rousing oration on issues of poverty and food insecurity in his hometown of Athens. His speech inspired nearly half a million in donations to the Athens County food bank. 
It has to be one of the best Heisman speeches ever—if not the best. How could you not love this guy?
He's a Virtual Lock to be Selected No. 1
The Cincinnati Bengals need a franchise quarterback. Burrow is a franchise quarterback. The Bengals have the No. 1 pick in the NFL draft. Need we say more?
Burrow has been consistently speculated to go No. 1 in mock drafts and continues to hold that post in pretty much everyone's mind today. There was some speculation that he wouldn't want to play for Cincinnati, but he put an end to that. 
This thing is practically done. Signed, sealed, delivered. It'd be shocking if Roger Goodell didn't announce Burrow's name first.
The question remains, though—will he or Tagovailoa prove to be the better NFL signal-caller over the years to come? May the off-the-field fodder continue.