If you were hoping Friday's marquee matchup answered the two biggest burning questions heading into it—who is the best team in the league and who deserves to be MVP—I would argue that we didn't get definitive answers. But there were very interesting and telling results.
Caution should always be exercised when drawing major conclusions from a regular-season game in March between two non-conference opponents. But the portion of NBA observers with serious doubts about the Bucks ability to win a championship will only crow louder after LeBron James led the Lakers to a rousing 113-103 win over league-leading Milwaukee in front of 18,997 at Staples Center here in downtown Los Angeles.
The King—with plenty of help from Anthony Davis and the 30 points and 9 boards he contributed—played brilliant basketball as he finished with 37 points, 8 rebounds, and 8 assists. James, as usual, was the catalyst for the Lakers who used an 18-0 third quarter run to gain control of a rough and rugged game against the team that smacked them around in their first meeting back in December. James had 14 points in the third and when it was done he had one of his best overall games of the season considering the competition and the message sent with the win. LeBron offered up a not so subtle reminder that this is still his league and that his squad can body, bully, and bowl its way past any competition. 
"What was more impressive to me was his defense on Giannis. For him to take on that assignment and still do what he did offensively is just an incredibly remarkable two-way performance. He's a basketball savant." — Lakers coach Frank Vogel
In a game that featured a much higher level of intensity than your typical regular-season contest, the Lakers made a statement that its squad featuring two top five players is better than the one featuring a transcendent star and other guys. Those that have advocated for James to win his fifth MVP award over the supremely gifted Giannis Antetokounmpo—widely pegged to be the front-runner to earn the honor for a second consecutive season—have even more ammo after James asserted his dominance, out-played the Greek Freak, and reminded everyone for what feels like the 50th time this season that a 35-year-old in his 17th season is crazily still the worthy of being considered the game's best. 
James offered up a master class in what rising to the occasion looks like in one of the regular-season's most anticipated games while Antetokounmpo and the Bucks looked very different from their dominating performance when the teams first played in Milwaukee. The Bucks played slow. They were hesitant and shot like hot garbage from outside. They struggled to contain the Lakers on the break. The Greek Freak got his numbers, ending with 32, 11, and 6—right around his season averages of 29.6, 13.8, and 5.4 over 30.8 minutes a night—but he didn't impact the game like LeBron did. Antetokounmpo was a -11 and when James had to matchup with him for stretches in the second quarter when Davis was in foul trouble,  LeBron stepped up. 
"What was more impressive to me was his defense on Giannis," Lakers coach Frank Vogel said. "For him to take on that assignment and still do what he did offensively is just an incredibly remarkable two-way performance. He's a basketball savant."  

The Lakers kept Antetokounmpo from dominating in the paint (the Bucks finished with 46 points in the paint, four off their season average) and while his supporting cast—Khris Middleton or Eric Bledsoe—didn't manage much (12 and 11, respectively). The Lakers finished with 50 points in the paint. The Bucks were allowing just 38.6 per night in the paint, tops in the league, before Friday and sent the Lakers to the line all night long. 
"We definitely did not play smart," Antetokounmpo said. "They shot 31 free throws. We put them on the line so easily."
LeBron's performance made it feel like it was a statement game. The Lakers are now 20-0 when he scores 30 or more and LA secured a rousing win before the season's third matchup with the Clippers, currently second best in the Western Conference, looming in two days. The Lakers will carry some serious momentum as winners in 10 of their last 11 games and having clinched the franchise's first playoff berth since 2013 into Sunday's showdown with LA's other team. While we can't wait for Sunday, in the meantime, here are 10 more observations from what went down at Staples Center Friday. 
LeBron's Not Playing in Empty Arenas
Earlier Friday, a report surfaced that the NBA informed teams to prepare for a scenario where games would be played without fans in arenas on account of the ongoing coronaviris crisis. James isn't on board. 
"Nah, that's impossible," James said after the game. "I ain't playing. I play for the fans. That's what it's all about. So if I show up to an arena and ain't no fans in there I ain't playing. They can do what they want to do."
Ugly Affair
This wasn't a pretty game. Yeah, LeBron's multiple dunks were poetry as usual, but there were a ton of whistles and not a lot of uninterrupted game action. While the intensity and the physicality made it feel like it was a playoff game, it was anything but high-level basketball. The first quarter was frightening to watch, but should we have been surprised this one was a struggle at times considering this was a matchup between the Nos. 1 (Bucks) and 3 (Lakers) teams in the NBA when it comes to defensive rating? The Lakers won despite shooting 18 percent from beyond the arc. You don't win many NBA games shooting that poorly. 
Current Odds
The Lakers and Bucks are both roughly +200 favorites to win it all, according to Oddsshark. The Clippers, who the Bucks beat twice this season and the Lakers face for a third time Sunday, are the third choice at +325. Showing how little faith oddsmakers have in any squad other than the Clippers, Bucks, and Lakers winning it all, the Rockets and Celtics currently share the fourth shortest odds at +1200.
Hyped for a Change
With the co-favorites to win it all squaring off, the Bucks and Lakers couldn't deny Friday was a big game. Normally coaches are the ones to downplay regular-season games as just another date on the calendar. But Mike Budenholzer and Vogel couldn't deny that the final meeting of the season between the Eastern Conference's best and the Western Conference's best meant more than your average March game.
"When you play the better teams in the league we always kind of look at it as way to learn, improve, get better, and I think test is somewhat appropriate," Budenholzer, the Bucks coach, said. "I love playing the best teams."
"It had a playoff atmosphere to it," Vogel said.
Completely Useless Stats 
The Lakers are 12-1 in Friday games this season while the Bucks are 9-2. Los Angeles is 12-2 in games televised by ESPN.  
One GOAT Impresses Another
JAY-Z was the biggest star not playing ball at Staples Center Friday. The living legend was sitting opposite the Lakers bench and cameras caught him with a hilarious reaction to LeBron's nasty second quarter flush.
LeBron's dunk had Hov impressed 😂 pic.twitter.com/iNegUyWb0B

— Complex Sports (@ComplexSports) March 7, 2020
Every TV timeout Rich Paul, LeBron's agent, would get up from his baseline seat to chat it up with Hova. Dwyane Wade, LeBron's buddy, was also spotted sitting courtside. So was Michael B. Jordan. 
No Tellin'
A few weeks after Drake did his best troll job by walking around the Scotiabank Arena sporting a WWE title belt when the Bucks visited the defending NBA champion Raptors, there are certainly no hard feelings with Milwaukee. An hour and 15 minutes before tip, the Bucks—including Antetokounmpo—were watching tape and chilling in the visitor's locker while a steady stream Drizzy blared from a Bluetooth speaker. The Raptors and Bucks have two more meetings left in the regular. The squads play April 1 in Milwaukee and two nights later in Toronto.
Bro Time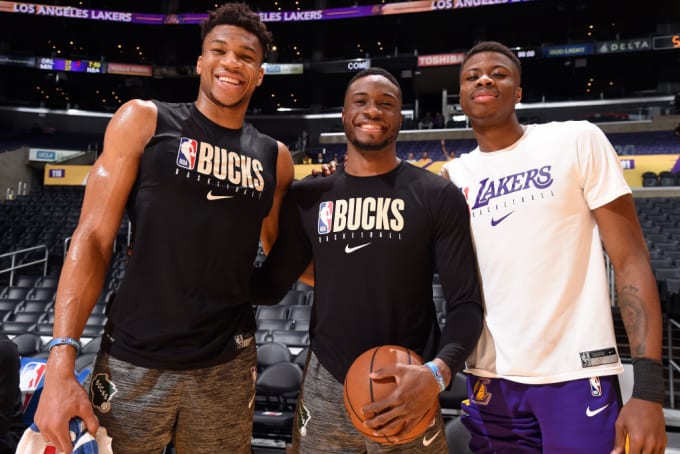 The Antetokounmpo brothers—Giannis and Thanasis of the Bucks and Kostas of the Lakers—chopped it up during pre-game shootaround and posed for a keepsake photo. Predictably, all three were rocking a pair of Giannis' signature Nike sneaker, the Freak Zoom 1.
History on Milwaukee's Side?
One important stat would lead you to believe this might really be Milwaukee's season, despite the shade Milwaukee continues to receive from many NBA observers: The Bucks entered Friday sporting the NBA's top point differential at 12.4 per game, the largest in league history through a team's first 62 games. That's notable since the four teams with the largest point differential in NBA history (1971-72 Lakers, 1970-71 Bucks, 1995-96 Bulls, and 2016-17 Warriors) were all crowned champions at the end of the season.
Waiting on Waiters
The Lakers officially announced the signing of guard Dion Waiters for the rest of the season Friday. The Syracuse product who spent the last four seasons in Miami before he had a falling out with the organization and was shipped to Memphis at the trade deadline (and then waived), was inactive against the Bucks.