The dominant sentiment coursing through Staples Center Wednesday wasn't hype. It was curiosity. And an hour and 45 minutes before tip, Doc Rivers admitted he felt like every NBA observer dying to finally see Kawhi Leonard and Paul George ball together.
"I think I know what to expect. But I don't really know what to expect," the Clippers coach said before the game.
What Rivers certainly never expected was starting his post-game press conference praising Patrick Beverley rather than his two superstars. But when you get a crazy, classic early season game like 19,068 in downtown Los Angeles witnessed—where the pugnacious point guard was the hero and out-shined his much more famous teammates—who else was Rivers going to talk about?
"We were sitting in the office today trying to think of if we've ever had two guys to play in their first game to have never had one practice. We couldn't come up with one. It's really a strange thing." — CLIPPERS COACH DOC RIVERS
While everyone turned out and tuned in on national television to see Leonard and George finally suit up together, this was Beverley's game. The Clippers pulled out a 107-104 victory in overtime against the Celtics thanks largely to Patty Bev, who finished with 14 points, 16 rebounds, and tied George for a game-high +17 rating, Beverley made a number of key plays, kept possessions alive, and, most importantly, hit big shots. The career 41.1 percent shooter from deep nailed a huge 3-pointer in front of his bench with 43 seconds left in OT that essentially sealed the deal and saved the Clippers from suffering a sloppy loss against the NBA's best team.
"I thought he literally, single-handedly willed that game with his effort, with his rebounding, and making plays," said Rivers. "He was phenomenal."
The potential NBA Finals preview turned into a special game with plenty of twist, turns, lead changes, and viral moments. The Clippers trailed nearly all of the fourth quarter, but the comeback felt inevitable when Leonard posterized Daniel Theis with a ferocious one-handed slam with 3:17 remaining. That cut Boston's lead to four and Leonard wasn't done with his magic. He had a key assist on Lou Williams's 28-foot 3-pointer with 31.7 seconds to go that gave the Clippers their first lead of the quarter, erasing Boston's advantage that had stretched to as much as 10.
The game's second viral moment came seven seconds later when Jayson Tatum shook George with his dribble and calmly nailed a three to tie it at 97. Leonard missed a long three for the win at the end of regulation, but did what Kawhi does and blocked Kemba Walker's three that would've tied it at the end of OT to wrap up the Clippers' 10th win of the season. LA handed Boston its second loss in its last 13 games. In the locker room after the game, the Clippers deservedly gave Beverley a game ball.
"He made big shots, got some steals early in that fourth quarter, and got us some easy points," Leonard said.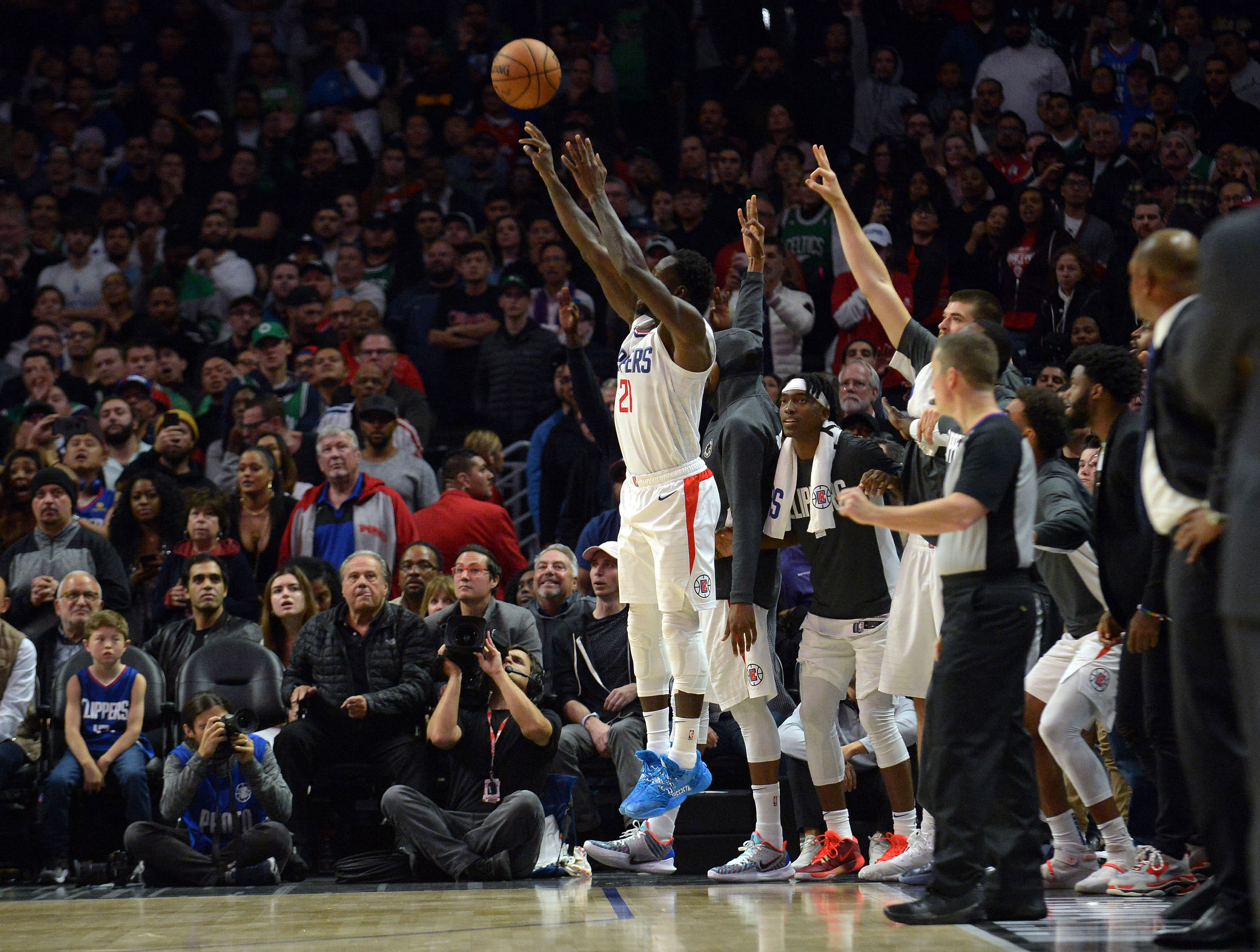 While it was Beverley's night to shine and a throng of media members circled his locker hoping for a clever quote from the Chicago native post-game, we gotta talk about Leonard and George. Because Wednesday was their big reveal and nobody, not even Rivers himself, had seen the Clippers prized offseason acquisitions ball together prior to tip-off thanks to Leonard's load management and George's rehab from shoulder surgeries.
The debut of LA's other dynamic duo was delayed until the Clippers' 15th game of the season and in the hours leading up to the showdown with Boston, the man who has spent the last 36 years playing, broadcasting, and coaching in the NBA racked his brain trying to think of a similar scenario. He came up empty.
"They've had a shootaround together. That's it," Rivers said. "We were sitting in the office today trying to think of if we've ever had two guys to play in their first game to have never had one practice. We couldn't come up with one. It's really a strange thing."
Their performances were…ok? Good enough? A pretty solid, if not spectacular starting point? Leonard played a season-high 37 minutes and finished with 17 points on 7-of-20 shooting in his first game back since he last played against Houston a week ago. George was better, finishing with 27 points on 10-of-21 shooting, including 4-of-11 from deep. But he was admittedly exhausted playing 37 minutes in only his fourth game of the season and knows the Clippers have a long ways to go on offense.
"We're going to have growing pains and the most positive thing with this team is we understood that," George said. "Nobody was pointing fingers, nobody was dropping heads in the huddle. At no point was this team dysfunctional. It's not going to be pretty right now, but whatever the case may be we're going to find a way to win."
It's going to be a process, for sure, as Kawhi and PG-13 get more comfortable playing together and learn tendencies. It for sure wasn't pretty offensively when they were out there—they looked dreadful in transition—as Clippers turned the ball over 23 times. Defensively, there were stretches with George and Leonard on the floor together where the Clippers showed incredible intensity. They held Walker to a season-low 12 points while the Celtics collectively shot just 39.4 percent from the field. But the Clippers showed it's a work in progress with George and Leonard because they did not put on a basketball clinic. 
"We're both on kind of minutes restrictions so it's hard to get a flow," Leonard said. "Just knowing the plays, knowing each otber's spots, and knowing the language on the defensive end. Just repitition. That's what we need right now." 
We know one thing for sure after the Leonard and George duo debuted: Beverley's going to get plenty of opportunities to hit big shots. Between those two and Williams and Montrezl Harrell—on the short list of closing lineups Rivers will unleash—Beverley will be open. When defenses decide to double Leonard, George, or Williams, they're going to leave somebody open. More often than not that's going to be Beverley. Teams will make him beat them. 
"Oh man, I mean I remember coming off one pick-and-roll I was so wide open I didn't know what do," Beverley said. "[George and Leonard] get so much attention man, it's crazy, it's fun."
Known way more for his defense and being an ace instigator, Patty Bev better be ready to eat on offense. That's life now that he's playing with two superstars.