When questions are inevitably asked about the man that refuses to fight him, Gennadiy Golovkin will turn to his translator in order to interpret and respond so there won't be any misunderstandings.
Golovkin, the former unified middleweight champion of the world and future Hall of Famer, is good with his English. But the man from Kazakhstan who calls the Los Angeles area home will choose to speak in his native tongue so you can truly sense the frustration, disappointment, and deceit he's felt as he continues to be denied the fight he really wants. And the one he and so many other boxing enthusiasts believe he deserves.
The questions about why a third installment of his rivalry with Canelo Alvarez hasn't happened, and doesn't appear imminent, will continue to exasperate Golovkin and those in his corner. "If you can get why it's being asked you can get why it's annoying," says GGG's trainer, Johnathon Banks. But Golovkin's too nice not to give an answer when he could easily tell prying media members to fall the fuck back.   
"What do you want to hear from me?" he says.
"He talks too much. He's nothing. He's a boxer. He's not [a] promoter, he's not [a] manager, he's not [a] matchmaker."
A third fight between GGG-Canelo is one of the best bouts the sport can offer. And, in theory, it should be one of the easiest blockbusters to make since Golovkin and Alvarez fight on the same streaming service. A guaranteed shot at Canelo for a third time was one of the biggest reasons why back in March GGG signed a six-fight deal with DAZN. Over the summer, it looked like the two pound-for-pound elites were headed on a collision course to meet on Mexican Independence weekend. "We had a contract. We were supposed to have a fight on Sept. 14," says Golovkin.
But nothing was finalized, despite widespread rumors and proclamations from Oscar De La Hoya, Alvarez's promoter, that the fight was on. Ultimately, Canelo didn't want to do it because, essentially, he doesn't need to. The drama added another chapter to boxing's best rivalry where the bad blood isn't manufactured, it's real. GGG and Canelo can't stand talking about each other. The insults and pot shots lobbed over the past three years will likely continue. Even though GGG would prefer not to speak on Canelo's name anymore, you can't help but ask about the rivalry when you're sitting in front of him. 
"I just don't want to touch this story. Because for me it's so dirty," says Golovkin. "He talks too much. He's nothing. He's a boxer. He's not [a] promoter, he's not [a] manager, he's not [a] matchmaker. He said no, but his promoter said yes. I don't want to touch this bad situation with bad people, bad story. It's not for me, this is not my level."
The grudge goes much deeper than September's called off fight, of course, as the rivalry has featured more twists, turns, accusations, and innuendo than one of those trash bag Bravo reality shows. Golovkin will largely be defined by the Canelo fights and going winless in both of them—fair or not—is one of the reasons why he yearns for one more shot. But for now, he'd rather talk about what he can control. 
There are fresh changes and challenges tangibly at hand. He has a new business (GGG Promotions) and added an "i" to his name. Most prominently, his next fight comes against Ukrainian middleweight contender Sergiy Derevyanchenko (13-1, 10 KOs) who Golovkin meets in a showdown at Madison Square Garden Saturday (9 p.m. ET, DAZN) for the vacant IBF middleweight belt. It's an intriguing fight for die-hard boxing fans and represents GGG's second under his new trainer after contentiously severing ties with Abel Sanchez. At age 37, GGG (39-1-1, 35 KOs) also has new coaches to help him with his conditioning and nutrition. But Banks has earned all of attention.
Always wearing a pair of dark shades, Banks has brought a new perspective to Golovkin after most notably working with former heavyweight champ Wladimir Klitschko. Banks has been trying to get GGG to "dress up" his knockouts, meaning he doesn't want the man known for his incredible punching power to become strictly a KO artist this late in his career. After their first successful pairing in June that saw GGG put down Steve Rolls with a fourth-round knockout, the hope is this new pairing is the beginning of something special as GGG enters the twilight of his career. 
"He was in a, as it was explained to me, not so good place the last couple years of his career," says Banks. "And he wanted something new, something different, something to change, and the change didn't come. He felt like he wasn't being heard. He made the changes himself."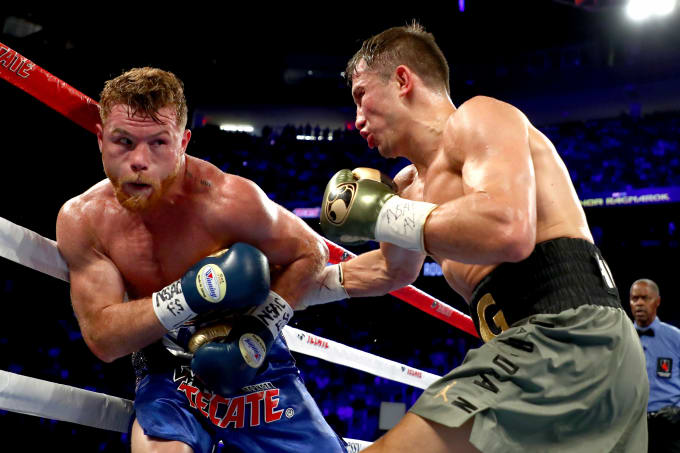 "I feel like an old fox," says Golovkin. "I feel my power, I feel my speed. He says I look different. But 100 percent I feel much better."
But the more things change the more they stay the same. He's staying at middleweight and chasing the titles he used to hold. He's still the only boxer repping Jordan and he'll continue to collaborate with the brand. He's still waiting for Michael Jordan to attend one of his fights. He still held training camp in Big Bear Lake, California, mere blocks from Sanchez's house where he trained for all his big fights. And, of course, Canelo's shadow forever follows him.
For the time being, there appears to be no convincing Alvarez he needs to go another 12 bruising rounds with Golovkin after controversially winning their second fight in 2018. That, of course, followed their controversial draw in 2017. Many around boxing feel it's incredibly unfair that Golovkin is 0-1-1 against his rival, but since Canelo can do whatever he wants these days as the face of the sport, GGG can either stew over the snub or get over it. Canleo's given various reasons why he doesn't want GGG again, like the fact that he already took Golovkin's belts. Or that he (literally) has bigger fish to fry, taking his next fight against Sergey Kovalev at light heavyweight.
"[Canelo] must be desperate not to fight [GGG] if he's going up two divisions," jokes Banks.
Still, it seems inevitable that these two will fight once more. Don't rule out 2020, but let's just hope it's before GGG turns 40. Maybe Canelo, just 29, has a change of heart next year and turns serious about closing out the rivalry. Boxing is full of epic trilogies and it would be criminal if we didn't get one last brawl between two greats. But until talks commence, and Canelo's on board to give GGG what he wants, what he deserves, what he was promised, Golovkin is fed up answering the same old questions. 
"I'm not thinking about him," says GGG. "This is his story and his problem. Just please don't bring his problems to me. I love my life. I have a beautiful family, friends, and fans. Right now I have a big plan for the future."
A Canelo-free future.