Drake picked a piece of lint out of Steph Curry's hair while jawing at him following the Raptors' Game 1 win of the NBA Finals in Toronto. So, if the Raptors can take three more Finals contests from the two-time defending champs, he might be foolish enough to try and give visiting Raptors alums Isiah Thomas and Charles Oakley some playful noogies. Drake histrionics aside, Pascal Siakam almost single-handedly crushed the supercilious notion the Warriors are somehow better without the greatest scorer in NBA history.
Kevin Durant is already top 15 or a top 10 player of all time. Just because the Warriors' style without him in the lineup more closely resembles the movement-heavy ideal preached by Gregg Popovich and his former player, Steve Kerr, doesn't make KD any less necessary. He's the world's greatest luxury on a team stacked with them. But the best scoring option in the history of Association also could have helped Golden State defend, particularly at the rim against the star of Game 1 and likely the NBA's Most Improved Player for the 2018-19 season.
"Siakam was brilliant," Warriors coach Steve Kerr told reporters after the game. "He was hitting shots from everywhere." Indeed, the Cameroonian native, who Raptors GM Masai Ujiri saw just seven years ago at a Basketball Without Borders event, dropped 32 points in his Finals debut, on a ridiculously efficient 14-of-17 shooting from the field, including 2-of-3 from deep. He hit 10-of-11 shots in the second half. At one point, he connected on 11 straight field goals, which hasn't happened in the Finals in 20 years, according to Elias Sports.
The Warriors limited Toronto's two All-Stars to just 30 combined points—Toronto's King of the North Kawhi Leonard had 23 while Kyle Lowry finished with just 7—but Marc Gasol poured in 20 points while Fred Van Vleet turned into a Steph Curry stopper, holding the Warriors' scoring dynamo to a -11 net rating when he was defending him (Curry was +2 when Fred Bentley Vleet was on the sideline, continuing a trend of defensive prowess against the baby-faced assassin that started during the regular season). In the clearest sign of Toronto's exceptional kismet on the night, former Warrior wing Patrick McCaw hit a big three for the Raptors as the shot clock expired right before the final period. It was that kind of night.
In a clear sign of how bizarre the atmosphere and circumstances of Game 1 were, the kind Canadian trope took a hit when offensive Steph Curry chants broke out after the game:
"F*ck Steph Curry" chants pic.twitter.com/fhJqDh11Jm

— NBA RETWEET (@RTNBA) May 31, 2019
Curry wasn't quite deadly from deep—a so-so, for him, 4-for-9 from three on the night— like he's been since KD went down, but he did join LeBron, Kobe, and Shaq as the only players to record six straight playoff games with 30-plus points after he went to the line for 14 free throws to augment his mediocre shooting. Klay Thompson added 21 points and Draymond Green a 10-point, 10-rebound, 10-assist triple-double. On top of that, the Warriors implemented a sound defensive strategy to waylay Leondard, running multiple defenders from all over the floor. But they forgot about Leonard's teammates.
"Yeah, we did a good job on Kawhi," Thompson said after the game. "But we're not playing Kawhi, we're playing the Toronto Raptors." Despite this, it's not like Golden State's confidence crumbled, even after losing their first ever Game 1 of a Finals during their dynastic run to five straight appearances.
As Curry was holding court after the game with his ostensible biographer, the long-time, Bay Area reporter Marcus Thompson III, he interrupted the usual bromides about how effective Toronto's game plan was against him (Gasol was particularly effective at jumping out early on Steph high screens and that forced a couple of turnovers when Curry attempted his left-handed scoop pass to split the high hedge help) to say something a bit remarkable considering the loss. "I love this. Man love it," he said, giving Thompson his lede. "I love it," he continued. "I love it."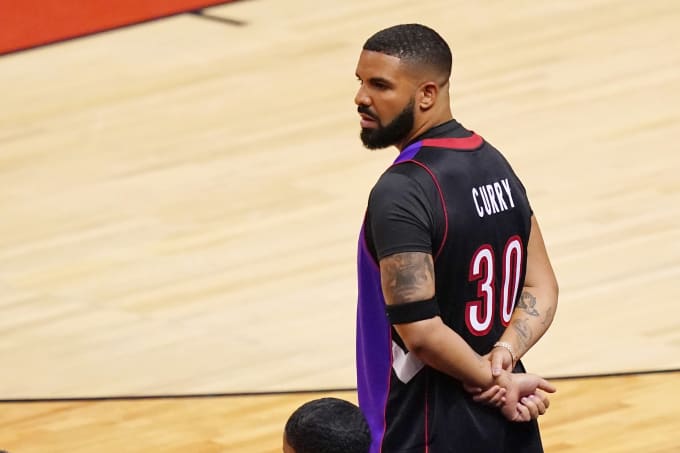 That might come off as cocksure, but the Warriors have captured three of the last four titles, and this is their fifth straight Finals—something no team (remember, LeBron changed teams during his run of eight straight) has done since Bill Russell's Celtics. That buys them a reprieve from panic. You knew Draymond—who had that triple-double, but got owned in his matchup with Siakam—wasn't going to sound the alarm quite yet.
"We've got to win one game on the road and I like where we are," he said after the game. "Now that we've got a feel for them, we've got a tape to watch. We know what we can do better," he added. "We leave this game feeling as good as you possibly can feel knowing that, yeah, we lost, but I think we figured some things out and we'll be better next game."
It's anybody's guess whether Green and Curry will prove prescient when Game 2 tips Sunday night. For now, we can marvel at what Siakam was able to accomplish in his first ever Finals appearance. He joined elite company with his final line. Only Kareem Abdul-Jabbar, Tim Duncan, Hakeem Olajuwon, and Dr. J have dropped 30-plus points in their first Finals appearance. That's not bad company to keep.
Up at the podium, Siakam turned inward. His father passed away in a car crash in 2014, and after the game he put things in perspective. "I kind of want to hear [how proud he is] from his mouth," he said. "I think it would be really cool. But for me like I always say, man, it's bigger than basketball, and every night that I go out there, I have a bigger purpose, and I play for something bigger than just basketball."
The Six is counting on it.