It's a Wednesday afternoon and New York Red Bulls striker Bradley Wright-Phillips is supposed to talk to me after his daily training, but has to push the interview the back a few hours to take care of business for an event next week. The 33-year-old, who's the son of Arsenal legend Ian Wright and the fastest MLS player to reach 100 goals, is launching a collaboration with his clothing brand, Two Nine's, and New Era in New York City.
Wright-Phillips is a talented player who has a knack for scoring goals. He poaches the box, isn't afraid to attempt an over-the-head kick, and rarely misses an opportunity to tap in a pass, something he learned from his time playing with another Arsenal legend, Thierry Henry, who he still keeps in touch with. He's also found a growing interest in style, something that he up from his father and his time growing up in London playing football and being obsessed with grime music, which has resulted in a close friendship with crossover grime artist Skepta.
"Where I'm from, everyone wore tracksuits. If I was younger and I got a new tracksuit, hat, trainers, you couldn't tell me I didn't look good," says Wright-Phillips. "I thought I was dressed up."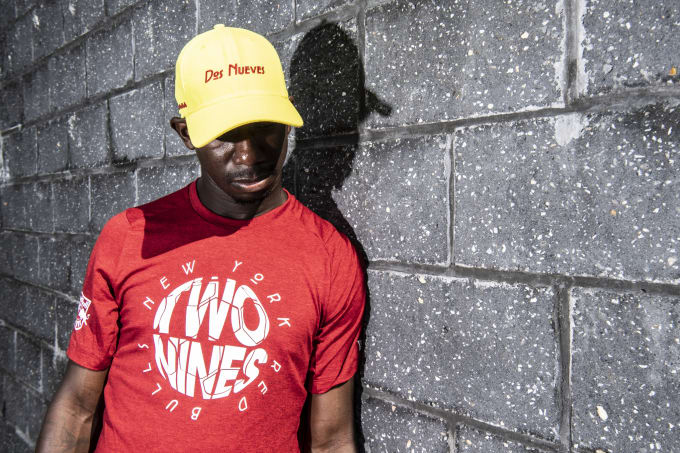 There have been big expectations of Wright-Phillips over the years. He's gone from being the son of one of the greatest English footballers of all time who played at Manchester City with his adopted brother, Shaun Wright-Phillips, to playing in England's lower leagues with Charlton Athletic and Plymouth Argyle to going on trial with the New York Red Bulls. Not many people gave him a chance, thinking his days as a footballer might be done. But he found himself in Harrison, New Jersey, through the help of Henry, a cast of supporting players and coaches, and a playing scheme that gave a lot of opportunities to a striker of his nature. With all of his accolades, he still is able to fly under the radar.
Given his connections, playing ability, and overall cool demeanor, you'd expect Wright-Phillips to be more in the spotlight, a bigger name. He's been arguably the best player in the MLS this decade, becoming the league's first player to score 15 goals in five or more season. Last year The New York Times wrote a story, titled "A Spotlight Averse Striker Can't Seem to Stay Out of It," about Wright-Phillips and his penchant of staying out of the spotlight. For some it might have seemed like flattery: Saying that Wright-Phillips is doing great things on the pitch and he needs to be recognized whether he wants to be or not. He didn't see it that way.  "I don't know how this is going to sound, but if i read that [article] in a few years, it might touch a nerve." he says. "I don't choose to be humble. I'm awkward under the limelight. I don't like too much praise. I don't know where that comes from. When people say I don't get recognition, it doesn't matter. If I'm scoring, what does it mean? If I'm still playing well and I'm still helping my team, I don't care who thinks I'm amazing or who doesn't. There's other players in the league who can do that. I'm good."
He feels comfortable, however, working on the things that matter to him,  and his upcoming collection with New Era, which releases tomorrow, October 18, is a reflection of his personal style that's tied in with the New York Red Bulls. It features hats, shirts, and more, and he says, "It came about through New Era coming to the MLS. Me having a young clothing brand. They mentioned to me that they wanted to do a collab. Growing up, I had a lot of New Era caps, so it's exciting. It's a big thing for my brand. Some of the designs we worked on together. Some of them are some of my Two Nine's designs on New Era hats."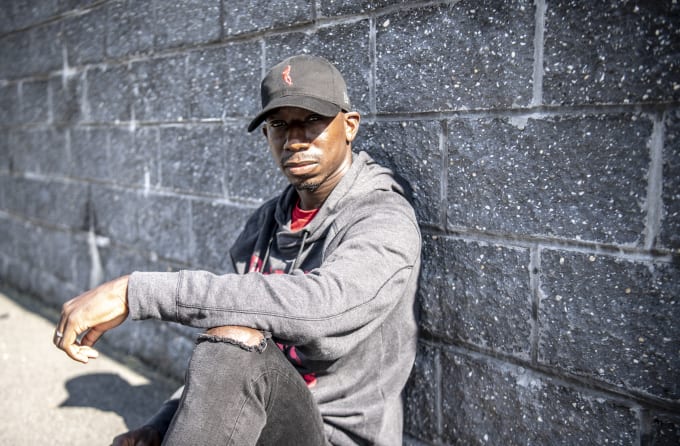 Wright-Phillips, the two-time MLS all-star, isn't avoiding his status as a star player, though. He's the led his side to a franchise high in points with two matches left to play in the regular season, but he wants the focus to be on the club and him paying attention to his game.
That doesn't mean that he can't soak in the moments of success that come his way, either. When he scored his 100th career league MLS goal this season, he took the opportunity to celebrate, and it was inspired by his father. In a July match against D.C. United he pulled from 15 yards out, just a 1:20 into the match, and put the ball past the keeper in the bottom left corner of the net. He ripped his jersey off, and number 99 revealed a number 100 jersey underneath it, instantly gaining a yellow card.
"When I was young, my dad did something similar. I remember that standing out to me. I wanted a moment like that, I thought that was so cool," he says. "To get to do it against a rival team was good, too."
When Ian Wright scored his 179th goal for Arsenal, then breaking Cliff Bastin's previous record, he pulled his jersey over his head and revealed a shirt that read, "179, Just Done It."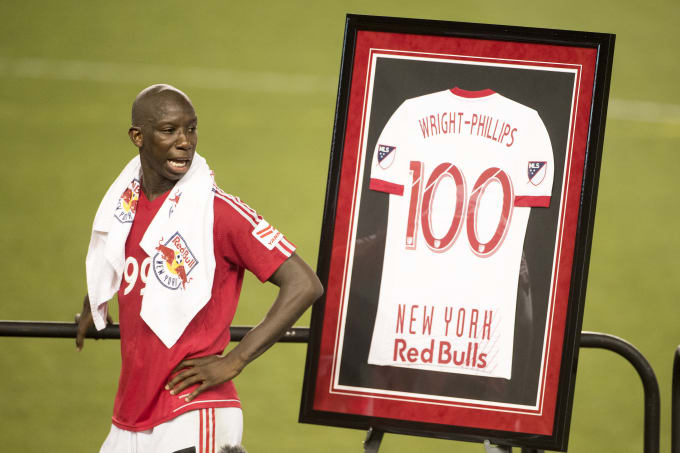 It's these moments that Wright-Phillips shines in when he wants to express himself. Other times, he'd rather keep to himself and focus on football and not let outside things distract him. People on the outside might not notice it, but Wright-Phillips has a dynamic personality. Not only has he been dabbling in fashion, but he's tried his hand in the past as a grime mc, even partaking in a Lord of the Mics battle against fellow footballer Yannick Bolasie. We can't expect him to pick up a mic anytime soon, though, as he says, "They want me out of retirement, but I'm retired. I'm done. I love grime, ever since a kid, that's my shit. I used to like writing down little things."
He even though he's capable of pursuing multiple interests, he still thinks football is most important to his career, as he puts it, "I don't like mixing [football and music], because, see, I'm an Arsenal fan, and if Arsenal is not doing well and I see [Alexandre] Lacazette in a rap battle or with a song out, but Arsenal are eighth in the league, it's gonna rub me the wrong way."
His connection to grime remains strong, and he invited Skepta to a match last season at Red Bull Arena against the Vancouver Whitecaps, but he didn't tell anyone. "I got in trouble for that," he laughs, and says that Skepta would stay at his house when he started to gain popularity as an artist in the U.S.
All of these moments are things that could make Wright-Phillips an interesting person to the public eye, but his main goal isn't to become a celebrity that has paparazzi chasing him or become big on social media. There's one thing he wants: an MLS Cup, something that the Red Bulls, dating back to the organization's days as the MetroStars, have never won. "I'd rather go under the radar and win an MLS Cup. I really don't need to be credited. I haven't won an MLS Cup. I haven't won my team anything," he says. "Most of these things they talk to me about, it's personal. I want an MLS Cup. I've won two Golden Boots. It changed nothing for the team. Nothing for Red Bull. I didn't get any extra money. It didn't do that much. Win an MLS Cup? Then I want recognition."