Marvin Bagley III, the Duke power forward who recently signed with Puma, predictably went early in Thursday's NBA Draft from Brooklyn's Barclays Center. Leading up to the biggest night of his life, he also predictably exuded confidence and foresight not typically found in your average 19-year-old. Then again Bagley is not your typical teenager since Kevin Durant has served as a mentor.
"He's been telling me a lot of good stuff about off the court, people, what to expect, things like that," says Bagley.
With the highly publicized Puma deal, the No. 2 pick who is headed to Sacramento will take his talents to the footwear brand that will also feature prospects Deandre Ayton, Michael Porter Jr., and Zhaire Smith. But separating himself from some of the other rookies in this deep draft class is Bagley's signing with soft drink Mtn Dew that will have him pitching alongside established NBA players like Kyrie Irving, Russell Westbrook, and Giannis Antetokounmpo.
Before Thursday's draft, we sat down with Bagley to talk his sneaker deal, what it's going to be like to meet JAY-Z, who's a creative consultant at Puma, and what his mentors in the NBA—like KD—have told him to expect about the draft and life in the Association. 
(This interview has been edited and condensed for clarity.)
I want to start off by asking you: Why Puma?
Well you know Puma is a big lifestyle brand, and you can go in and be yourself there, do a lot of things, be comfortable with yourself and whatever your good at, and still be able to be a part of a big brand, sort of like what I'm doing with the Mountain Dew deal. It's a lifestyle brand that allows you to be yourself and have fun while doing it, and still be able to get work done and still be productive. That's why I decided to go with brands like that, to be myself and do things that a lot of other athletes aren't able to.
Between you DeAndre Ayton and Zhaire Smith all signing to Puma, do you feel like there is a sense of teamwork there or is it a feeling of competition and achievement? What is that dynamic like?
As far as Puma, as far as the brand, we're all together, we're working together. Obviously you want to be able to be yourself and do different things and show a little bit of personality, but we are all under the same brand. I think at the end of the day, we all have to work together to get things rolling a little bit and stuff like that. But as far as on court, that's a whole different thing. We're trying to compete with each other and be the best, but as far as Puma, I think we all got to come together and make the brand bigger.
Did you know about plans to bring JAY-Z into Puma when you signed?
I didn't know about JAY-Z coming in. I found that out shortly after it was announced that DeAndre was coming on, that's when I found out. It was kind of a surprise to me but it was great because we're starting somewhere where we can definitely build with that. Somebody like him, whose been around a lot of basketball and a lot of sports, it'll be something special to build.
Have you met JAY-Z before?
No, I haven't met him in person. I saw him at an AAU tournament once, but didn't really get a chance to talk to him. Probably soon I'll get to end up meeting him and the rest of—well I already know DeAndre—but Zhaire, getting to meet him. I'm excited.
As far as Puma's legacy goes with basketball, they had both Vince Carter and Clyde Frazier signed to sneaker deals at one point, how you are planning on showing respect for that legacy but also reinventing the brand with your own spin?
You know I'm just gonna be myself, work hard, play my game, and just continue to grow on and off the court. I think as long as I put that type of work in, everything else will take care of itself. Staying out trouble, too, you know all stuff like that, just keeping everything moving in a positive direction.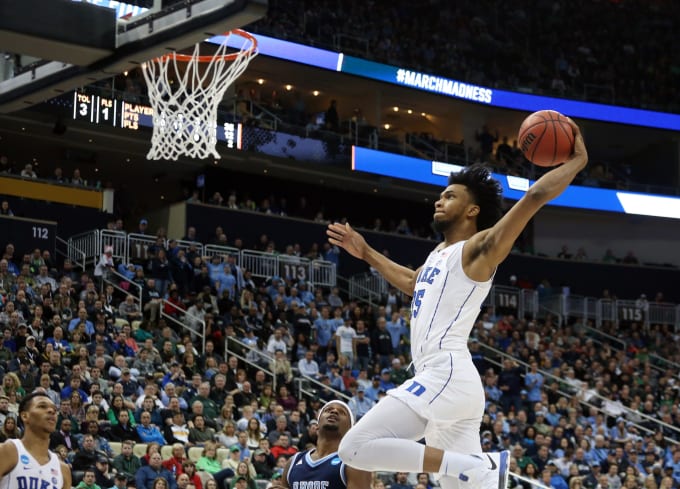 I know you were too young to really remember Vince Carter in his prime, but I wanted to know if there were any moments from his career that resonated with you?
As you said, I wasn't really old enough to see him completely but I've seen his dunks—the one he jumps over [Frederic Weis), I've seen that before. Just different dunks, what he does in the game, it's kind of like how'd he do that? I like dunking, too, so I just try and be aggressive and when I go up and try to dunk I try and take the rim off, so watching him do it, winning the dunk contest, it was pretty cool to see those highlights and watch him do those things.
Right, and so early in his career, do you feel he was kinda a trailblazer for doing those things and rocking Puma? In a way do you see that as something you have in common with him?
Oh yeah. I'm pretty sure when he signed and he was wearing it, people were questioning it and doubting it a little bit, and that's kind of like me being the first one since him to sign and proudly say I'm with Puma, you can kinda see it a little bit. From what I'm experiencing, people think its a joke and they don't take it serious now. I can see it, but this is what we're trying to build. That's what we're trying to do obviously getting a lot of the top guys in the draft, and it's gonna be exciting to show people that it's real and were trying to start something new and build on it.
So those criticisms, you're gonna show them what you can do and your not really worried about them?
I'm not worried about them at all, people are gonna have their opinions on different things that you do. But if your happy with what your doing and the decisions your making it really doesn't matter, so it's really just about building a brand now and proving to people that were serious about.
Is there a MB3 signature sneaker in the works? And if so when can we expect it?
No, not as of now. You know it's about playing right now, getting better, hopefully down the line that comes up. As of now, its not even a thought.
So about the draft...where do you think you're going?
[Laughs.] I mean I don't know, I don't know man. It's still up in the air, that's why we go there Thursday and find out. That's what makes it exciting, you never know where you're going, you're going there not knowing what to expect, but to hear your name getting called for whatever team it may be, it'll be a good feeling and I'm looking forward to it.
Have you gotten any good advice about preparing for the draft?
Not really. I just try and take it one day at a time and that's been helping me out a lot, not thinking ahead too far, not thinking about yesterday, just focusing on what I need to get done throughout the day. That helps the days go by faster.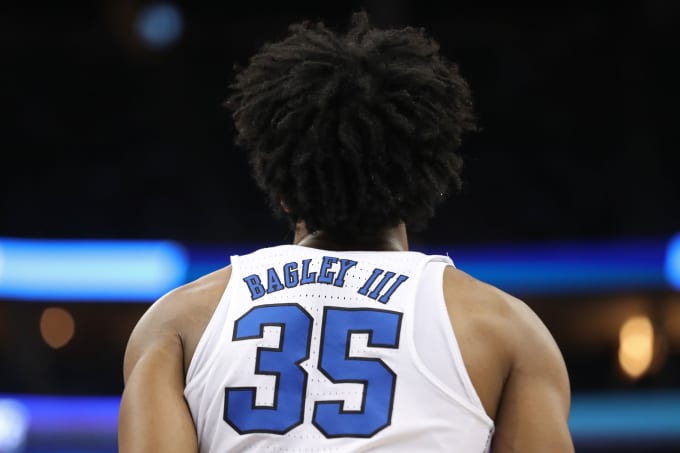 Are you excited to be working with Russell and Kyrie as a part of the Mountain Dew deal?
Oh yeah, that's definitely something I'm excited about. You know I see them on TV a lot. Kyrie, you know I talk to him every now and then.
Oh, so you're friendly with Kyrie?
I know Kyrie pretty well. When we were at school he'd come back and visit sometimes. I'll talk to him every now and then and get his advice and things like that.
So is there anyone in the league now who you've been talking to who's been acting like a mentor or helping you with the pressure of things?
Well [Kevin Durant]. I've met KD and talked to him a couple times, texted back and forth, talking to him about things. He's been telling me a lot of good stuff about off the court thing, people, what to expect, things like that. Paul George, I spent the summer before I went to Duke working out with him, every single day and that's how that relationship started. There's a lot of different people who I've met and been around that are successful that I've tried to learn from.
What do you think your persona and image can bring to Mountain Dew and Puma?
Well, I like to have fun and be silly, and a lot of people who know me know I joke a lot and have fun a lot. I think being able to come into Mountain Dew and bring my personality to the brand is a big thing for me. I'm excited to be a part of that.