It's best not to keep Bill Belichick waiting.
It's been two months since the New England Patriots lost to the Philadelphia Eagles at Super Bowl LII, and tight end Rob Gronkowski has still not committed, one way or the other, to play for the Patriots or retire altogether. Rumors suggest that Gronk is returning on one condition—if quarterback Tom Brady returns as well. And since Brady has indicated that he'll be back for at least one more year, this bodes well.
At first, Belichick downplayed the rumor mill, stating in a conference call, "At the end of every season, every person goes through somewhat of a process...I would say five minutes after the game, or the day after the game, is not really the time to make those decisions." But Belichick might be losing his patience. If Gronk doesn't commit sooner rather than later, he might find himself traded. And if that happens? It's been speculated that the 29-year-old tight end will simply retire rather than starting anew.
When Gronk does retire from the NFL—and he's closer to the end of his career than its beginning—he'll have to figure out what to do next. According to a report by Sports Illustrated in 2009, 78% of NFL football players are in financial straits within two years of their retirement. And though Gronk has reportedly been smart with his money—he asserted back in 2015 that his high-profile partying is funded by endorsement cash, not his NFL money—that could change once the money stops rolling in as quickly.
The most persistent Gronk rumor is that he'll join WWE as an in-ring competitor. He's made a handful of WWE appearances, thanks to his close friendship with WWE superstar Mojo Rawley. Most notably, he interfered in the Andre the Giant Battle Royal at WrestleMania 33, where he jumped the barrier, got in a three-point stance, charged, and delivered a stiff shoulder block to Jinder Mahal. Rawley won the battle royal, thanks to Gronk's assist
Then, a week later, Gronk was ringside at SmackDown Live to watch a match between Rawley and Mahal, and the Patriots tight end got involved again—this time, throwing a drink in Mahal's face to secure another win for Rawley.
The football/WWE connection runs deep. At WrestleMania II in 1986, WWE hosted a battle royal featuring NFL players including Russ Francis and William "The Refrigerator" Perry, who was later inducted into the WWE Hall of Fame. At WrestleMania XI, the main event pitted Bam Bam Bigelow against legendary New York Giants linebacker Lawrence Taylor. And countless WWE superstars, including Goldberg, Ron Simmons, The Rock, and Roman Reigns, played football on the collegiate or professional level before becoming professional wrestlers.
It's no wonder, then, that WWE's camp is excited about Gronk. WWE Chief Brand Officer Stephanie McMahon was very enthusiastic in an interview with ESPN last year, and Rawley said to TMZ, "Are you kidding? It's not a matter of 'if,' it's a matter of 'when,' come on now," in February. Gronk himself has only increased speculation; he cut a promo on Rawley after the latter's heel turn in November 2017.
Gronk, in addition to his natural athleticism, has the sort of high-energy personality that translates well to sports entertainment. But still, there are several factors to take into account before he signs on the dotted line.
First and foremost, Gronk's health is a constant, preoccupying concern. In the space of six years, he's racked up a decade's worth of injuries. There were two breaks to the same forearm in two years, a fractured vertebra, and a torn MCL and ACL in his right knee. There were also at least two concussions that doctors know of; the second occurred during the Patriots' AFC Championship win over the Jacksonville Jaguars this year.
WWE has a rigorous concussion protocol. Despite medical teams in Phoenix and UCLA approving Daniel Bryan for in-ring competition, WWE's medical team held off on clearing him for two years. And even now, after they've already cleared him, the WWE medical team will examine Bryan after every in-ring appearance. As someone with a history of concussions, a WWE employed Gronk would be subject to scrutiny.
But wouldn't a WWE career be easier on Gronk's body? After all, the fights are 'fake,' aren't they? He can just pretend to get hurt instead of actually getting legitimately hurt on the football field, right?
Well…yes and no.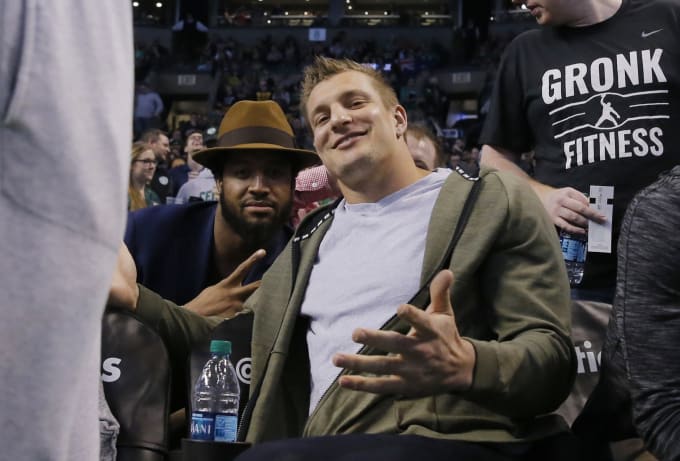 WWE is predetermined, and the matches can be choreographed down to the move. Competitors roll with punches and brace their bodies for impact through clear, in-ring communication. Compare WWE to the NFL, where players get tackled at full force from blind spots, and the former can seem downright tame.
But here's the fine print that many people don't understand: just because something is scripted doesn't mean that it's "fake." Wrestling is hard, physical labor. After his main event match against Bigelow at WM XI in 1995, Lawrence Taylor could barely stand; when his fellow football players hoisted him on their shoulders, he nearly fell off. And the subsequent pain is always real, too. Jumping from the top rope to the floor hurts. Getting smacked with a steel chair hurts. Getting elbowed on the side of the head hurts. Sure, knowing the elbow is coming can minimize the pain. But wrestlers don't have an off-season, and they aren't just working live television; they're also working non-televised "house shows"; which gives them minimal time to recuperate. Even hits that one sees coming hurt, and minor injuries can accumulate into major ones. WWE will not be a cozy retirement for Gronk; it'll be a second career in a high impact, injurious endeavor.
Gronk should remember that WWE fans are infamously critical. Every newcomer gets a limited grace period of three months to find his or her footing. Former UFC women's champion Ronda Rousey is going through her honeymoon phase at the present. And once the shock value of seeing Rousey diminishes, she'll need to step up. But at least Rousey came from a combat background. Gronk may receive even less leeway.
So how can Gronk get his WWE career off to a fresh start, if he ever decided to trade in his cleats for boots? First, he should be training, in secret, for his debut before it's even announced; the turnaround time between his debut and his first match will be too short to prepare properly. He needs to take on a wrestling style that will protect his body—more Miz and less Daniel Bryan—so that he can perform for as long as possible. He should maximize his exposures with TV appearances only. There should be no house show appearances unless it's a venue like Madison Square Garden. And he should keep cutting promos and posting hype videos on social media. He already does that extremely well, and he requires no additional training.
Is it possible for Gronk to succeed in WWE? Absolutely. But two cameos at WrestleMania and SmackDown are not indicative of what a full-time WWE career would be. The glitz and the glamour will disappear. Fans will get sick of seeing him, and demand more substance. And the victory lap will slowly become a job—one that poses great physical risk. Gronk needs to love the wrestling business itself, not just the positive attention it garners. The negative attention won't be far behind.