Over the past several years, Allyson Felix has become one of the most decorated athletes in Olympics history and the face of women's track and field. But after securing two more gold medals last summer at the 2016 Rio Games, Felix's role has changed from athlete to general manager in the TrackTown Summer Series.  
The TrackTown Summer Series is a creative experiment that gives fans a different experience from your average track and field meet. Think of it as an all-star game for track and field, the best of the best joining forces to compete against each other. The meet also offers entertainment by providing food, drink, and music to fans during the competition.
Felix along with Bernard Lagat, Nick Symmonds, and Sanya Richards-Ross make up the group of general managers that evaluated and drafted the athletes onto their teams. The four teams (NYC Empire, Philadelphia Force, San Francisco Surge, Portland Pulse) each consist of an even set of female and male athletes.
After stopping in Portland and San Francisco, the TrackTown series makes it final stop in New York City on Thursday. Before the meet, fans have the opportunity to compete in a 5K Road Race in Icahn Stadium alongside some of the best athletes in the world. Complex caught up with Allyson Felix to talk about her role as GM in the event and her career in track and field.
How did you get involved with the TrackTown Summer Series and why?
I watched it take place the previous year and I was excited about the concept. I felt it definitely makes sense to get involved with it. I mean anything that promotes track and field, especially with domestic opportunities for athletes is something that intrigues me, so I was really excited about it and on board.
How'd you go about drafting your athletes; did you have a specific strategy?
I was looking for a really balanced team. Being a sprinter, I'm always thinking about the sprint so it was kind of a different process for me to look into other areas like the jump and really kind of focus on making sure that we hit all areas to make a really great team.
Even as a GM, you can still draft yourself and compete. Are you planning on competing in the event this summer or will you just be offering support through your leadership role?
I'm not going to be in the event. I'm just doing the GM role.
What's your assessment of the team you put together?
I think we have a really strong team. A lot of people had great performances at the Nationals. I think a lot of people will kind of use that momentum.
Do you think the TrackTown Summer Series can eventually evolve into a professional league like the MLB, NBA, NFL, etc.?
Yeah, I hope so. I think this is definitely a step in the right direction and I think the thing that's really great about this is that you have a team aspect. I think sometimes it can be overwhelming to turn on the TV and see a track meet. The way that this is broken down, you can immediately look for a team that is associated with someone that you like; I think that's a great thing. Also, the athletes are able to show their personalities. I really love the concept and hope that it does continue to move forward.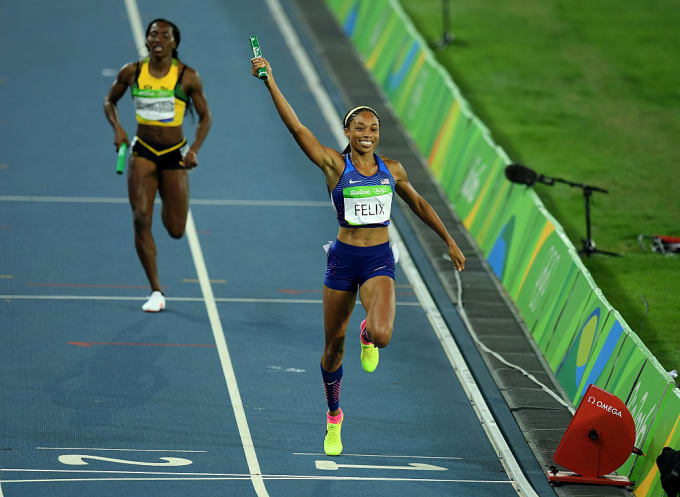 You recently awarded Sydney McLaughlin with the Gatorade National Girls Track and Field Athlete of the Year award. How good do you think she'll be down the road and what's your advice to her as her fame grows?
She's a phenomenal talent and she's done an outstanding job. It's been exciting to get to know her and to kind of watch the path she's on. My advice to her is to surround yourself with good people. I think as long as you have your goals in mind, a great support system, and you really enjoy the journey and embrace it all, then she'll really be a success. I'm looking forward to continuing to watch her as she moves forward.
You've been one of the faces of track and field for a while; have you thought about hanging it up yet and what you'll do after your career?
I'm still really enjoying it at the moment and still feel like I have more left to give. I would love to do another cycle of the Olympics, that would be a dream come true for me, and after that there's a lot of other interests I have that I'm excited to do. I have a passion about children and education so I'm also excited for the next phase of my career once I do step away from the track.
Speaking of the Olympics, you were a part of an exciting performance at the 2016 Rio Olympics in the 4×100 meter relay that included some controversy. What was it like going through that situation on the grandest stage in sports?  
It was just a crazy year for me. It seemed like nothing would go right for me. Like you said, a lot controversy and drama. It was one thing after another but I've been taught to continue to believe in myself, keep fighting, and really to never give up so it was a trying year for me but I made it through and I feel like I learned a lot of lessons through it all.
You're already a very accomplished athlete. What are some goals that you haven't reached yet?
Getting better and improving is always the goal and I'm looking forward to going to the World Championships and competing there. I still have more left to give in the 400, more to learn and more to accomplish there. I didn't do as well as I would've liked to do in the 400 in the Olympics so that's definitely another goal.
You're someone who's very outspoken about your faith. Is that something that has driven you to perform at a high level?
Yeah, my faith defines me. It's so important to me as a person and for my career. I feel like I've really been blessed with talent and I want to use it to glorify God. That's something I always try to remember and definitely when I'm competing on the track.