After winning the league's Most Improved Player Award, Portland's CJ McCollum ​has emerged as one of the best shooting guards in the league and is averaging 23.3 points per game. We know he has game, but he's also a good sport, hence his newest project: submerging himself in a chest-deep ice bath for a new game show called Going Numb.
In the second installment of Champs Sports's digital series, McCollum jumps into a 150-gallon ice tub next to a lucky high school student. They have 90 seconds to guess 10 phrases based on descriptions given to them by their teammates, and if they win, the kid takes home a $500 gift card presented by the player. They also get a chance to bond over their love of sports and pop culture in a unique and unexpected situation.
CJ McCollum is known as DJ McCollum to radio listeners in the City of Roses, so when we caught up with him we discussed ice baths, who could beat his teammate and buddy Dame Lillard in a rap battle, and, of course, his taste in music.
(This interview has been edited and condensed.)
Why did you decide to partner with Champs Sports and partake in the Going Numb project?
It was a unique opportunity to partner up with one of the leading sports lifestyle retailers in North America. I also thought that Going Numb was a great way to provide high school students unique opportunities and to learn about their passions all while answering some trivia questions.
How well does Going Numb actually simulate the process of quick thinking in a fast-paced environment, such as a game?
It's different just because I'm comfortable on the court and its not cold. Being in that cold environment, having to answer questions while sitting in an 150-gallon Champs Sports bath loaded with ice up to your heart is unique, it's tough even if I do it every day.
So how cold were the ice baths?
They were really cold. Basically there was a 3-2-1 countdown before we jumped into the tub and they started the clock to ask the questions.
Are you believer in ice baths? Do you regularly take them?
Yes, I am a believer in ice baths, and I take them regularly.
"IN JANUARY, WE WERE ONE OF THE TOP TEAMS IN THE NBA IN DEFENSE; IN THE SECOND HALF WE ARE NOW IN DEAD LAST—IT SHOWS YOU THAT WE AREN'T FINISHING GAMES."
So, moving on to basketball, what do the Blazers need to do to get the eighth seed?
We need to win some games! [laughs] We need to take advantage of playing on the home court, which I think is key to getting into the playoffs.
It's been a bit of a struggle this season. Why haven't you guys had the same success as last season?
I don't know; I wish I had the answers. I think injuries has been one of the reasons, but we should be coming back. We've made a mid-season trade acquisition bringing in Jusuf Nurkic and trading Mason Plumlee, which is going to exposes us to different challenges because we have to get Nurkic acquainted with our play calling. Understanding that coming from a new team, it's really tough. We've also had a lot of things not go our way this year. We haven't really played particularly well in the second half of games. In January, we were one of the top teams in the NBA in defense; in the second half we are now in dead last—it shows you that we aren't finishing games.
Thursday, you face Russell Westbrook. How impressed are you that he's averaging triple double this season?
Russ is a very good player! He's able to do a lot of different things: He can score, he can pass, he can grab rebounds, and he puts a lot of pressure on the defense that he's going against. I think that what he is doing is something that we haven't seen in a very long time and it is very impressive.
You just got back from All-Star Weekend. What was your experience like, and what was the best part?
All-Star Weekend was fun especially being in a new city like New Orleans. I had different opportunities to eat unique foods and to see some of the celebrations with Mardi Gras and parades that go along with that. But I loved meeting with my sponsors, interacting with my peers, and I enjoyed getting some journalism experience. I got to work on a segment with TNT during the Rising Stars game, so I had a good experience overall. I enjoyed my time there and look forward to many more All-Star Weekends.
So is there anyone on the Blazers who can take Damian Lillard in a rap battle?
[Laughs] I don't know. There are a couple guys on the team that are down with the freestyle. There may be a few players that can put up a good fight, but I don't know, that's a really good question.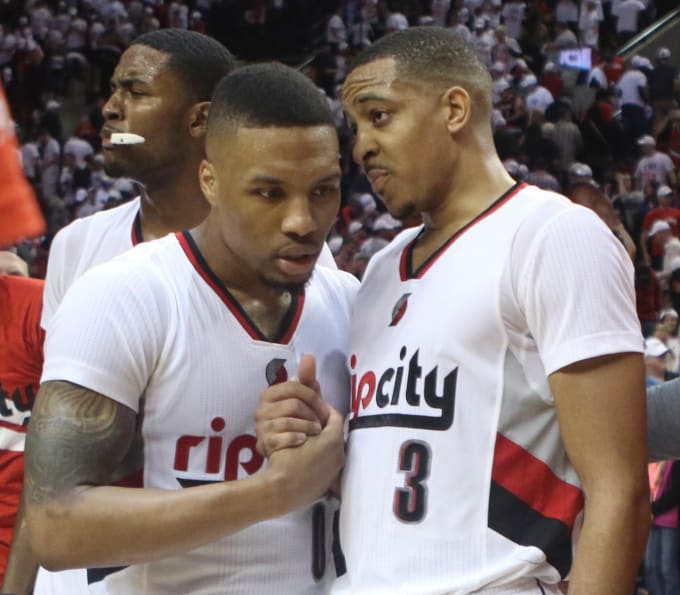 With both Dame's and your background in music, who do you think has better taste in music?
I think I have pretty good sense of music being a DJ and a guy who has multiple radio shows, but I also do have one of the best musical tastes in North America so it would be hard to outmatch me! [Laughs.] But Dame does have good taste in music, especially in different genres and music dating back to the '60s and '70s. 
Who are you listening to right now?
I'm listening to a little bit of everything. Future just put out some new music as of late. A lot of people are Pro-Future with his new album Hndrxx. But I think you can never go wrong with a little bit of Drake, a little bit of Gucci, John Legend is in there. But for those rap battles, Remy Ma just put out that new song discussing some things she didn't like about Nicki Minaj. Wale, Trey Songz...There are so many different artists out there.
Like you said Future has dropped albums in back-to-back weeks. Is this too much Future, not enough, or just right?
I haven't really been able to listen to all of it, I've listened to some of HNDRXX. It's just that there are a lot of songs and I haven't really had time to keep up with it, but he's doing a good job of giving the people what they want. There's a good mix of trap and R&B; he has that track with The Weeknd and a track with Rihanna, so I think he's got a really good balance.