"Jolten" Joe Flacco is a man of few words. As the adage goes, he lets his play on the field do the talking. For nine years, Flacco has proven he's a winner, leading the Baltimore Ravens to a victory in Super Bowl XLVII and six playoff appearances in eight seasons. In 2016—less than a year after tearing his ACL and MCL—Flacco is back on the field, determined to bring his team and his city another title.
While we know about Flacco's strong arm, reserved demeanor, and tendency to thrive in clutch situations, we wanted to learn a bit more about Joe, the man beneath the pads. In our conversation with the Pro Bowl quarterback, Flacco dishes on the connection he has with his teammates and to the city of Baltimore. He even reveals his favorite local eateries, and his thoughts during the Super Bowl XLVII power outage.
(This interview has been edited for clarity.)
I saw you grew up in New Jersey. Had you ever been to Baltimore before you were drafted by the Ravens?
No. I had never been before I was drafted.
The 2015 season was a disappointing one for the Ravens (finished 5-11) and obviously for you with the injury. This season, you're currently 5-5. What are your expectations for the Ravens down the stretch?
The same as it is every year: win the Super Bowl.
What is your most vivid memory of bringing the Super Bowl trophy to Baltimore four years ago?
Just being in the locker room with all the guys and taking pictures and having fun. Also, it was awesome taking pictures with my oldest son and the trophy.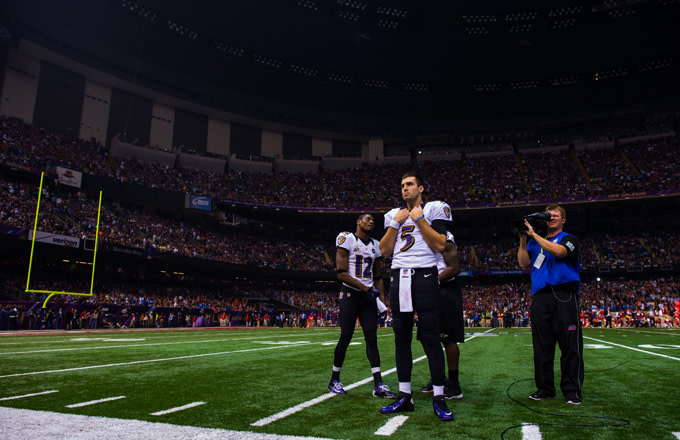 How have you grown as a player since your Super Bowl victory in 2012?
Winning an SB gives you confidence, and knowing that we can get there and do it means a lot.
Also, that power outage during Super Bowl XLVII was insane. What was going through your head as you were waiting for the game to resume?
Honestly not much. I thought it was crazy that it could happen on that big stage, but it really wasn't a big deal for me.
What are the pros and cons of being a Super Bowl-winning QB?
One pro is having that ring, which is something most football players never get. I can't think of any cons.
You've spent almost a decade in Baltimore. If I'm in Baltimore for a day, what spots should I check out?
I love to eat at great places, so I would tell you to go to Blue Moon Café or Miss Shirley's [Café] for breakfast. I'd also recommend the Food Market, which is my favorite restaurant in Baltimore.
Michael Phelps is a Baltimore native. Have you ever spoken to him?
Yes. He comes to games and has been in and out of the facility, so we're friendly.
How about any other Baltimore athletes?
I don't get out much with my growing family, but we do have a golf outing once a year with the Orioles. I usually play a round with someone different every year.
Do you want to spend the rest of your life in Baltimore, or would you consider going back to Jersey?
Great question and tough to answer. My kids will grow up here and be in school, so I think we'll be here long term. Might go back and forth as the years go on, but I do love Baltimore.