Yesterday, the incomparable New Yorker published an article on the meme of a generation and, unfortunately, they missed the mark. Crying Jordan has engulfed all corners of the Internet since making its way out of message boards around 2012 or so. For all the olds out there, the image comes from Michael Jordan's 2009 Hall of Fame speech where he furthered his immortality with a petty roast who dared to challenge him.
The face comes about two minutes in as Mike tries to muster up words. It was a moment of vulnerability we hadn't seen often from him, aside from the times he cried his eyes out after winning his first title in 1991 and his fourth in '96 on Father's Day three years after his pops was murdered.
Ian Crouch's piece touches on M.J.'s fading bankability as an endorser of brands and how he isn't as cool as he used to be, which is somewhat true. While he can't sell us Gatorade anymore, he can certainly sell us sneakers. Jordan Brand has become a billion-dollar company by selling us the same shoes over and over again. I'm not mad at them either; I'm wearing black Jordan V retros as I write this and have spent a pretty penny on Bin 23s VIIs. His jeans are atrocious, though, that fact isn't up for debate.
The Crying Jordan meme "is the people knocking Jordan down several pegs," writes Crouch. He also claims, "For those of us who were sentient when Jordan was winning championships, seeing his face become a mocking emblem of sadness and incompetence has been jarring."
Let's pump the brakes a little bit. People who grew up watching M.J. dominate use the meme on a regular basis. This is simply a case of Crouch over-thinking something. I watched His Airness send my Knicks home early year after year when I was a wide-eyed kid amazed by No. 23, as did many others. The Crying Jordan meme isn't about a god's fall from grace—it's about being funny. That is it. This meme ain't that deep, fam.
In most circles, Jordan is the greatest basketball player to ever live, and now he may very well be the greatest meme to ever be created. Crying Jordan refuses to go anywhere. When people complain about seeing it too much or write articles denouncing it, they in turn get the Crying Jordan treatment. These are the rules of the Internet now. M.J. is now a legend in three games: basketball, sneakers, and memes.
The night North Carolina lost to Villanova in the national championship game was one of the most memorable in meme history. We Crying Jordan face'd Jordan himself. Meme Inception is what I like to call it; a dream within a dream.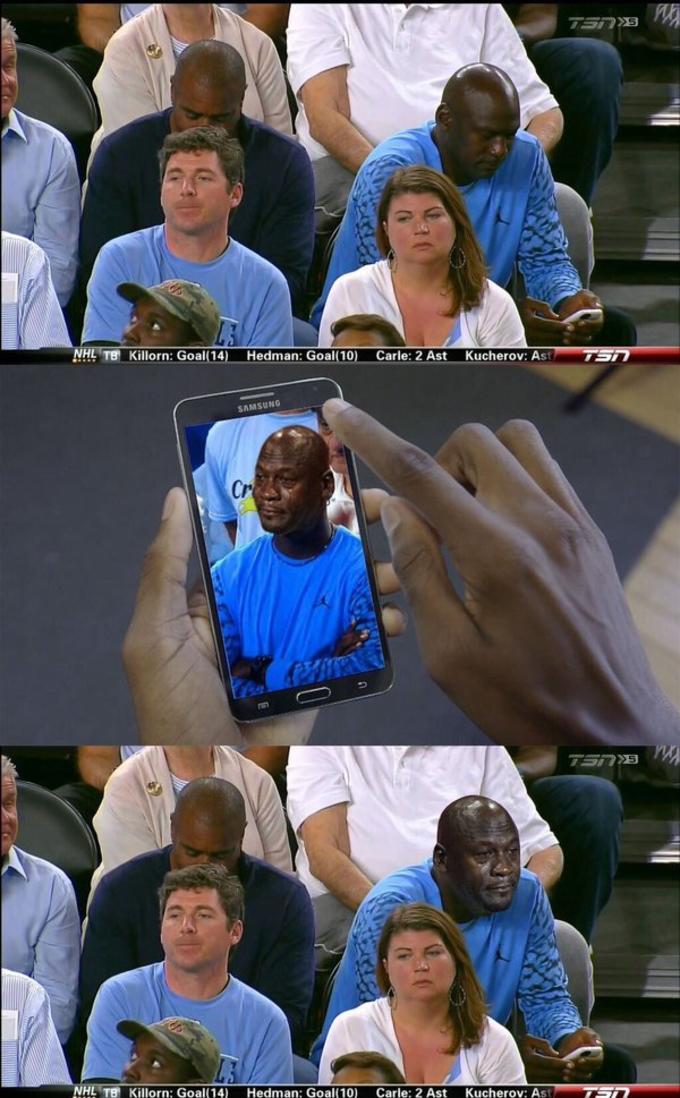 Recently, Charles Oakley, one of Jordan's best friends, said M.J. himself hated the meme which contradicts a statement Michael's camp gave us. Jordan probably secretly hates the meme because he can't make any money from it (don't listen to Ja Rule). His son Marcus doesn't seem to mind it, though, because he's 25 and understands meme culture.
Michael Jordan is a billionaire with a brand that isn't going anywhere anytime soon, he owns an NBA team in the state he grew up in, and is a meme that refuses to die. His life these days is far from tragic. Seeing the Crying Jordan face creep down my social media feeds isn't going to stop me from whipping someone's ass with the '96 Bulls on 2K, or from paying $200 for Jordan retros I couldn't afford as a kid, or from making fun of Mike's jeans. Everything doesn't need an explanation. Let us have our memes, because in 2016 it's all we got.