There's something I've learned about covering Kobe Bryant over the years: There is always a story to tell. 
How that tale is told primarily hinges on who is stringing the words together. Kobe Bryant has spent 20 years—the majority of his life—playing professional basketball in Los Angeles, in that time racking up more than a few legends. This particular narrative is told by those who have helped shape Kobe's story. 
For me, the moment was introducing myself to someone underneath the Lakers' tunnel, and having Kobe walk by, pat my shoulder, and tell her I was "good people."
But that's just me. Here are 18 other journalists' favorite Kobe Bryant stories.
---

Bill MacDonald is in his fifth season as the Lakers television play-by-play announcer on Time Warner Cable SportsNet, though he's covered Kobe since the very beginning. Calling Kobe's historic 81-point game will always top the list, but so will that night he raced Bryant home on the 405 freeway.
"​Since Kobe and I live near each other, he would say to me, after the games 'Wanna race home?' But, we never left at the same time, until this one day. I'm driving down the 405 and I see Kobe's car in front of me. It was stopped and I happened to blow right past him with my middle finger out the window like 'Fuck you!' and I'm screaming at him and what does he do? We proceed to play cat and mouse for the next 25 minutes all the way down the San Diego freeways, breaking all kind of rules…Now, his car was a little more expensive than mine and a little more high performance and there was no way in his competitiveness, that he was going to lose to me, so when we crossed the finish line and the checkered flag came out, Bryant beat me home."​ 
Jim Hill garners about as much respect as Kobe Bryant when he walks into a press conference. An unwritten rule amongst us media folk, if Hill's in the room, he gets the first question. The NFL defensive back turned CBS Sports anchor will never forget the first day he met Bryant, or that silver sweat suit that left a "blinding" impression. 
"​The first time I met Kobe Bryant was at the Summer League down in Long Beach, and the TV series Arli$$ was on, and they came to me wanting to play a sportscaster role in this particular episode, featuring Kobe Bryant. They introduced me to Kobe and up walks this 19 year old guy, all full of himself and everything, really cool guy. But, the thing that I noticed the most about him was this silver sweatsuit that he had on, silver with a silver watch and I said 'MHHM he must know something that the rest of us don't know, because he's going to be something special.' It was just by his demeanor, by his voice inflection, by the confidence he was exuding. I have the picture at home on the wall of he and I, when we first met and shook his hand. The shine from the silver sweatsuit was blinding!"​
---

Stu Lantz, a former NBA guard himself, is in his 29th season broadcasting Lakers games. He took a seat alongside the great Chick Hearn in the broadcast booth for 15 years. Now, he takes the mic alongside Bill MacDonald, as the color analyst for Time Warner Cable SportsNet and he'll never forget when Kobe outscored the Mavericks.
"​He got 62 in three quarters against a championship-caliber Dallas team, it just blows my mind. The 81 was against a team that wasn't going anywhere, but he had 62 against a Dallas Mavericks team that represented the West that year in the NBA Finals. 
"​I tease him all the time, about not being from this planet. I call him a semi-alien. Because some of the things he does, the way he prepares, the way he can play through pain. It's not usual. He hurt his shoulder in Minnesota and they told him he was going to be out like 6 weeks. I think he was out like a week. That's not human."​ 
John Ireland is in his fifth season as the Lakers radio play-by-play announcer, but has been embedded with the team for almost 15 years, serving as the KCAL-9 sideline reporter from 2002-11. One of his favorite memories comes straight from the hotel bar; a couple hours after a playoff series win against the Houston Rockets.
"By the time I got back to the hotel, it was a couple hours after the team. So, our whole travel party is in the bar and Kobe is in the corner and motions over to me and goes, 'Hey John, you want a beer? And I go, 'Hey Kobe you don't have to buy me a beer.' And Kobe has this smirk on his face and points down. And, I look down and there are probably 17 or 18 opened, but totally full beers. What had been happening prior to me getting there, were fans going 'I've always wanted to buy you a beer!' And so, he just says thank you very much and he takes it and puts it down on the floor. I went back after the first one and go, 'Can I take another? And he goes trust me, 'There's no way we're going to drink all of these.' Moral of the story: If you're one of the fans in the bar that wants to buy Kobe a beer, chances are he already has 18 of them."​
---

Mike Trudell has been the beat reporter for Lakers.com, since the 2008-09 season. Currently in his fifth season as the team's sideline reporter for Time Warner Cable SportsNet, Trudell's favorite memory involves Thanksgiving dinner and a Ping-Pong table.
"​Thanksgiving 2013, and the team was in Detroit. None of us had plans. We thought we were going to have Thanksgiving alone. So, Kobe basically made sure that one of the ballrooms was open and had a fully catered Thanksgiving meal for everybody. Inside this room there's a Ping-Pong table and some of us are playing, and I grew up with a Ping-Pong table, so I'm pretty good. At some point, Kobe makes a comment about one of the players I had just beaten. So I said, 'Kobe if you want to, I'm happy to give some to you next.' So, we play the first game and you can tell he can play, but he's not a super experienced Ping-Pong player, so I sense a couple weaknesses and beat him rather handedly the first game. He is talking a bit of shit, mostly just calling me a MF-er. But, the reason I'm telling this story is not as a humble brag but because during the entire game, he was literally watching every point and learning as the game is going on. So, we get done with the game, and he wants to go again. Now, I beat him again the second time, but he got much closer. Within 5 minutes, he was taking the Ping-Pong game so seriously, and I thought, this is why he's so great at basketball. I've never competed against anybody in anything, and I played a D1 sport, that felt as intense as that Ping-Pong game."​
---

The Spanish broadcasting duo of Adrian Garcia Marquez and Francisco Pinto are in their fourth season with the Lakers and both of their favorite moments also have something to do with that Thanksgiving dinner.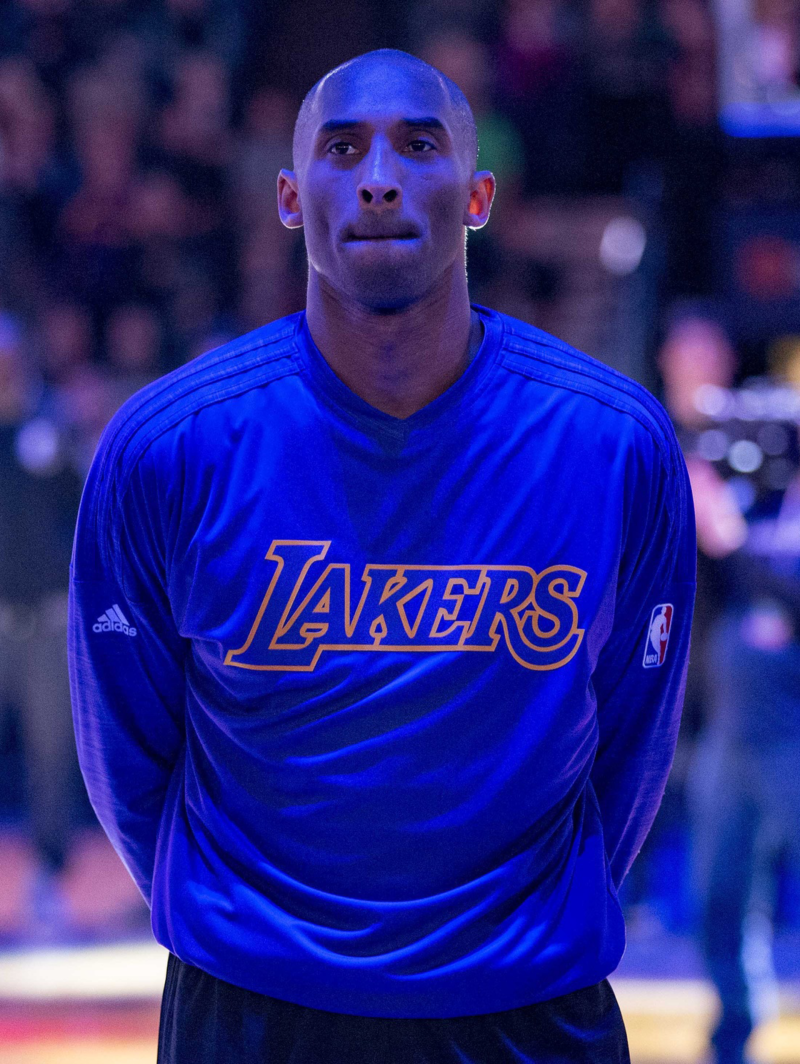 Adrian: "​This is how I found out how competitive as hell Kobe Bean Bryant is. Thanksgiving dinner in Detroit and the centerpiece on the table are flowers and footballs, so Mark Madsen and I grab a football and we start chucking it. Kobe does the universal sign of throw me the football, so I chuck him the ball. He's like 'OK we're going to play a game of drops, if you drop a football, it's a point for the other guy. So, we're going at it, chucking the ball hard and it's one handed catches and I'm trying to beat him. So, I was up by 1, it was like 10-9. Next thing you know, I bobble a ball and it lands in a pumpkin pie, so when it lands in a pumpkin pie all I hear is Kobe's voice say, 'Aww that's minus two dog, you just killed a pumpkin pie, that's two points for me.' Now he's up by 1, we're going at it a couple more, and I finally drop that last one and I'm thinking to myself, I was only 2 points away from being able to tell my grandkids I beat Kobe Bryant at something. I said, 'I want a rematch!' and he goes 'NOPE next!'"​ 
Francisco: "​What you haven't heard is that after every player went to sleep Kobe, stayed with just a few of us and we talked for like an hour and a half after everybody had left. We talked about everything, basketball, life, contracts, a bunch of stuff…drinking beer, we drank so much Stella. That was the first time that I had a real conversation with him. That guy is so freaking smart. He's really funny, if you get him at the right time.
"​And when he cusses in Spanish, that's the best. Perfect accent, perfect."​
"We proceed to play cat and mouse for the next 25 minutes all the way down the San Diego freeways…"
—Bill MacDonald
Former Laker (and Klay's father) Mychal Thompson is in his 13th season as the team's radio color commentator.
"​I used to get to the arena, 4-5 hours before the game and Kobe would be the first guy to get here. Nobody else in the gym. Just me and him and a ballboy getting rebounds. After he would shoot, he'd just come sit down and talk. Talking about life, basketball, my boys. Those were my best times with Kobe. When you talk to him one on one with nobody else around, he's as comfortable to talk to as anybody."​
---

Arash Markazi is a senior writer for ESPN, who's also written for Sports Illustrated, Slam, King, Vibe, and Playboy.
"​2009 NBA Finals in Orlando, going into the clinching game, Game 5.  I was covering for Sports Illustrated at the time and they put me up at the team hotel. I had been out with some other reporters, and I came back to the hotel and saw Kobe Bryant in the hotel lobby bar at 2AM, sipping on a Corona, talking to his friends, enjoying himself. I went back up to my hotel room, but couldn't really sleep that night, so I took a walk around the hotel around 4 or 5 in the morning, and I see Kobe leaving the hotel gym in a full sweat, and the sun wasn't even out yet. I had heard all these stories about Kobe's insane training, but you never know if those are real or hyperbole. Then I had that experience. They clinched the next day."​
Jose "Pepe" Mantilla has covered every single game of Kobe Bryant's 20-year career, as the team's Spanish radio color commentator. 
"We used to have this giant Lakers party every year, Fiesta Lakers and out of the blue, Kobe took a picture with my late wife. I have that picture in my house in a very special place. Kobe through the years, a lot of people might judge him, but when you are part of the great ones, like Kobe is, they become defensive because they don't want to show any weakness, that might be exploited."
---

Most known for his furry hats and spiritual flair, Vic "​The Brick"​ Jacobs has covered Kobe Bryant since the moment he stepped foot in Los Angeles. Currently a radio host on AM 570 LA Sports, Vic's favorite memory goes way back, when he was working as the sports guy for KIIS-FM with Rick Dees and Ellen K.
"​The first meeting, the summer of 1996, Kobe's 17 years old. I'm all amped up for Kob', he was playing Summer League at the Pyramid in Long Beach. After a workout, I go up to his room, knock on his door, Kobe says 'Come On In Vic!' He's sitting with ice up to his knees, already doing the ice at 17 and he's munching on French fries and he says, 'Vic you want a French fry?'​ And I said, 'Ya Man that would be fabulous,' so we're eating French fries in some nondescript hotel room. And, there was an epiphany that came over me, that striking moment, that this kid is going to create profound impact in this town."​
"And when he cusses in Spanish, that's the best. perfect accent, perfect."
—Francisco Pinto
Mike Bresnahan has been covering the Lakers as the beat reporter for the L.A. Times since 2004. Through the years, he'd heard a couple things about Kobe's "blowups," like trashing a TV or kicking a trash can clear across the room, but it wasn't until he witnessed this that he had a little bit of validation for all he'd heard.
"​December 2014 and the team is off to a very bad start, and for whatever reason the media was let in fairly early that day to watch the Lakers scrimmaging at practice, and all of a sudden you realize Kobe is yelling at people at the top of his voice. And he's saying 'Nick Young there's no way you can guard me,' F bomb this F bomb that, starts calling his teammates 'Soft as Charmin' and it was like, is it really like this every day at practice? I remember Phil Jackson once used the phrase barbaric to describe how hard Kobe could be on his teammates in practice and that was a pretty good indication. At the very end of it, he told Mitch Kupchak (general manager) he needed better people to test him in practice, get some better players. It was a shocking insight into how competitive he is. He's got an angry fire just among his own teammates."​
---

ESPN's Dave McMenamin was on the Lakers beat for five seasons (2009-'14), before making the switch to the Cleveland Cavaliers.
 
"​Before Kobe Bryant became a household name, maybe the most notable thing about his high school, Lower Merion, was its longstanding rivalry with my high school, Radnor. Kobe is five years older than me, so our high school careers didn't overlap, but I saw him play when I was in middle school. Years later when he was playing for the Lakers and I was covering the NBA, I introduced myself to him after a game at Staples Center. '​Hey, I'm Dave,'​ I said. '​I went to Radnor.'​ '​Radnor?!'​ Kobe shot back, '​Then why are you talking to me?'​ It was good to see the L.M.-Radnor rivalry knew no bounds, even though Kobe was being good natured.
"I went on to cover him and the Lakers on a full-time basis. During the postgame press conference after a playoff game during L.A.'s title run in 2010, I asked Kobe about a particularly fervent celebration he had with Shannon Brown—he basically tackled the Lakers' backup guard on the court after Brown made a big play. '​C'mon, Dave, this isn't the Central League, this is the playoffs,'​ Kobe quipped. That's the league our high schools competed in. It was a quick-witted callback joke to the first conversation we ever had. When the presser was over, I caught up to Kobe in the hallway as he made his way out of the arena. '​Good one,'​ I said. '​Hey, I was excited,'​ he said, before catching me off guard and body checking me much the same way he did to Brown."​
Mark Medina started covering the Lakers for the L.A. Times and is now the Lakers beat writer for the L.A. Daily News.
"The top memory that still sticks with me is the night that he tore his Achilles. The injury itself was devastating but the fact that he was willing to talk to the media?
"It was very raw, vulnerable. He wasn't trying to camouflage it. I've talked with Gary Vitti about this. He was venting, tearing up crying, very emotional in the training room. You could see from his face, that he had been wearing that, but in a way it showed a lot of strength, because he wasn't trying to hide from it."
---

Shahan Ahmed has covered the Lakers for NBCLA since 2012. He happened to be standing at mid-court, the moment Kobe Bryant realized he tore his Achilles.
"​He dropped the '​F-Bomb,'​ but not with anger. It was like helpless frustration. I'll never forget the way he said: fuck."​
Eric Pincus has been covering the Lakers since 2003 and is in his fourth season with the L.A. Times. If you've seen Kobe Bryant's documentary film, MUSE, you might remember him as the guy awkwardly kneeling on his knee amongst a swarm of TV cameras the night Kobe tore his Achilles, asking Kobe the question that nobody wanted to ask, whether he thought his career was over. While he'll never forget that night, there was also this:
"There was one thing, years ago, I had two girls and we were talking about how we were going to try to have a third. And, he told me that to have a boy, I need to keep my socks on with my wife…that was his advice. I did not listen, and I have a third girl."
---

Baxter Holmes has covered the Lakers for ESPN since 2014 and remembers introducing himself to Kobe Bryant shortly after an explosive ESPN The Magazine piece claimed he was the reason for the Lakers downfall. ESPN's NBA Rank had also just ranked him No. 93, so he was expecting their introduction to take a different turn:
"​I introduced myself to Kobe with a joke about my prior employer being The Boston Globe, covering the Boston Celtics. He laughed and said '​It's a pleasure to meet you,'​ adding that he looked forward to working with me. He could've been snarky, or made a crack at ESPN considering everything that had transpired, but he didn't. Remained cordial and, most of all, professional."​
---

Fernando Gonzalez is entering his 19th season as the Lakers Spanish radio play-by-play announcer. 
"​It was in Anaheim waiting for a preseason game at the beginning of his career, we were talking about nothing for about 15 minutes. And, I was telling him a story about how my kid who loved Kobe, was asking me if I'd ever had an interaction with you, and at the time, I told my son, no. And Kobe said, '​​From now on, you can tell your kid that now, you and me are friends.'"​