Rick Macci is a celebrated tennis instructor and owner of the Rick Macci Tennis Academy in Boca Raton, Florida. He has coached five No. 1-ranked players, including Andy Roddick, Jennifer Capriati​, Maria Sharapova, Venus Williams, and Serena Williams. 
Two weeks ago, before Serena Williams' surprise loss to Roberta Vinci in the U.S. Open Women's singles semifinals​, I spoke to Rick Macci about Serena and his experience coaching the young star. These were his thoughts on the Greatest women's player of All Time.
As told to Maurice Peebles (@tallmaurice).
"In 1991, I talked with Richard Williams. Serena was nine and Venus was 10, and he decided at that time they were going to move from Compton and he wanted me to coach both the girls. We set up a contractual relationship, because when I saw their ability—it wasn't so much that they were technically amazing or anything, they were just like any other kid in the country—but the thing that stood out to me was their overall speed and the fact that they were going to be big and strong. And in the 90's, if you were kinda big and even a little strong, you weren't very fast. 
"I couldn't see an athlete becoming, you know, 5-foot-10 or 5-foot-11, 150-160 pounds and covering the court like the wind—and that's what I saw in both the girls. And the wild part was they competed. They'd run over broken glass to get the ball and they'd run over it to get the next one. So they had this innate quality internally that I saw right away. And I had [Jennifer] Capriati two years earlier. The way they competed was the same thing I saw in [Andy] Roddick. It was off the charts. Just unbelievable, over the rainbow, competitive fight inside. 
"The strength and the foot speed by the time they were 17, 18 years old? That spelled greatness. Now, at the end of the day, they needed technical help. They needed opportunity. They needed hitting partners. They needed guidance. They needed world-class coaching. So Richard and I did a contractual relationship. They were with me from 1991 through 1995. I actually took Venus to make her debut in California. She was 57 in the world and almost beat No. 1. 
"But, when it was all said and done, you had this other one who was right behind [Venus]. [Serena] wasn't very mature at her young age, but athletically she was a little bit more gifted in her own way. [I thought] maybe she could be better? I never went on the record to say she was going to be better, because Venus was very gifted. Serena just took longer to mature. I just think technically the way they hit the ball from '91-'94, having hitting partners four hours a day, six days a week—they did Taekwondo, boxing, gymnastics—then obviously they had the one-on-one help with me. You know, [they had] 20-25 hours a week to kind of put this thing together. 
I told Richard one of two things was going to happen: She will be No. 1 in the world, or she will go to jail.
"And what's crazy—and people don't understand this—is both the girls never played any junior tournaments. You talk about blowing up the system—they never played any junior tournaments! They dabbled in a few, like at nine or 10-years-old when they were in Compton, but age 10-16, Serena never played any tournaments. No nationals. No local tournaments. Never got on a plane and played an ITF and left the country. And at 16 she turns pro and doesn't have that great of a debut. She was [ranked] close to 180, but shortly after that she was capable of beating the top 10 in the world.
"Going out of the box or creating a whole new box, the path that they took was so unconventional. No tournaments. And people might say 'They were different' or 'They were athletes' or whatever, but they are the only ones that ever tried that. 
"I actually wanted them to play. That was the only disagreement really that me and Richard ever had. I thought they should have competed more as juniors. But at the end of the day they just kept developing, and the one thing about Serena that always stood out with me was that she was fearless. She wasn't afraid to miss. And she hated to lose. She had to be the first in everything, even if it was getting a drink of water.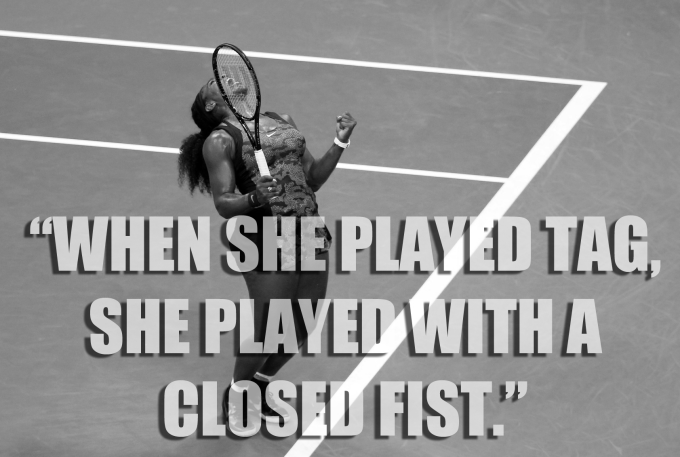 "I could remember playing tag with all the other kids in the sand pit. Just to work on agility, dexterity, you know. When she played tag, she played with a closed fist.
"That's how competitive this girl was. I told Richard one of two things was going to happen: She will be No. 1 in the world, or she will go to jail. One [of those] two things can happen. And I'm serious. Now, I'm not saying that's the blueprint to being great, but when you can get a girl to be that competitive, that athletic, and then you can lock in some good strokes—I knew no doubt that she [would] be No. 1 in the world. If you go back and look at all the articles, I said both the girls would be one and two in the world and they live in the same house. The live in the same house! It transcends tennis!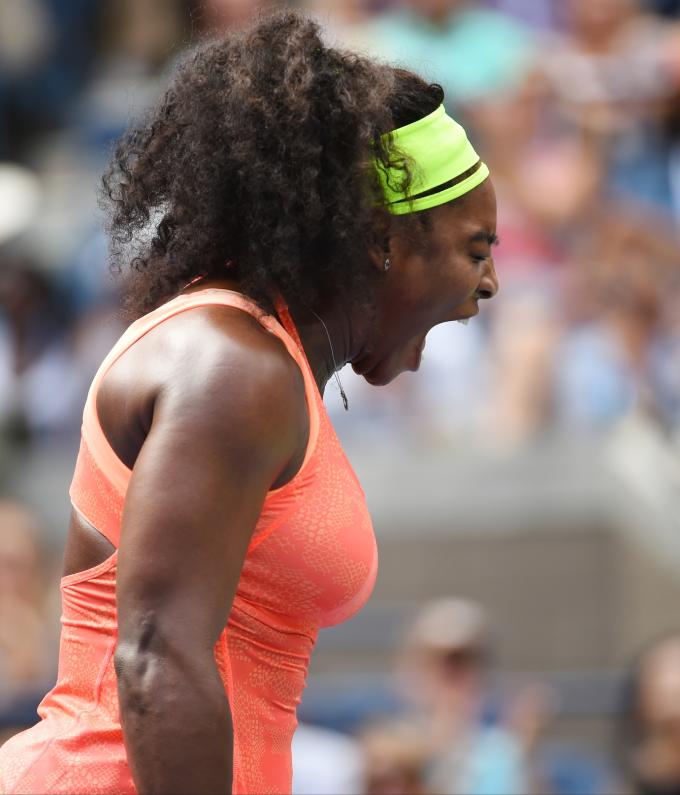 "I knew at age 10 Serena would have the best serve in the world. She had a natural throwing motion, and I knew where this was going. She was wired for greatness.
"The one thing that people need to respect, is not how big her biceps are or how big her ground strokes are, it's how strong she is mentally. What's between her ears. I think that's the wild card that always gets lost. People will say 'Oh she has power,' 'She's bigger,' 'She's stronger,' but just because you have power or you're bigger [doesn't mean anything].
"People see the size, the strength, the power—she could just blow up the court. But it's the mental part; how she could handle things, how she competes. Her will. It's right up there with Michael Jordan. That, 'I'm not going down.' That's a quality that's made her to keep going strong.
"But I will say it's almost like the perfect storm has occurred. In the last seven or eight years, you gotta look who's left the women's tour. Capriati. [Marion] Bartoli. [Lindsay] Davenport. [Maria] Sharapova is in and out. [Amélie] Mauresmo ​. I could go on and on with players that have retired, got married, or decided to quit.
"So you have this vacuum of Grand Slam champions—people who have been 1 or 2 in the world—who retired. And Venus was hurt now and then. So, [without] Serena playing these people around the 16s or the quarterfinal or the semis, it feels a little diluted. And that's nothing against women's tennis [and] it's not Serena's fault, but everybody did kind of head out at the same time if you go back and check. So that has contributed a little bit to all of this, but you still got to go out there and deliver the goods.  
it's the mental part; how she could handle things, how she competes. Her will. It's right up there with Michael Jordan.
"She's the greatest women's tennis player of all time. And she deserves a lot of credit because she's 34 years old. There's always been this enormous pressure—she's the younger sister, the dad who's kind of left-field with all his remarks—and it's almost like "Bring it on." They've never shied away from pressure and they've had pressure on them. They were anointed at a young age, they've been told they were supposed to do this and supposed to do that. [Serena's] tougher than tough and her toughest opponent of all time has always been herself. That's the way she looks at it.
"The Williams sisters, in my opinion, are the greatest sports story of in the last century."