The date was April 6, 1996. After years of planning, Major League Soccer's  inaugural season finally began when D.C. United met the San Jose Clash at San Jose State University's Spartan Stadium. To add some star power to the proceedings, the league secured Melrose Place star and former college soccer player Andrew Shue to lead the ceremonial coin toss. That fateful night in the Golden State, Clash forward Eric Wynalda scored the first goal in MLS history, a wonderful piece of individual skill that earned San Jose a 1-0 victory and Wynalda 1996 MLS Goal of the Year honors.
At the time of MLS' launch—which landed on the same life-altering weekend when Richard Gere's Primal Fear snatched the No. 1 spot at the box office from Robin Williams' The Birdcage—soccer was an afterthought in the United States. Even though the 1994 World Cup had been a resounding success (it's still the highest-attended World Cup in history), the notion of a professional soccer league becoming part of mainstream sports culture in America seemed about as likely as America Online and its beloved Instant Messenger fading into obscurity.
MLS sought to thrust itself into the national spotlight as much as possible by taking the world's most popular game and adding an American twist. The league eschewed traditional, European-sounding team names with FC (football club), Sporting, or Real in them in favor of catchy nicknames like the Dallas Burn, the Tampa Bay Mutiny, and—everybody's favorite—the Kansas City Wiz. Instead of the drab colors and minimalist patterns of traditional soccer kits, it went with patterns and color schemes that more closely resembled Ahmad Rashad's NBA Inside Stuff T-shirt. Its game clock counted down instead of up and MLS replaced draws, a soccer staple, with the dramatic 35-yard "shootout," so every match would have a winner and a loser. MLS built itself on an ethos that President Bill Pullman echoed that July in his memorable speech from Independence Day: "We will not go quietly into the night. We will not vanish without a fight. We're going to live on. We're going to survive."
It did not happen without some bumps in the road, but MLS did survive. As the growing league plays its 20th season, little looks the same as it did in 1996; the uniforms are different, many nicknames and rule changes have been abandoned, cavernous American football stadiums have been replaced with soccer-specific palaces, and the players are far more well-rounded than their predecessors.
Nobody questions MLS' staying power and vast potential today, but things weren't always so clear. Revisit the exciting, uncertain, and totally unorthodox first year of MLS, as told by the people who lived it.
In July 1988, the International Federation of Association Football (FIFA) awarded the 1994 World Cup to the United States. "My first feeling is one of relief," U.S. Soccer Federation (USSF) President Werner Fricker said on the day of the announcement. "The next is that we have a monumental task ahead, a big job to do." That big job didn't only have to do with putting on the world's largest soccer competition in a nation hesitant to embrace the sport; there was also a significant string attached to the deal.
Alan Rothenberg: One of the things the USSF did, was it promised FIFA that if it got the World Cup then it would start a Division I professional league, because the old NASL [North American Soccer League] had folded by that time. Right before the 1990 World Cup, FIFA reps called me and said they were upset and concerned about the lack of progress with organizing the World Cup and getting anything going on a professional league [in the United States]. They said that they were going to call in the leadership during the World Cup and if they weren't satisfied with the answers [we gave] then they were contemplating taking the 1994 World Cup away and giving it to another country. But in that conversation they said, "If we decide to do that, would you possibly be available to run it for us?" And after the 1990 World Cup, they got back in touch and said that they would very much like me to step in.
With FIFA's backing, Rothenberg was elected President of the USSF in 1990 in a landslide election, defeating the six-year incumbent Fricker. Just two months later, he replaced Fricker as chair of the 1994 World Cup organizing committee.
Mark Abbott (via Sports Business Journal): Alan brought a professional sports perspective to soccer that was much needed and critical to the U.S. World Cup and the launch of MLS.
Hank Steinbrecher (via Sports Business Journal): Alan was not about making a whole bunch of friends, and so he wasn't a popular figure with soccer people.
Rothenberg: Once I got in there and saw how much work there was to do, I thought it would be crazy to try and start a professional league before the World Cup, which had been FIFA's initial intention. I convinced them that, in effect, [creating a pro league] should be a condition subsequent to the World Cup rather than preceding it. First of all, we had our hands full just getting the World Cup organized, and secondly, the likelihood that we could create sufficient interest and support for a pro league before we showed them how successful a World Cup could be was pretty slim. FIFA went along with it.
Despite renewed pressure from FIFA after a 1993 warm-up tournament in the U.S. was a huge attendance success, MLS remained on track to launch after the 1994 World Cup. The only problem was, it was starting completely from scratch. In order for the league to even think about launching on time, it needed its management team to hit the ground running.
As President of the USSF, Rothenberg headed up the daunting project of setting MLS up. Naturally, to complete the myriad tasks ahead—raising money, finding team owners, securing TV and sponsorship deals, and signing players, to name a few—he secured the services of many of the same people who had helped make the 1994 World Cup such a resounding success: Abbott, Sunil Gulati, Bill Sage, Todd Durbin, and several others.
The first thing MLS needed was money, so the brain trust set about finding investors for the fledgling league. They had learned a valuable lesson from the excess of the NASL, and the New York Cosmos in particular: Don't spend too much, too soon. As a result, they decided to take a rather unique approach to keeping costs down as they pitched the league to potential investors.
Sunil Gulati: The history of the sport in the U.S., from a business perspective—and therefore from a stability and a long-term existence perspective—hadn't been good.
Bill Sage: The early effort was clearly focused on capital investment and finding owners and investors who were prepared to buy into the single-entity approach to sports leagues.
"The guys who started the league...don't know soccer. They screwed up in the most vital part possible, which is in how the game is presented."
—Eric Wynalda, Forward,
San Jose Clash
Rothenberg: That [single-entity idea] dates back for years and years, when I was involved with the NBA and the players were suing the league. It was clear that the structure of all the major league sports at the time was such that they had a lot of legal vulnerabilities and difficulties from a business standpoint because they were basically an association of the teams. From both a legal and business standpoint, if you had just one entity you could better control them. For example, in sponsorships, the IOC [International Olympic Committee] and FIFA own their property, and they buy the rights to give to their local organizers of the competition to prevent the markets from being cannibalized. Also of interest to MLS was somehow trying to control team salary expenditures. We'd seen in all the other sports, and also with the NASL, that you can kill yourself off, particularly in the early years, if you have [teams] that are profligate spenders and others can't keep up, and they fail financially or competitively. It just doesn't work.
Todd Durbin: The single-entity is one of our core long-term equities. It's an incredible point of differentiation between us and the other soccer leagues around the world. Our system and our structure ensures and allows that at the beginning of the season, every team has the opportunity to win an MLS Cup, and every fan knows that.
Rothenberg: If we did not have the single-entity, we would not have the league today.
Players resisted a single-entity structure and eventually sued the league (the case was dismissed in 2002), but it attracted some heavy hitters as early investors. New England Patriots owner Robert Kraft (and his son Jonathan) and AEG chairman Phil Anschutz came aboard in addition to the Hunts, a sporting family that had also been involved in the NASL. This trio formed the backbone of the league, and all three families are still in place as owners today.
Rothenberg: Lamar Hunt was on our board and had always been involved with soccer. At the point when I did the business plan, the first person I showed it to in draft form was Lamar to get his input and comments. Bob Kraft was introduced to it because we were playing [World Cup] games in Boston and he was enticed by what it was.
Kevin Payne: The Krafts were willing to play a long game, which is the most critical element of MLS' success.
Jonathan Kraft (via Los Angeles Times): I think what our league is all about and what the future of American sports is all about [is to be] truly a mirror image of America, a coming together and having bridges between people fall down as they watch a sporting event together.
Rothenberg: My law firm had been representing Phil Anschutz in Los Angeles in the early days of AEG. After he opened up the Stub Hub Center, at a party he said to me, "Alan, you know those two free tickets you gave me to the Brazil-Italy final in 1994? So far it's cost me $350 million."
Payne: There are many owners today, but with the Hunts and the Krafts, and Phil [Anschutz] in particular, there's a lot of deference paid to their opinions on the broader issues. They all recognized that this was going to be a long process and that nothing good and lasting is built overnight. They stuck by it in 2000 and 2001 when the league would have gone out of business, were it not for them.
"I was almost alone at the beginning in arguing that what we needed to be was an authentic soccer league, not an American version of a soccer league."
—Kevin Payne, CEO, D.C. UniteD
MLS had owners in place, but in 1994 a contract dispute between Rothenberg and the ownership group left the league in need of a commissioner. Doug Logan, who owned the San Diego Wildcards in the Continental Basketball Association but to that point had only experienced soccer as a fan, was one of over 100 candidates for the job. Despite Logan's relative lack of qualifications, the league had enough interest to fly him to Dallas to meet with the owners. At the end of a long day for the owners (he was the fourth candidate of four to meet with them), Logan began his presentation.
Doug Logan: Someone threw a softball question at me and I was giving it my best, and I looked around at Lamar [Hunt], who was immediately to my right, and he was asleep. He wasn't just dozing, he was fast asleep. Lamar's son Clark tried to wake him up by coughing but Lamar didn't budge. Three times during the course of the interview, Lamar woke up and asked a question I had answered already. All three times, I pretended I hadn't answered it and answered him directly, then he nodded his head and went right back to sleep. Afterward, someone described the way I looked as "having a shit-eating grin on my face."
Despite Hunt's apparent bout with narcolepsy (to be fair, he'd been up all night attending a Chiefs-Chargers Monday Night Football game in Kansas City before flying to Dallas), Logan got the job. His edict: Set MLS apart from other soccer leagues and make it popular with an American sports audience that didn't much care for soccer. Hindsight tells us that this approach was probably not the correct one, but 20 years ago there were literally no ideas too outlandish to be considered.
Logan: That underlying philosophy of "Americanizing" came directly from Alan and his people, and was what I inherited.
Rothenberg: We were starting from scratch and we said, "How can we make it exciting for American sports fans and get them interested?"
Logan: He sold it to American owners by saying, "Hey, we're going to make it palatable to the American people because we're going to do half a dozen things."
Sage: I don't think [Americanizing soccer] was the biggest imperative, but it was an issue and it was a thought that we needed to appeal to American soccer fans that maybe hadn't been exposed to the international game. Some people thought that it would never sell based strictly on the international Laws of the Game. We started out with the shootout, and there were some other rules that were involved.
Payne: In general, I was almost alone at the beginning in arguing that what we needed to be was an authentic soccer league, not an American version of a soccer league.
Alexi Lalas: I knew the league was always going to be uniquely American, and that never irritated me as much as it did others. I felt that we could take the best of all worlds when putting this together and make it special.
Gulati: We had an agreement with the USISL [United States Interregional Soccer League], and it had a number of divisions within its league—it's now the third tier in the U.S.—and what we did in 1995 was run a number of different "experiments," basically, with different rules in each of those divisions. It was kind of a controlled experiment.
Americanizing the game was the objective, but some of the suggestions for how to do that were borderline insane. Perhaps even more insane was the fact that many of these ideas were taken quite seriously, and nearly came to fruition.
Gulati: In one USISL division, we had bigger goals. In another division, we had a different set of rules. Phil Woosnam—the earlier commissioner of the NASL, former Welsh international, and head coach of the U.S. Men's National Team—oversaw that experiment. We kept statistics and observed games in all eight divisions to see what we might want to try to pitch for MLS.
Rothenberg: One idea was a certain number of timeouts. Another was dividing the game into quarters, both for commercial opportunities and so players wouldn't pace themselves as much and would go all-out more of the time, knowing they would have a chance to catch their breath halfway through the half.
Logan: Somebody decided that a great gimmick might be to replace throw-ins with the equivalent of a corner kick, but on the sideline.
Rothenberg: We talked about a couple adaptations from hockey. One was an offside rule where once you got into the 18-yard box onside, as long as the ball stayed in there, then there'd be no offside. In order to encourage teams pressuring and perhaps forcing turnovers, if a defender purposely cleared a ball out of touch to escape from pressure, a free kick would be awarded from the point of the clearing kick. The other idea was basically to have more field of play behind the goal, like in hockey, so you could pass it out.
Payne: There weren't a lot of real soccer people involved in those kinds of conversations. I was never a supporter of "innovations" that deviated from the way the game looked overseas, but that was at odds with one of the guiding philosophies of the staff at the league level, certainly before we launched. They wanted the league to be experimental.
Logan: In general, FIFA was compliant and cooperative in our rules changes. We didn't have to convince them much because they wanted a "laboratory," so to speak. And if things went badly, they could always just blame the Americans. It was actually very clever.
Payne: Alan Rothenberg wrote to FIFA and offered to be an experimental league with regard to the offside rule and things of that nature.
"The game is a simple one...We tried too hard to make it different and impress people who don't like it anyway."
—Tab Ramos, Midfielder,
New York/New Jersey Metrostars
The proposal that came closest to fruition was a divisive one in the league office: whether to increase the size of the goals in an effort to boost offense.
Payne: It was an idiotic idea.
Sage: FIFA eventually shot that down. It was a crazy idea anyway.
Rothenberg: Some smaller leagues had experimented with it. The feeling was that obviously the goal size was the same in the 1920s, when the average goalkeeper was probably about 5'7", as it is today, when goalkeepers are about 6'2". So, why wouldn't you change the dimensions to create more activity?
Logan: Somebody came up with an incredible study that said when soccer was first invented, the average height of people in the soccer-playing world was 5'4" or 5'5" and now, because of nutrition and better health, people are much taller and bigger and their arm span is greater, so the goal should be increased proportionally. It was all a bunch of bullshit.
Payne: FIFA submitted the idea to the International Football Association Board, which shot it down immediately. IFAB is notoriously curmudgeonly about changing the rules, but this was one instance where I was happy.
Gulati: People said, "Do you want more goals? What is it you're trying to achieve?" but it's not necessarily more goals, because if that is the only objective then you can just make the goal 50 yards wide. You want to see a better game, a more offensive game.
Cobi Jones: Those were necessary things to try to get the league started here in the United States, just trying to be this little experimental league.
Unlike the ill-fated larger goals proposal, one change to the traditional game that did make it into MLS was the shootout, where a player started with the ball 35 yards from the goal, and after his first touch would have five seconds to score in a one-on-one with the goalkeeper. This new mini-game replaced draws, which is the traditional way to end a match tied after 90 minutes. The practice was eventually abandoned after the 1999 season.
Rothenberg: We bought into the concept at that time that American fans didn't want ties, and if you're not going to have the tie then the shootout is actually more interesting than the penalty kick.
Sage: I think the shootout was a legacy of the old NASL days, and it was sort of accepted on that basis.
Logan: A lot of the players liked it. I can't remember who it was, but some player at the end of a game in the first season came up to me, looked at me, spit on the ground, and said, "Commissioner, we drew the match and lost the skills competition."
Tab Ramos: The foreign players found it incredibly strange, but then again they never thought that soccer was played in the U.S. anyway. Personally, I liked the shootout. It was exciting to participate in the shootout—not because it was good for the game, but because it was fun to get up there and have your five seconds.
Lalas: I don't regret any of that; it didn't bother me at the time and it certainly doesn't bother me now. I look at it as a young league trying to do what it needed to do to survive, and learning from the mistakes quickly.
Jones: I was a player who was just happy to be playing, so I wasn't too concerned about the little individual tweaks that the league was doing at the time. We knew that was part of the deal and we just went with it.
Preki: We went along with whatever the rules were and we made sure to leave everything on the field and enjoy our football. I let other people worry about those type of things.
Durbin: We didn't get any adverse reaction. To the contrary, they embraced it.
Eric Wynalda: Shootouts were stupid. It was the stupidest thing you could possibly do. I don't know why we were doing that. I don't know why we had overtime, I don't know why we couldn't just have a tie. I would get killed at the time for saying that, and now 20 years later they say, "It's stupid that we did that, I can't believe that we did that." I'm tired of being right 10 years too late.
Payne: I wasn't opposed to prospective changes in the game—the sport should continue to look at itself and try to change with the times—but I didn't think we should lead those changes. I thought that would dramatically hurt our credibility. My attitude was, if Spain, France, Mexico, or Argentina wants to do something and we decide to follow them, that's one thing. But for us to be presumptuous enough to lead was not a good policy.
Two other aspects of MLS that immediately got a lot of attention were the uniforms' rather loud colors and the strange team nicknames. Shunning the traditional soccer practice of plain kits and club names offering little other than the city in which the team plays, MLS sought a more American way of being recognized in the sports world.
Sage: Nike and some other [partners] were integrally involved in logo and brand development early on.
Gulati: We had a league office before we had any team owners. Team owners are usually involved in a process like that—eventually they were as we got investors—but some of that was happening before, and it all happened centrally.
Logan: The Nike designers were on a hell-bent train, saying, "We can sell apparel that people will wear that isn't necessarily an authentic [traditional look], and is cool." They were our partners in the design of the look, but they also participated in team names.
Rothenberg: We were Americanizing and commercializing team names and logos.
Payne: Peter Moore, who created the original Air Jordan brand, designed D.C. United's logo and look in consultation with me in a short period of time, because he understood what we were trying to accomplish. I felt like virtually every other uniform and logo completely missed the mark.
Jones: I was going to wear whatever they gave me.
Rothenberg: We talked about the fact that our experience with professional sports in this country has been in most cases that somebody buys a team, their wife says "my favorite color is turquoise," and suddenly the team is wearing turquoise uniforms.
Logan: From a philosophical standpoint, we wanted to brand ourselves differently, more contemporary.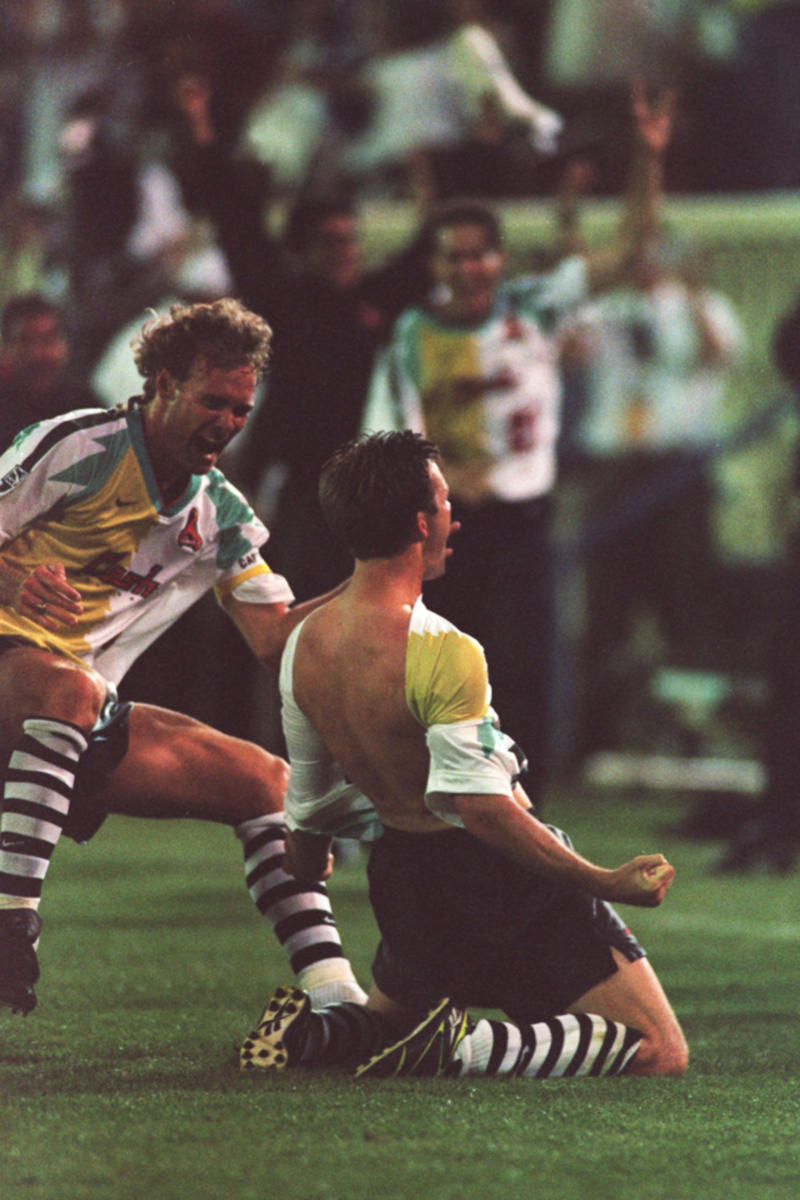 Rothenberg: As far as the names, now they're going back to "FC This" and "FC That," but at the time we didn't think that the American sports fan knew what an "FC" was. They were accustomed to Tigers, Lions, and Bears. So, with the various owners, we went that way.
Ramos: The logos and nicknames were all a part of us trying too hard and trying to make it too American.
Wynalda: The uniforms were weird. The ball was all the colors of the crowd, so it would go up in the air and you'd lose sight of it, which was actually kind of funny.
Jones: Let's be honest, when they had "the Wiz," you had to say, "What are they thinking?" It was out there.
Logan: The Columbus Crew hosted a match against the Kansas City Wiz. They call the Ohio State stadium [where Columbus played at the time] "the Shoe." Columbus beat Kansas City and the headline was perfect: "Crew Takes Wiz in Shoe." I still have it in a scrapbook somewhere. Lamar Hunt saw the headline and decided that we had to do something about the name.
Note: The "Wiz" became the "Wizards" after the league's inaugural season.
Rothenberg: We started out thinking that we had to be radical, but now we're being more traditional.
Logan: Most telling—and this story does not get told often enough—is that we not only had logos, graphics, and names for existing teams, but also for expansion teams in the future. We knew we were going into Chicago, we just didn't know if it was going to be in year three, five, or seven. It turned out we went into Chicago in year three, and when Phil Anschutz put up the money we already had a package ready to go for Chicago. We knew where we were going to play, we knew what the team name and colors were going to be, and we had the graphics.
The name we had selected for the Chicago team was the Rhythm, playing on Chicago blues. We put it before Anschutz and he personally didn't much care one way or the other. However, there was an important player in the Anschutz organization at the time who did care: his personal secretary, a wonderful woman and a devout Catholic. She objected to the name because she could not think of anything more insulting than to have a team named for the only permissible form of contraception for Catholics. She was persuasive enough with Anschutz that it killed the team name. The fallback position was something safe and traditional for Chicago, the Chicago Fire. And that's how the Chicago team got named the Fire instead of the Rhythm.
Without players, there obviously couldn't have been a league. MLS did well to bring in a lot of big names at the start. U.S. National Team star Tab Ramos became the first player to sign on with the league in January 1995. International stars, such as colorful Mexican goalkeeper Jorge Campos and Colombian midfielder/hair pioneer Carlos Valderamma, also signed on to the fledgling league, joining a number of American stars past and present to help spark interest. Because of the single-entity system, none of these players actually had teams yet.
Durbin: We had a budget we were working in and a base philosophical approach to how we were going to build the rosters in the early years. Part of that was for each team to have one or two marquee players, and those were either players who'd participated for the U.S. National team in the 1994 World Cup or high-profile internationals.
Ramos: I was excited that U.S. Soccer was going to put resources towards starting a league because I knew that was what we needed.
Lalas: One of the proudest moments of my life was getting on that plane from Italy and flying back to the United States to be a part of the beginning of MLS. I wanted to spread the gospel; we did every appearance possible, no question was too dumb or too simplistic, and while it was not easy, it was essential in order to get to what we have now.  
Wynalda: There were so many things to be thrilled about, namely the fact that there were going to be professional soccer games in America. We were all caught up in the excitement.
Preki: I never had any questions. Once I made up my mind, I knew where I was going, embraced the new challenge, and was determined to make it work.
"I would argue that some of those good teams back then would give some of the good teams now a run for their money."
—Alexi Lalas, Defender,
New England Revolution
Jones: I didn't have any apprehensions at all. I wasn't planning on playing soccer for a living, so when they asked if I would join and play in MLS I figured, "Sure, why not?" At that time, it could have lasted a year or two and I would have been fine with it. I just wanted to do it and experience it.
Lalas: I recognized at that time that this was a unique opportunity to be a part of something from the beginning that was going to last well beyond my career, and hopefully well beyond my lifetime, and that was going to impact soccer in a way that is difficult to come by. Not to get too rah-rah about it, but there was a real sense of responsibility and patriotism, and an understanding that if MLS was going to succeed, it needed players to come back and help it succeed. I was, along with others, full-on and gung-ho about the opportunity and the adventure. I have since become even more proud of my decision.
Durbin: The interesting part was that since we had never played a game, we were trying to determine which players were going to be successful and which ones were going to fit together in the right way.
Payne: The [player allocation] system was very opaque and arbitrary back then. Over the years, we've made it more transparent and it's much easier for everyone to understand now. Teams did have quite a bit of input into the players they were assigned; we weren't doing anything untoward, there was just a lot of give and take. The league was trying to be strategic with where it put players.
Preki: Every team in MLS at that time had four, five, or six players who could have played anywhere, at any level.
Jones: Nowadays, you have times where college players come in and start. There was never an option of that happening back at the beginning; you'd be on the bench or coming off the bench for the first couple years. Maybe that's a sign that the players here are getting better at a younger age, but I'm certainly going to defend my time and those early years. I look at the Galaxy at that time and we had internationals at pretty much every position, from Honduras, to Ecuador, to El Salvador, to the U.S.
Lalas: It wasn't just a bunch of guys who were drafted and had never kicked a soccer ball before. There were some really good players who'd appeared in the 1994 World Cup, then went on to appear in the early days of MLS.
Durbin: Ultimately everybody who came wanted to come. For some players, they wanted to be a part of something new and be a part of history. For others, it was the opportunity for a new professional experience. For others, they had a desire to live in the United States. It wasn't like we faced a consistent position with players, they all had diverse approaches and thoughts about the league.
A host of issues arose in the first year of MLS. Apart from the play on the field, problems with the rules, referees, and economics threatened its stability before it even had a chance to stabilize itself. However, to their credit, management and owners showed a willingness to listen and make changes on the fly in an effort to improve the product on the field.
Lalas: The quality of play gets a bad rap. When it came to depth, there were fewer teams back then and there was a level of competition that has become diluted as more teams have been added. It was a race to the moon. For instance, D.C. United jumped out, understanding its identity, having a good coach who could quickly put together a team in those circumstances, and established itself quickly. But even teams like Tampa Bay were good. There wasn't much of a European influence but definitely a Central and South American influence, talking about players like Marco Etcheverry, Carlos Valderamma, and Jorge Campos. I would argue that some of those good teams back then would give some of the good teams now a run for their money.
Rothenberg: The league figured out pretty soon that there's enough soccer-knowledgeable people and enough soccer fans in the United States that it didn't have to change the rules to attract their attention. In fact, maybe we offended some of the purists because we were tinkering with a sport they know and love.
Wynalda: Our league is a maverick league. We do things different than everybody. There's nobody who does it like we do, because we're so hell-bent on being us. That's what happens when you have a bunch of NFL guys who ask the simple question: "OK, we're going to start a league. Now what?" We have a draft and our season starts when it starts [in spring, not aligned with the FIFA calendar] because a bunch of NFL guys didn't know any better. When the league started in 1996, they thought, "The NFL is the most successful league in the world, so let's base our business model off it." Whether they were wrong or right wasn't a concern to them, it was just what they were used to doing.
Lalas: We were winging it, both as teams on the field and organizations off it. Whether it was the training facilities that were either non-existent or completely strange, in terms of location, the middle seats on airplanes, explaining to people who you were, or the shootouts, it was a "Wild West" type of existence. I got thrown out of one game and, because we were on a West Coast swing and people had bought tickets [to see me play], a special decree came down from the commissioner that allowed me to continue to play even though I had gotten a red card [and technically should have been suspended a game]. It was almost necessary to have that flexibility. As a player back in the 1990s, you needed to have that ability to roll with the punches or you were not long for this league.
Logan: It's a balancing act, and we ultimately made the wrong decision because it infuriated our base to a degree that it became untenable, and it didn't make a difference in trying to capture the attention of the general sporting public.
Gulati: I don't know if there were a lot of traditionalists put off [by the rule changes] or not. One could argue anything after the fact.
Ramos: It was par for the course. A perfect way to put it is to say that we were trying too hard. The game is a simple one, and that's why it's the greatest game in the world. We tried too hard to make it different and impress people who don't like it anyway.
Wynalda: The guys who started the league, for all intents and purposes, don't know soccer. The guys who founded this league, whom we should all be patting on the back, saying, "Thank you for making this happen," screwed up in the most vital part possible, which is in how the game is presented. It wasn't presented properly from the start.
Rothenberg: It probably wasn't necessary in the first place, and some of the rule changes were maybe a mistake.
Lalas: It's easy to look back now and say, "Why did you do this? Why did you do that?" but when you're starting out not just a league but also a business, you have to be strategic. You want to have as big a tent as possible, that invites as many people in as possible, and a lot of those decisions were made with that intent.
Preki: At the end of the day, we could have come in and whined about this and that, but that wouldn't have been right.
Ultimately, the vision set out for MLS before the first ball was even kicked set it on the path to sustainability. A committed ownership group with a long-term vision about how to maintain the league's economic health—largely through the construction of soccer-specific stadiums—has allowed the game to continue to grow into its 20th season, with further expansion recently announced and the overall prospects of soccer in America never better.
That first season was a case study in trial and error on a massive scale. MLS took its share of abuse but survived the initial onslaught of skepticism from the media and the international soccer community and has become enmeshed in the American sporting culture. There's plenty of credit to go around for that, but the groundwork laid that first year has made all the difference in getting MLS to Year 20, and beyond.
Payne: A lot of the league's rise comes from the quality of ownership.
Lalas: People who have been involved in ownership aren't doing it out of the goodness of their heart. They see it as an opportunity, a long-term asset that appreciates with time. But rooted in all of the ownership of MLS is, at the very least, a respect, and in many cases a passion and love for the game.
Durbin: All of our owners are committed to winning championships, and that's unique in soccer, to have a league where all 20 teams all have a real opportunity to be champions when the season starts.
Logan: For me, the enduring memory from 1996 was the MLS Cup finish in Foxboro. D.C. won in OT before 35,000 soaked fans after 7 inches of rain. It was an exclamation point to a magical inaugural season.
Jones: That first season was a spectacle in every way, shape, and form. We were doing the shootout, the clock was counting down, the uniforms were out there. But then we also surprised people beyond their wildest dreams, expecting 20,000 for the first Galaxy game and having 60,000-plus show up. People who were soccer fans were ecstatic that soccer had come back and made it in the United States. People were willing to pay to see the spectacle. Everyone wondered, "How long will it last?" with the ups and downs of all the teams, but it was an amazing time to be a part of MLS.
Rothenberg: That first year was great. Skeptics had doubted we'd survive but we did. It gave encouragement to media, sponsors, and players. It also gave further assurance, not that any was needed, to Lamar Hunt to decide to build the first soccer-specific stadium, which had been in the original business plan but had been deferred. In turn, that led to all the soccer-specific stadiums being constructed. 
Preki: The work never stops. If we attack it in the right way, we could be incredibly successful here.
Logan: I never had any doubt we could succeed. We could sense there would be ups and downs but we completed the exhausting season knowing we had achieved all our short-term objectives.
Lalas: I forget a lot of things but I will never forget that moment when the first whistle blew down in Tampa Bay playing for the Revolution against the Mutiny, when something we had talked about, dreamt about, and had hoped for finally became a reality. And then, when that final whistle blew at Foxboro [at the MLS Cup Final], when Eddie Pope scored the winning goal and the first season was in the books, I remember feeling a sense of accomplishment that we had done what we set out to do, to create this league and actually have it be a living, breathing thing.
I also felt a sense of "this is only the beginning," but not to spend too much time patting ourselves on the back, because the next season was rolling around and we had better know what we were doing. An optimism came through that first season, though, a sense that we had something, even though we didn't have all the answers yet.