Being in One Direction must be the most emasculating thing ever. Having the undivided attention of millions of girls is tight yeah, but everyone else in the world treats you like a grown baby. Just listen to how Sky Sports' Kirsty Gallacher says "Oh no, Niall​!" while he tumbles. It's exactly how young nannies and cute-struck adults handle babies they're around. Everything they do is funny, adorable, and instantly empathetic. "Oh look at Niall, he's tripped again, LOL so cute."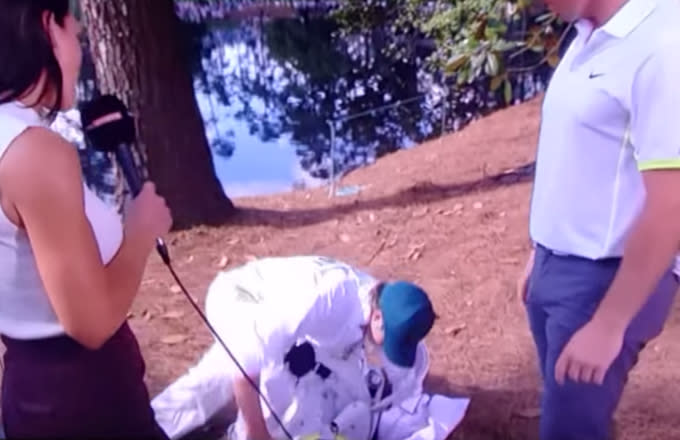 Horan was on caddy duty for Rory McIlory (they're both Irishmen) during yesterday's pre-Masters Par 3 Contest at Augusta. He took one shot at some point during the day, and hit it right into the water. 
"Niall taking a shot at the Masters! pic.twitter.com/3iph2PviSw" when u hit it into the water but still get applauded bc ur niall horan

— kate (@5sosmonkeys) April 8, 2015
Fail.
Horan later regained his dignity by shitting on Piers Morgan, an Internet Pastime that we all enjoy.
@piersmorgan when was the last time you caddied at the par 3 at the masters piers? Oh yeh never ! Back to bed old man!

— Niall Horan (@NiallOfficial) April 8, 2015
Cutest. Tweet. EVERRRRR. 
Send all complaints, compliments, and tips to sportstips@complex.com.
[via Bleacher Report]