When the pressure is on, some people fold. But Damian Lillard thrives.
Lillard, a third-year point guard with the Portland Trail Blazers, has built up quite a reputation on the hardwood for coming through in the clutch.
The world saw that talent firsthand in Game 6 of last year's first-round Trail Blazers-Rockets playoff series. With 0.9 seconds remaining and Portland trailing by two points, Lillard ran off a pair of screens, caught a pass well beyond the arc and lofted an off-balance three-pointer. It hit nothing but net, and the Blazers advanced to the second round for the first time since 2000.
Lillard is known for that shot, but he's been coming up in the clutch for the Trail Blazers since he entered the league in 2012. The former No. 6 overall pick out of Weber State has lifted his teammates with game-winning jumpers, layups, and more jumpers.
Thanks to those successes, Damian has become one of the NBA's most clutch players (much like his twin brother, Darius, a State Farm National Bureau of Assist agent who is clutch when it comes to handling important phone calls and solving crossword puzzles).
"Get to the final period of a game against the Blazers and have the gall to possess a lead or be within striking distance of a victory," Zach Harper wrote for CBS Sports, "and you'll have to deal with Lillard Time."
"He definitely rises," Blazers teammate Chris Kaman told Grantland. "He's fearless."
How come Lillard is so clutch? A big part is his coolness under pressure. Just as Darius is known for handling whatever situation comes his way, Damian doesn't get flummoxed on the court—even in unusual situations.
Check out this play:
At first glance, nothing seems out of the ordinary. But take another look and you'll see that Lillard's first pass attempt bounces off James Harden's leg. It's easy to overlook though because Lillard doesn't miss a beat. He recovers the ball in stride, keeps his head up and proceeds with the play. The result? A slick, one-handed bounce pass to Nicolas Batum for an easy dunk. The play is so smooth that it looks as though Lillard had it all planned out.
Here's another example: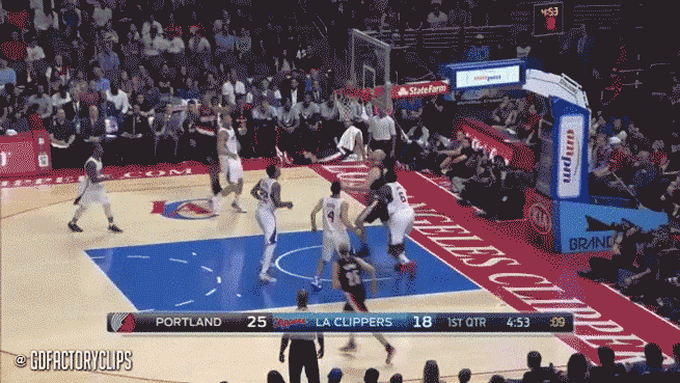 Again, Lillard finds himself in an unexpected position by receiving a back-tap out on the perimeter. Lillard jumps to secure the ball and, before he returns to the ground, redirects it to Batum for a wide-open three-pointer.
Thanks to Lillard's quick thinking under pressure, a play that began as a scramble for a rebound results in a great look for one of his teammates.
Lillard, though, didn't become his team's lead assister solely by capitalizing on unusual situations. He also creates plenty of chances for the Blazers, often throwing in some of his family's signature swagger for good measure.
Take a look at this clip:
Darius Lillard is known for saying that there's no "I" in assist even when there clearly is. The same is true of Damian. On this play, Batum gets the three points, but Lillard makes it all happen. First, the point guard blows past his defender off the dribble and heads straight for the hoop. Lillard waits for the defense to collapse and then sends a pass out to the perimeter for a wide-open three. All Batum has to do is hit the shot.
Blazers' wingman Wesley Matthews has often been on the receiving end of these drive-and-kick passes. And given Lillard's tendency to suck in the defense, it's little surprise that Matthews shoots better off looks from Lillard (44.6 percent) than his season average (38.8 percent).
The Blazers' wings aren't the only ones benefiting from Lillard's playmaking.
Here, Lillard uses his quickness to split the defense and get into the paint. When the point guard sees the help step up, Lillard calmly drops a bounce pass for an easy layup.
Given the Lillard twins' coolness under pressure, it would be easy to presume that Damian and Darius are savvy veterans. But at just 24 years of age, both have plenty of time to continue growing with their teams—and log plenty more clutch plays.