2015 Toyota 4Runner TRD Pro
Transmission:
5-Speed Automatic
Drivetrain:
Rear-Wheel Drive with Automatic Limited-Slip Differential, Part-time 4WD
The original Toyota 4Runner came to market in 1984 and started out life as a utilitarian four-wheel-drive ute, more or less a Toyota Pickup with a fiberglass roof out back. It was tough as nails, lovable, and to this day has an iconic design. Three decades on and the plucky 4Runner has evolved into a much more posh urban cruiser, sitting well towards the top in the Toyota food chain. 
Toyota recently gave me the opportunity to drive a very special model of the 4Runner through the Mojave Desert from Barstow to Las Vegas, and I'm happy to report that it hasn't lost any of its off-road capability. That model is the 2015 Toyota 4Runner TRD Pro.
Although Toyota four-by-fours have been graced with TRD (Toyota Racing Development) off-road packages since 1998, none have been as focused and hard-nosed as the group's new TRD Pro Series, which bestows the Tacoma, Tundra, and 4Runner with a host of upgrades aimed at excelling where the pavement ends. More on that later.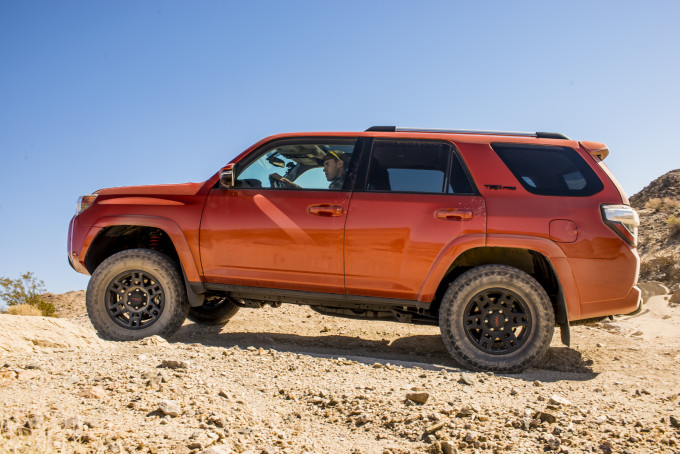 On the road, the TRD Pro 4Runner behaves just like its base model SR5 counterpart, which is to say: very well. Throttle response from the 270-horsepower 4.0-liter V6 feels expedient, road noise is mum, and ride quality from such a big off-road-tuned vehicle strikes me as exceptional.
There's space up front and in the back for those of us with fewer vertical limitations, and the rear cargo area can swallow up more than its fair share of luggage, camera bags, et cetera. So we've established it's good at being a mid-sized SUV. Is it any good in the rough stuff?
Yes, quite. Once we gassed up and ventured off into the desert, the 4Runner never missed a beat. We blasted across a dry lakebed, at quite a considerable rate of speed I might add, which led into tight winding paths and open desert interspersed with gullies, drop-offs, and the unexpected whoop. But such terrain draws upon the 4Runner's calling-card endowment – it's TRD suspension.
Underneath, the Pro Series 4Runner packs TRD-tuned Eibach springs and Bilstein shocks that equate to a softer-than-stock ride and grant an invaluable 1-inch lift in ride height, leveling the front and rear ends. The new shocks also contribute an extra inch of suspension droop, which you really start to appreciate across tougher suspension-flexing terrain.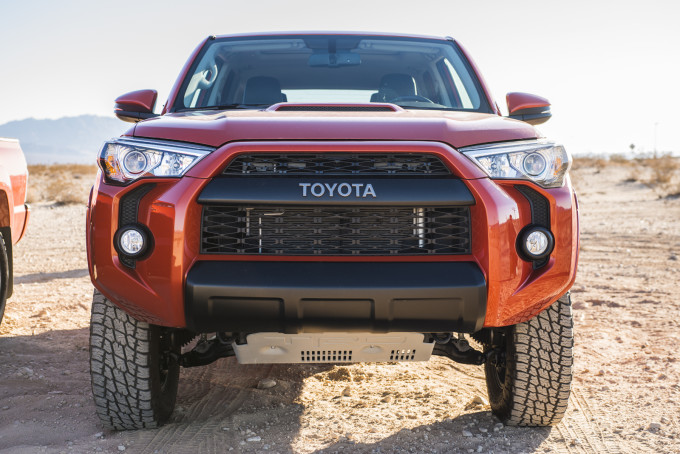 The Toyota smoothed out whoops with ease and in the midst of a rather craggy section, where I was convinced the 'Runner would cock one wheel up in the air, the Toyota stood its ground and powered through. Increased shock oil capacity, a locking rear differential, the addition of quarter-inch skid plates, and grippy Nitto Terra Grappler tires all work together to provide reassuring off-road capability.
Toyota has nicknamed this experience "waku-doki", a Japanese expression for "heart-pounding, adrenaline-pumping." We'd have to agree.
Suspension aside, the rest of the Pro Series 4Runner plays up to par. The Entune audio and infotainment system was slick and intuitive in my experience delivering sweet '90s satellite radio throwbacks as we negotiated our way through the Mojave. It might not be the ritziest thing on four wheels but it's hard to fault the 4Runner's comfortable and well-trimmed interior.
Ted Moncure, TRD's Design Engineering Manager and a class-champion in both the Baja 1000 and 500, fitingly describes his team creation as an "out-of-the-box" off-roader. 
"TRD Pro is about having the capability to take you to remote places quickly and comfortably without having to deal with the drawbacks of modifying your vehicle," notes Ted. "Everything is tuned to work together and provide not only performance but the durability and reliability that people expect from Toyota trucks."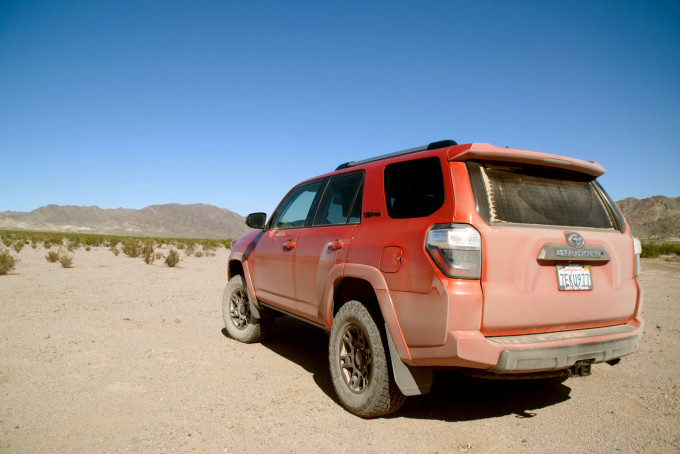 Having driven all three TRD Pro Series vehicles during our Mojave trek, and frankly being impressed with the lot, the 4Runner remains the absolute standout of the pack. Think of it this way: There are a few ways to open a door. You can break it down, pick the lock, or simply demolish the entire wall. Each TRD Pro has its own method.
The Tundra is a bit of a wall-demolishing sledgehammer. With so much power from its 5.7-liter V8 and a visceral exhaust tune, it's a riot to drive fast and features a very forgiving ride, leaving you grinning ear to ear. It's gigantic.
The Tacoma is more of a swift kick, a hardcore fast-attack vehicle, which is why you see so many tackling the dunes. However, compared to the Tundra and 4Runner, its ride quality feels noticeably rougher in the bush.
The 4Runner then is a set of lock picks, perfectly fitted for the job. The TRD Pro rides comfortably both on- and off-road, it's easy to drive, and feels more planted and responsive than the leaf-sprung Tacoma. Can it compete off-road with a top-spec and front solid-axle toting Wrangler Rubicon? That remains to be seen, though in terms of ride quality and amenities you'll find it's just a much nicer place to be than the Jeep.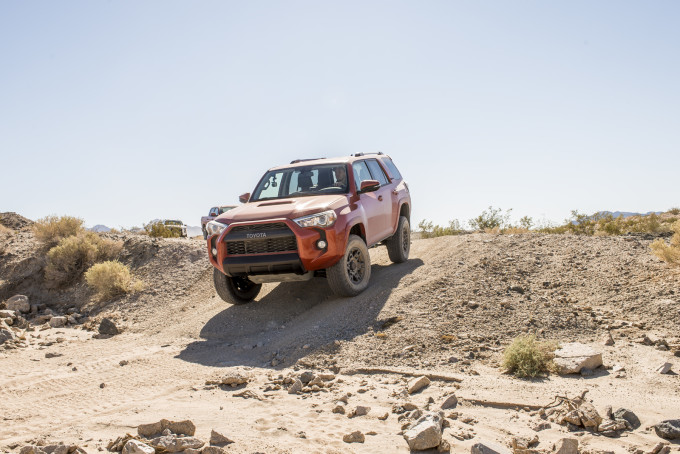 Toyota will retail the 2015 4Runner TRD Pro at $41,110, which is a significant leap from the base $33,000 SR5 and a bump from the off-roady Trail model at $36,000. But as an out-of-the-box package that excels just as well off-road as it does doing the grocery run, it makes sense. You don't have to go out and buy thousands of dollars worth of lift kits, trail armor, or tires. Simply roll out of the dealership, roll into the Mojave, and don't look back.