Kauffman Stadium and Arrowhead Stadium, the respective homes to the Kansas City Royals and the Kansas City Chiefs, have been flagged for a number of disgusting health code violations following a November 3 health inspection by city officials. 
The results are disturbing, to say the least, and will probably make you re-think your stance on stadium foods across any sport. According to ESPN's Outside the Lines report, the violations and areas of concern were many (the emphasis is our own). 
Among the concerns found at the stadiums by the manager: cockroaches in vending areas, mouse feces on the same tray as pizza dough, sinks where employees were supposed to wash their hands being blocked by boxes or trash, employees eating in food prep areas and trays of food headed for customers that measured at unsafe temperatures. The health department found several critical violations, including mold growth in ice machines, dirty pans and trays and excessive numbers of fruit flies.
ESPN was tipped off to the unsafe practices by Jon Costa, a local food safety manager who works for Aramark, the company responsible for the concessions sales of 30 different pro sports teams, including the Chiefs and the Royals. The company, which suspended Costa last week for leaking the information, referred to him as a "disgruntled employee", and disputed his claims. 
"The unsubstantiated claims raised by a disgruntled employee are very troubling, as is his unknown motivation," [Aramark senior VP of communications and public affairs Tod MacKenzie] said. "Especially disturbing is the fact that this individual is personally responsible and entrusted with managing food safety at the locations in question. ...

"The random collection of isolated and questionable photographs that the employee distributed represents selective snapshot 'moments-in-time' that without proper context can support any number of conclusions."
If you're wondering what photographs MacKenzie is referring to, well, here, take a look.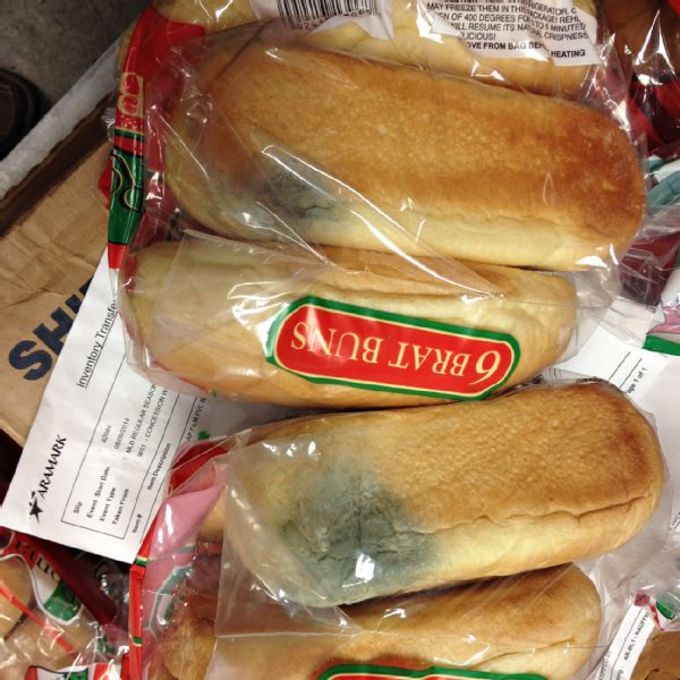 Mmm! Anyone else hungry? [Note: these were discarded before being served to customers.]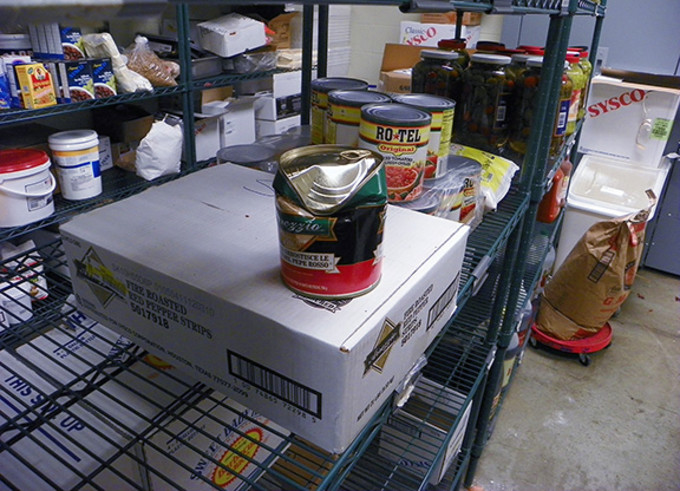 Nice. You definitely don't need to worry about botulism with that one.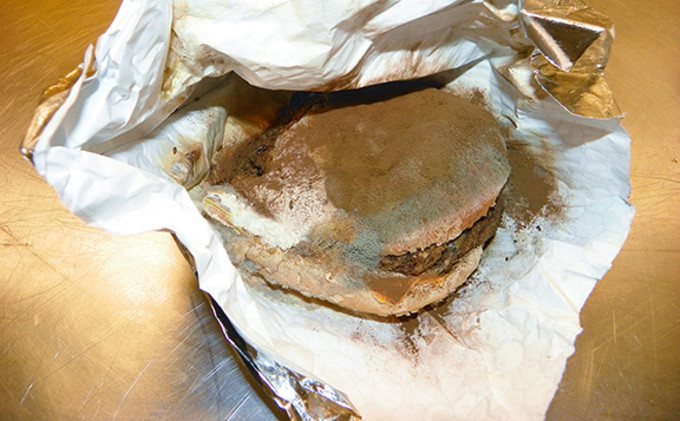 "Uhh...sir? I asked for medium-rare."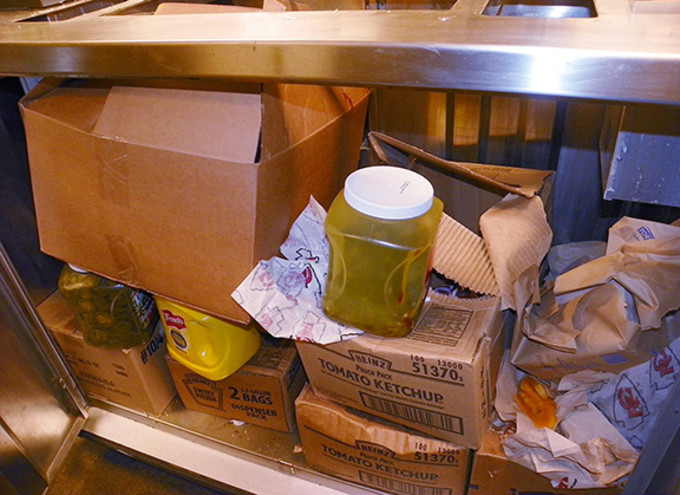 "Refrigerate after opening" has always been more of a guideline, anyway.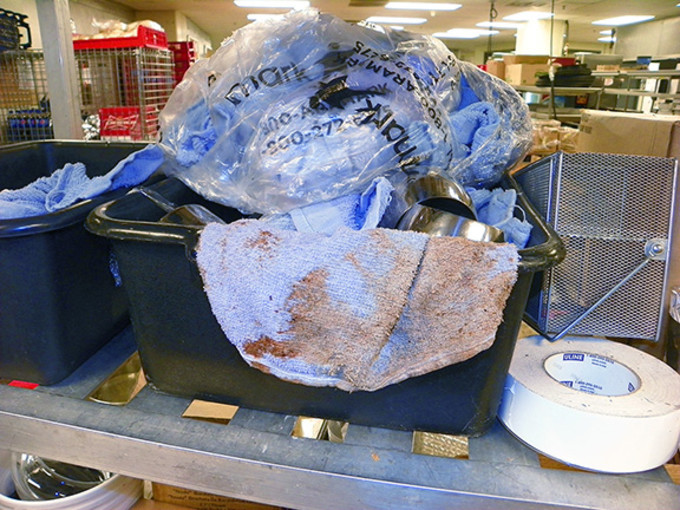 Do they throw their pots and pans in the washing machine or are rags going in the dishwasher?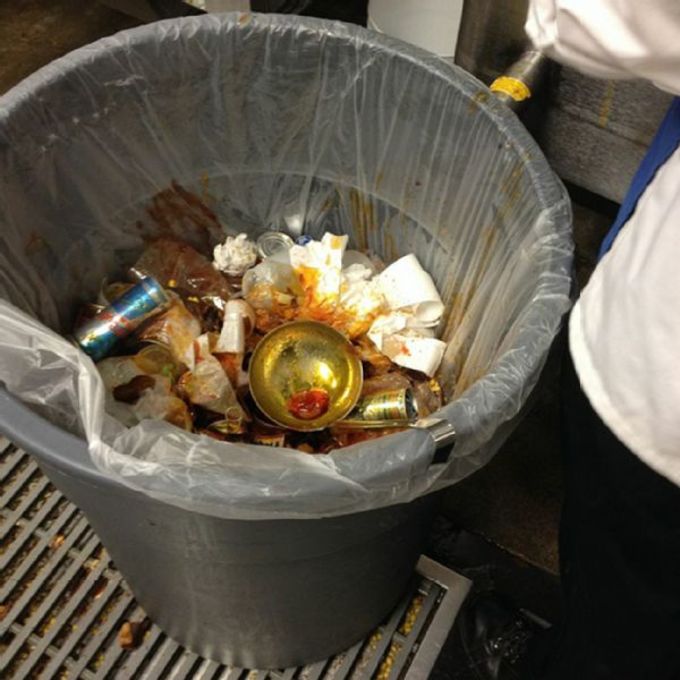 Just in case you aren't sure about what you're looking at here, it's a ladle in a garbage can. According to OTL, "A cook at Kauffman Stadium in Kansas City used a garbage can as place to hold his ladle when it was not being used."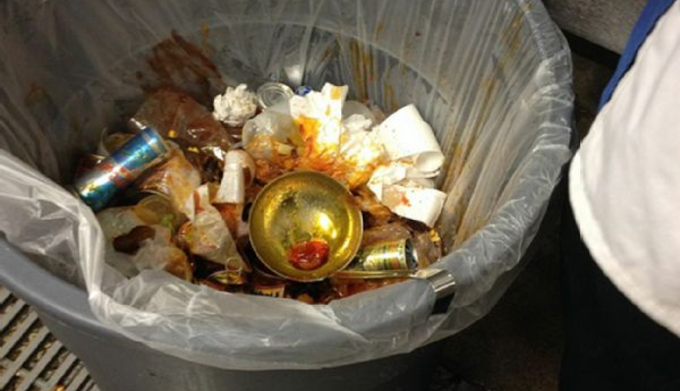 WE REPEAT: "A cook at Kauffman Stadium in Kansas City used a garbage can as place to hold his ladle when it was not being used."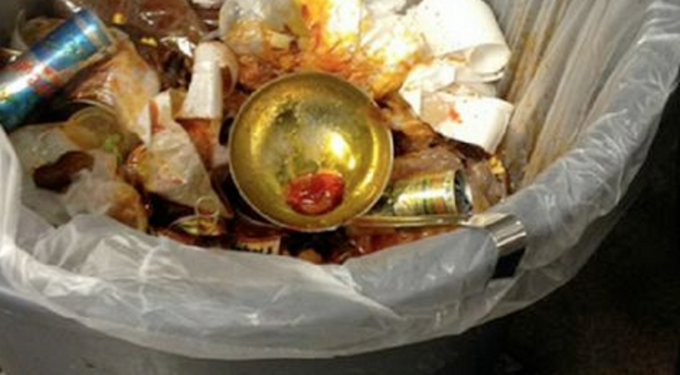 WTF. 
The report goes on to uncover accounts of the Royals serving expired pizzas to customers during the World Series, "habitual" violations within Arrowhead and Kauffman, and a host of other problems that will make you never want to eat in a sports stadium ever again.
And what's the worst part of all? Those expired pizzas probably cost fans $8 or $10. Suddenly, sitting at home, calling Domino's, and watching the game on TV sounds more inviting than ever. 
[via ESPN]