Last night, a night that New York Times writer Andrew Keh notes had a "potential for "awkwardness," Landon Donovan played for the last time in a United States national team uniform. Strained relationships with manager Jurgen Klinsmann, who left America's all-time leading goal scorer (57) off this past summer's World Cup squad, threatened Donovan's swan song. He'd balked at initial thought of a testimonial, before finally agreeing to don the captain's arm band against Ecuador at East Hartford, Connecticut's Rentschler Field—the final cap (and 157th) in a storied 15-year international career. 
I was supposed to be there. But, true to form and Keh's warning, the night had "potential for awkwardness." Estimating a travel time of just over three hours, and leaving New York City at 3:30p.m. for a 7p.m. kick-off, I'd barely hit Waterbury, Conn. when the crowds began singing the Star Spangled banner. Rather than sit feet from Landon's spurt down the sideline for a nifty backheel pass, his first touch of the evening, I watched from an iPhone in bumper-to-bumper traffic. From that same vantage, I cheered as Landon's cross lead to Mix Diskerud's opening goal. Cheered again when Landon narrowly missed a goal of his own. And then, still sandwiched between two friends on the back bench of a Lincoln TownCar, I half-heartedly waved as Landon was substituted for midfielder Joe Corona around minute 40. 
Born on March 3, 1982 in Ontario, California, Landon Donovan made his soccer debut on a local side at age six. He scored seven goals, an auspicious start to a career in the sport that ends, as a player, at the conclusion of the 2014 MLS season. At 15, Donovan was accepted to the U.S. Youth Soccer's Olympic Development Program and two years later, in 1999, he moved to Bradenton, Florida as part of the inaugural class of the U.S. Soccer residency program. The group included Kyle Beckerman and DeMarcus Beasley, and drew global attention for a fourth place finish at the u17 World Cup in New Zealand. Donovan was the star, recognized as the player of the tournament, and realized an American player's dream—courtship from a top European club.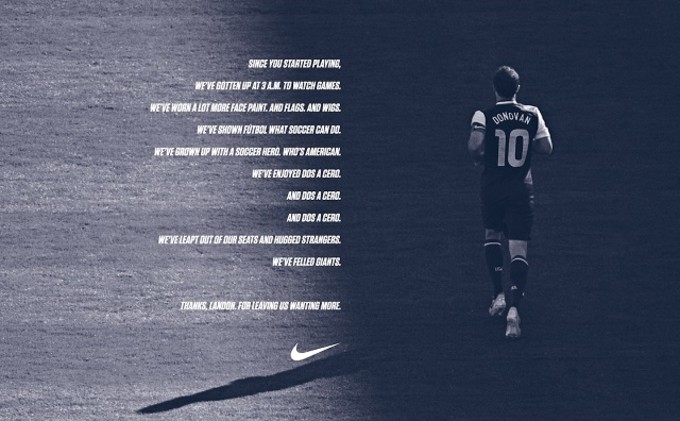 Donovan signed with Bayer Leverkusen, of the German Bundesliga, but homesickness stunted the experience. Almost as soon as the six year contract began, Donovan was back in California playing for the MLS' San Jose Earthquakes. 
"I'm looking at Landon always that I wish, in a certain way, he could have done a bit more here and a bit more there," USMNT manager Jurgen Klinsmann told MLSSOCCER.COM. 
Can a player reach peak potential outside of Europe? Prevailing thought, including that of the U.S.'s current coach, suggests no. Landon Donovan proved otherwise. Playing his career on home soil—interspersed with brief loans at Bayern Munich (2009) and Everton (2011, 2012)—Donovan's become the most decorated individual American player in history. His 157 caps rank behind only Cobi Jones. With 57 goals and 58 assists, Donovan is the only American to hit over 50 in each statistical category. In 2002, he helped push the U.S. through to the World Cup quarter finals, and for his efforts received the Best Young Player Award. He scored three goals in the 2010 World Cup, including an injury-time miracle against Algeria to drive the U.S. into the round of 16. 
Before Donovan American soccer fans, especially those in the mainstream, never believed. After the quarterfinals in 2002, there was true hope.
Donovan's success is something of a miracle. He represents the U.S.'s first golden generation, striding from a formative academy and over-achieving on the world stage. The knock on Donovan will always come from a perception that he squandered his talents. While current stars like Dempsey followed in the footsteps of Claudio Reyna, Brian McBride, and others into European competition, Donovan has primarily been content in the MLS. For that, he's got 5 MLS Cups and 136 goals (the league's highest tally) to his name. 
When the whistle blew in Hartford, the score leveled at 1-1, Diskerud and emerging-star DeAndre Yedlin had proved themselves part of America's football future. Bobby Wood, a Hawaiian-born forward playing with 1860 Munich, showed flashes too; though he flubbed a solid chance at goal late in the contest. 
By the time Donovan, removed from the final 50 minutes of play, returned to the field, dressed in a tracksuit, a good number of fans had vacated their seats. He stood just west of midfield and watched a tribute film play on the stadium's lone screen. After highlights of his thriller against Algeria, Donovan placed his head in his hands, and from there came the true emotional weight of the moment. Embraced by family, the captain ended his career leading the American Outlaws (a USMNT supporters club) in a chant of "I believe that we will win." 
Before Donovan American soccer fans, especially those in the mainstream, never believed. After the quarterfinals in 2002, there was true hope. 
Despite his detractors, Donovan leaves a hero. He's proved that SOCCER can compete in futbol. And, beyond, he's inspired a legion of youth, like Yedlin, to follow in his footsteps. Amid increased global scouting for the USMNT, Donovan's legend stands to level the playing field—for every Julian Green that comes into Klinsmann's ranks there'll be dozens of Bobby Woods' fighting for international glory too.