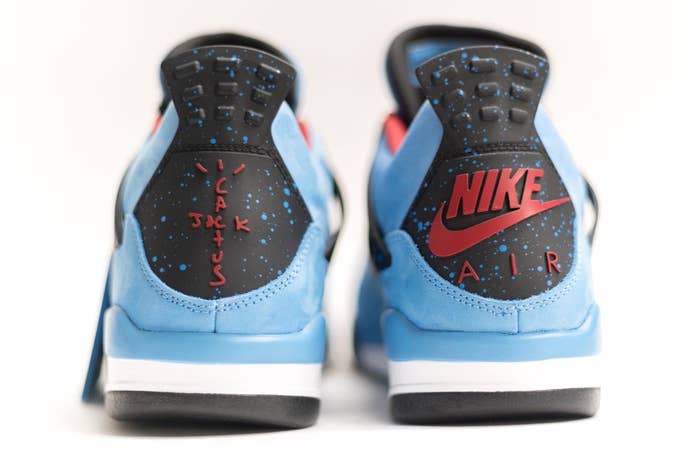 Travis Scott's Air Jordan 4s are already one of the year's most coveted releases, but the style's friends and family-exclusive variation is even more desirable. With far less pairs in existence and OG-inspired Nike Air branding on the heel of right shoe in place of the retail version's Jumpman emblem, the only other difference between the two is their aftermarket value—the friends and family pair resells for nearly ten times as much as its retail counterpart.
With this sort of disparity in pricing, it's easy to see why Alex Wang aka RetroKid (a former Sole Collector employee) considered his $1,000 F&F purchase from StockX a come up. With a current low asking price of over $4,400, a stack seems too good to be true, right? Unfortunately, it turns out it was.
When the pair arrived, it turned out to be the far more common Jumpman-adorned iteration, meaning he had spent $1,000 (plus $13.95 shipping to worsen the blow) on a sneaker that can currently be picked up on StockX in the same size for $325.
What's more curious is that StockX's sales history for the friends and family sneakers is showing numerous other sales around the $1,000 while the lowest asking price in any size is $4,444 and peaks at $19,999.
"Turns out I wasn't the first to have this error occur," Wang wrote. "Or the second. Or even the third. I've found five examples of this in the last two weeks, all coming from the same place."
Several Twitter users have voiced similar complaints, alleging StockX sent them the standard "Cactus Jack" collab rather than the more expensive pair they paid for.
UPDATE: StockX has issued the following statement in response to the issues.
This was a mistake on our part.  When the original Travis Scott F&F page was created, the images and information from the GR pair was accidentally uploaded on the site and in our authentication guide in place of the F&F pair.  As a result, about a half dozen buyers received the wrong pair of shoes.  Every one of those buyers has or is being refunded, and compensated for their inconvenience.
StockX has scaled significantly, and there are still areas where we can improve.  There are human beings in the middle of every single transaction and human beings sometimes make mistakes.
But we track mistakes.  We track errors like this, so we can get better.  In fact, our success rate for sneakers is currently 99.7%.  And while that might sound great, it's important to note that we process thousands of sneakers per day across multiple authentication facilities . . . and that .3% translates to real customers. Customers who we should and can and will do better for.  But a .3% error rate is where we are today, with tens of thousands of successful transactions each week.
And, so, we will continue to monitor and track those mistakes, and fix them when they happen, and continue to invest in training and technology to improve and get 99.7% as close as humanly possible to 100%.  In the meantime, we appreciate everyone's patience with our process, and everyone's vigilance in keeping us honest, and everyone's support of StockX.
If anyone has any questions or issues, please let us know. Email support@stockx.com. We respond to every message and will always do whatever it takes to resolve an issue.