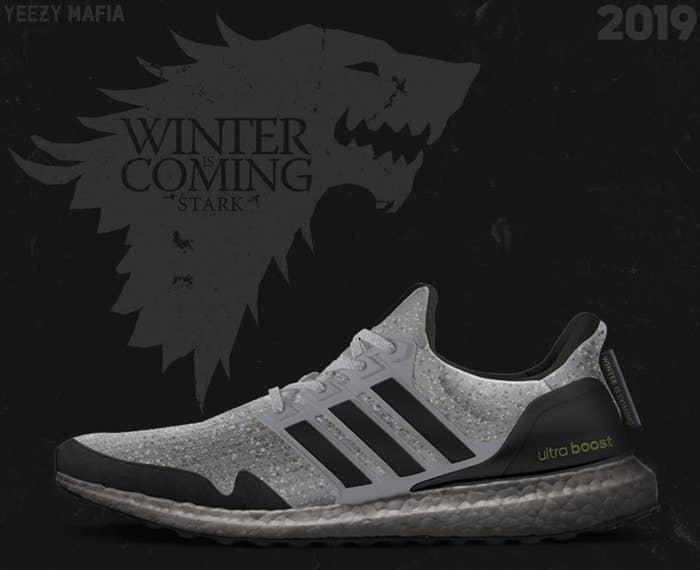 The award-winning and critically acclaimed HBO series Game of Thrones is returning next summer for its eighth and final season, and it appears to be accompanied with a custom set of Adidas Ultra Boost sneakers. 
The popular running silhouette has taken on several colorways and collaborations but a Game of Thrones flavor would be by far the most interesting rendition of the Ultra Boost yet. 
Notorious Yeezy and Adidas information Twitter account Yeezy Mafia leaked an image earlier showing the 3 Stripes taking on a "Stark" colorway representing the King in the North, one of the show's main characters, John Snow. The "Stark" colorway could be the first of many with seven other noble families for potential colorways, the Ultra Boost may just be the beginning of Game of Thrones-themed Adidas kicks. 
The image features the Ultra Boost silhouette with a grey mesh upper and black touches on the heel, toe, and Three Stripes logo branding. Golden Ultra Boost branding hits on the heel while the rear pull tab features "Winter is Coming" on a tag. The Boost midsole takes on dark grey tones to match with the classic Stark aesthetic and the frigid climate associated with Northern Westeros, especially now that winter is here. 
The potential for a "Game of Thrones" sneaker pack shows a continued push from the German sneaker brand to integrate its product into more pop culture television. Recently a Dragon Ball Z x Adidas pack became a popular topic of conversation in the sneaker community and it will be interesting to see if Adidas follows that formula again with more GOT colorways on a variety of different Adidas silhouettes. 
UPDATE (07/03): Following the initial reveal of a Game of Thrones x Adidas Ultra Boost collaboration in the "Stark" colorway, Yeezy Mafia has provided a look at what could be the "Lannister" colorway as well. This pair sports a red upper with metallic gold accents. 
UPDATE (07/06): In addition to "Stark" and "Lannister" colorways, Yeezy Mafia is now reporting three additional Game of Thrones x Adidas Ultra Boost styles including "Night's Watch," "White Walkers," "House Targeryn," and "House Targaryen Dragons" colorways.
The "Night's Watch" pair takes on a speckled black Primeknit upper with a white toe cap, heel cup, and Boost midsole, while the "White Walkers" make up gets icy with a mix of white and blue. Meanwhile, the "House Targeryn uses a cream-colored upper with silver accents and the "House Targaryen Dragons" features a black upper with fiery streaks.