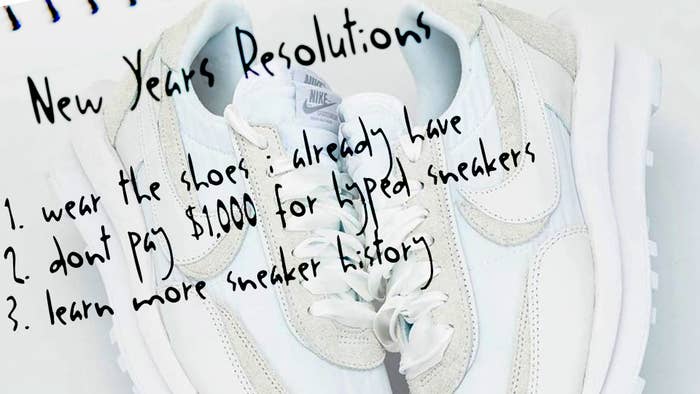 New year, new you, right? Save me with the bullshit. Want to make a change? Then do it. With that said, we can all strive to be better in all facets of our lives, including how we consume, talk about, and appreciate sneakers.
I don't have a huge drawn-out intro for this one. Seems pretty straight forward and if I make it too philosophical, then I might need to change how I perceive gym shoes.
First and foremost, and I've said this before, but don't be afraid to get into different sneakers or find something you like outside of Travis Scott collaborations, anything from Virgil Abloh, Yeezys, or Air Jordan 1s. There are plenty of other shoes out there and many that are easy to purchase. I'm not saying you should blindly purchase things and have an apartment full of garbage—that's being a poor consumer and financially irresponsible (let's leave that behind for all eternity), but one of the coolest things about sneakers is that there are so many of them.  So many things to discover. So many flavors to try out. Odds are that you'll find a sneaker that speaks to you that isn't a Sean Wotherspoon Air Max or Sacai x Nike. It's nice to find a sleeper shoe that was really well made and no one else picked up. It gives you an added touch of exclusivity. Speaking from personal experience, those end up being the sneakers that get the most compliments or people asking, "What are those? Those look good." Olivia Kim Mowabbs, Adidas ZX 8000s (now with Boost in the midsole), or even something as simple as a pair of Cortez. Try it out this year. You'll probably save yourself headaches from entering raffles, the heartache of not getting a limited shoe and knowing you'll get hit over the head with the resale price, and looking like everyone else on Instagram or on the mean SoHo streets.
In 2020 we're not paying absurd resale prices. I'm not here to tell people what to do or not to do with their money—that's not the point of this story. But the game has changed over the past few years. The shoes everyone wants all go for $500-$1,000 or even more, and that's not cool. The market is going to dictate itself, but paying these prices makes it more of the norm. Also we're not giving our money to StockX in 2020 until they get their users' info secure and safe and out of the hands of hackers and scammers. Want to get something for resale? Be smart and buy it before the price skyrockets. Or wait for the price to settle out. Don't be the sucker who overpays for things That's not the move. Want to save up for a grail? Go ahead. But remember that you look foolish spending damn near $2,000 on a pair of Nike SBs that were $350 a year and a half ago. Do you, though.
Let me rifle through a quick few things that we should all do this year. Wear sneakers that you've been sitting on for awhile if you're not going to sell them. Don't feel bad getting rid of old sneakers you'll never wear again that are taking up space in your closet. Learn the history of sneakers, it's important, and you'll gain a better appreciation for the sneaker industry. Don't be a dick to other people who are into shoes. We're all in this together. Don't cause fights at sneaker releases. Don't be a jerk when trying to buy shoes. Don't buy shoes you can't afford. That's for suckers. And, lastly, don't forget to have fun with sneakers. That's why we all got into this in the first place. Oh, and watch Full Size Run, Sneaker Shopping, and listen to The Complex Sneakers Podcast. Like, comment, and subscribe.