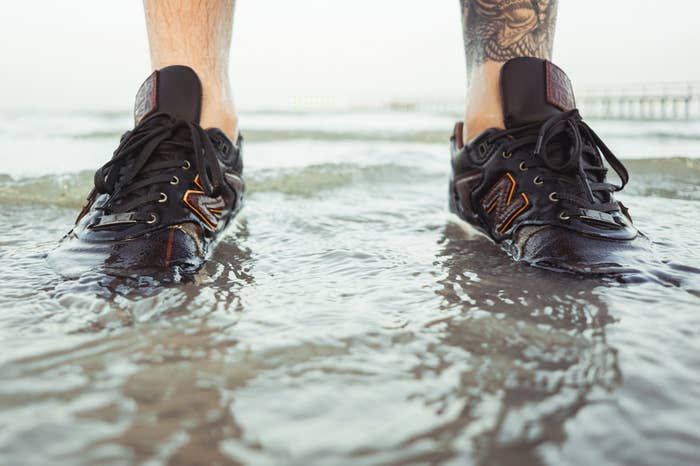 Authenticity is something that people can't take away from you, and it's something that New Balance has prided itself in since the brand was founded in 1906. The company has stayed true to its Made-in-USA roots, where it continues to make a portion of its product. This is exactly why New Balance has chosen to work with Ball and Buck—a Boston-based retailer and clothing brand that specializes in American-made clothing, footwear, and more—for the third time.
The first two projects that Ball and Buck and New Balance did together were on the 574, the brand's most popular shoe. Ball and Buck gave a distinctly Americana vibe to the shoes: they were made from a thick camo-print canvas. For this collaboration, Ball and Buck is helping reintroduce the 585, one of New Balance's first trail running shoes, done up in olive leather, the shop's signature plaid print, and a touch of Horween leather. They're a shoe that can take whatever you can throw at it, whether you're camping out for a new pair of shoes or actually in the wilderness.
This collaboration goes deeper than a pair of sneakers, and we've connected with Ball and Buck owner Mark Bollman and New Balance General Product Manager Chris Davis to find out what makes their partnership work.
The Ball and Buck x New Balance 585 "Sporting Gentleman" will be available beginning August 27, exclusively at Ball and Buck on Newbury Street in Boston and www.ballandbuck.com for $240. The sneaker will be available globally starting September 17.
Why do you think the Ball and Buck x New Balance collaboration works?
Chris Davis: When it comes to collaborations, we make sure we share the same values as the other organization. What attracted New Balance to Ball and Buck is three main things: we're Boston-based brands and both committed to Made in USA [products], we're both outdoor brands with heritage and authenticity, and both brands stand for quality and performance. Our two previous collaborations had a lot of global attention. We also felt that the collaboration market needed a little bit of disruption. Over the past three or four years, there's been so many collaborations with sneaker shops, entertainers, and musicians, but we wanted to do something that was more authentic and true. We felt partnering with Ball and Buck was a great option for the New Balance 585.
Mark Bollman: New Balance is a leader in this market for athletic shoes, and they're the only company that's stayed committed to [making] running and performance shoes in the U.S. Their headquarters is minutes away from us. When it comes to the 585, which is a shoe that's a performance trail shoe with technology built in, it works so well on the lifestyle. With Ball and Buck, we make products that are all field-tested but you can wear them in the city. So it's a perfect style to work on with them. We went to the drawing board and said, "Who's the Ball and Buck guy that's not only represented by our brand but this sneaker style?" And that's the "Sporting Gentlemen," which is the name of the shoe. We took elements that represent Ball and Buck, one which is our signature plaid. We laced in all of the other materials that we use into the shoe: We used a Horween leather, our military spec, 12.29-oz army canvas, we integrated the camo in there, too, and it's hidden as a secret, and a dark-olive leather. It's a well-balanced representation of what our brands are able to do. You can wear them in the outdoors or go to a nice dinner.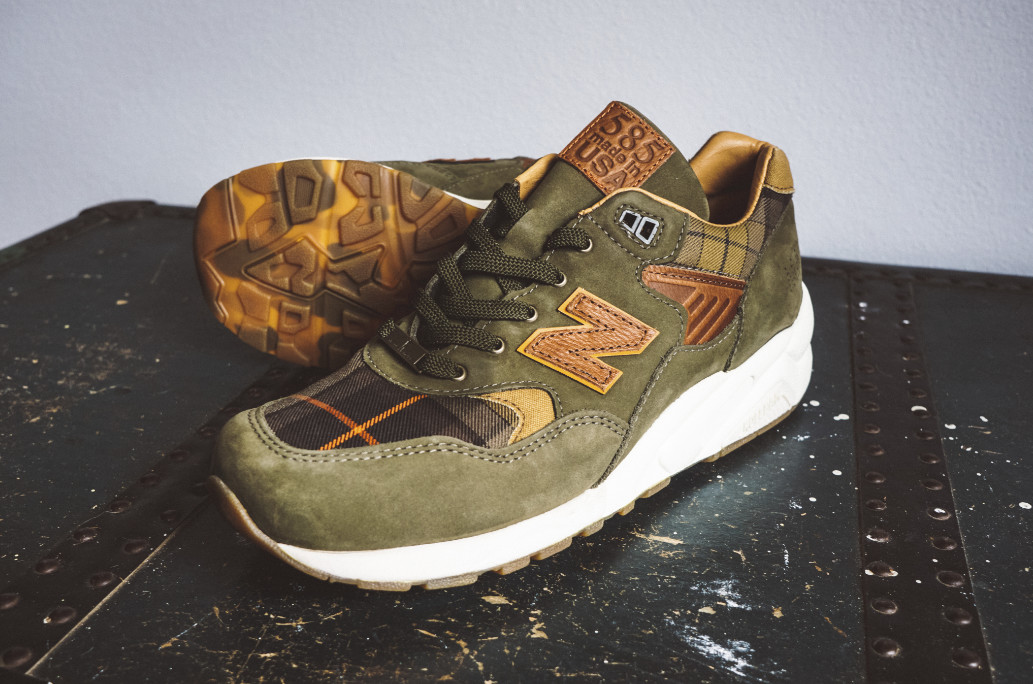 You don't usually do sneakers at Ball and Buck, does that make this collaboration harder for you?
Bollman: It's an exciting challenge. We don't do private label footwear, so it's a new beast for us. Being that New Balance has the experience in the space, we can say, "We want to do a reflective underlay with a perforated detail," and they make it happen. We understand what we can do and try to push the limits, and I think we did good with this one.
Do you expect the sneakers to be bigger than the previous two collaborations?
Davis: I think we'll see a lot more, given that this is third product in the partnership. We have a much more robust, go-to-market product. I think consumers have gotten a taste of the first Ball and Buck collaborations. This collaboration is going to be much more global and spread the concept of the "Sporting Gentleman" across the globe. The outdoor and trail trend is occurring all over the world. Before we worked on the 574 and now we're working on the 585, which was one of New Balance's first trail running shoes. We think it's going to hit the trend at the right time. The price point is higher, the product is more premium, and it's a strong next step for our partnership for years to come.
Bollman: On our first release, we learned from "trial by fire," which were just logistical things: checking the list, having people check in, all the sneaker culture elements. It was exciting and a lot of people were wondering what was going on when you have people lined up for multiple nights in a foldable chair. But it's fun. It's great to see a group of people who are so passionate about the product that they're willing to camp out for it. We're expecting that again. We're going to cater to their appetites with food and beverage.
How do you want the public to perceive the shoe?
Bollman: Wear 'em. They're better with wear and age. All the photography for this project was done by people that I've hunted with. It wasn't about presenting the idea of a lifestyle but getting people who actually do this lifestyle and having them beat the shit out of the shoes. That's something different in the collaboration sneaker world, because you get great shoes but they never see the light of day. Put them on, take them out, and go for a hike. See how the Horween leather ages over time, which is absolutely amazing. Make them your own, and that's a unique thing that I haven't seen done before. The product can handle much more than sitting in a box.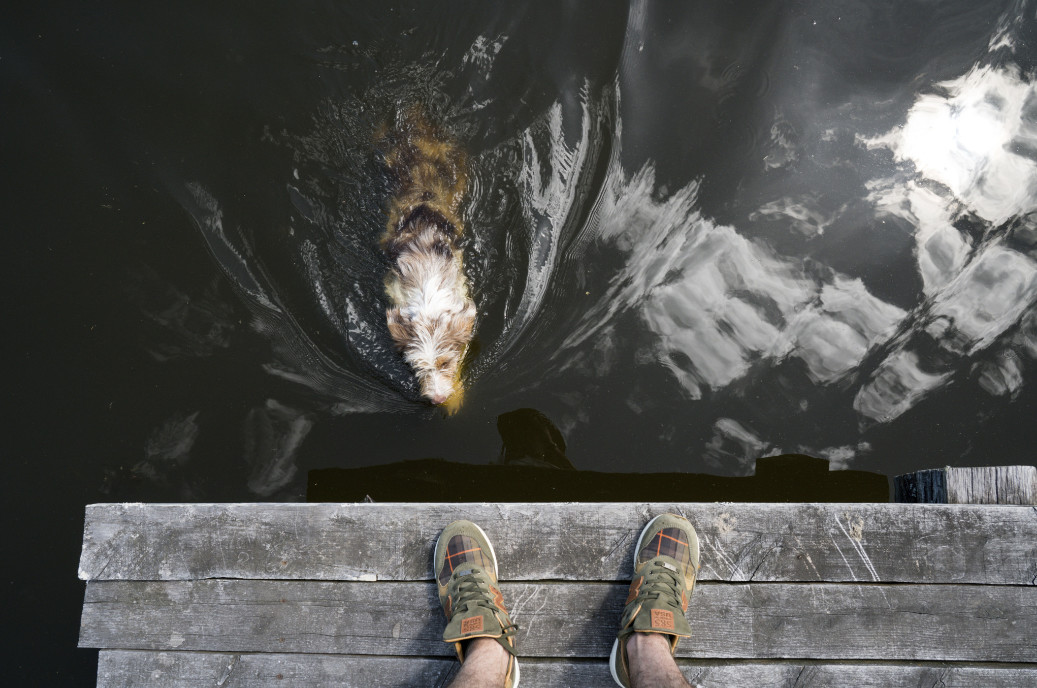 Does it bother you if people resell the sneakers?
Bollman: It doesn't worry me. The consumer can do what they want with the shoes. Knowing that you can really wear these shoes hard and they're going to perform and last, that's what's important to me. You know that a Ferrari can win a Formula 1 race, but not everyone will take them on the track. But knowing they can do that, that's important.
Are there big plans for the 585 this year?
Davis: We have the collaboration with Ball and Buck, and we have a future collaboration with Danner. So they'll launch the product in an authentic way on the global scale. The 585 is very similar to the 580, which was one of our most-global shoes, and the 585 is the Made in USA version of the 580.