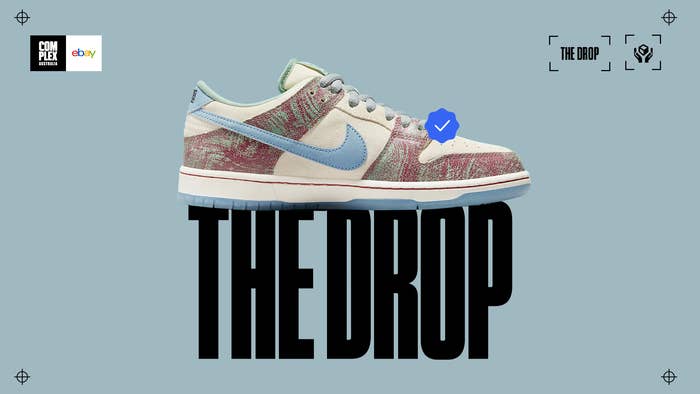 The sneaker game can be cruel. So many fire releases, but so few pairs to go around. But, when you've taken yet another inevitable L on the raffles and launches, there's always eBay. The eBay Authenticity Guarantee means you can cop with confidence on the OG marketplace, with experts inspecting your purchase to get fakes out of the paint. Thanks to eBay Australia, here are four of August's best releases, as determined by The Weekly Drop's Newsletter Guy.
HAL Studios x ASICS Gel-1130
Only weeks ago, Australia was united in country-wide admiration and support of our national women's soccer team. But, during that same time, a smaller subsection of Australians found their hearts swelling with a similar newfound patriotism. A small collective from Perth, WA—the world's most isolated city, no less—were competing on the world stage. It's not quite the World Cup, but HAL Studios have put together a contender for Sneaker Of The Year. Sneaker lovers from right across this great southern land have been beside themselves with national pride. I too have been swept up in this flurry of patriotic sentiment. I couldn't believe it, but I heard Khe Sanh on the radio and real Australian tears started flowing like the mighty Murray. I copped ill Hard Yakka fits to complement the 1130s. Then I found all my old Holly Valance posters and stuck them back up on the wall. Australia is BACK, baby.
These went like a rat up a drainpipe at retail, but you can take a butcher's hook at eBay for a pair in your size now.
Crenshaw Skate Club x Nike SB Dunk Low
Absolutely into these. I love this monthly column, btw. When I write the weekly newsletter I can sometimes sit and stare at the screen for a full 10 minutes waiting for inspiration to strike in order to conjure up 80 words about some truly mid sneakers. Can you imagine having to write about the Nike Mac Attack? Like really. The Drop, though? The Drop? Four sneakers! All heaters, no beaters! Like these wonderful SB Dunk Lows from Crenshaw Skate Club. Redefining what the average person might think of when they hear the word 'Crenshaw', and also gleefully toeing the line between heater and beater. Yes, they are fire. But also, yes, these will look better with some wear and tear. They're skate shoes, after all.
Find your pair now at eBay.
Nike Kobe Protro 8 'Halo'
I'm all about the Kobe 8. And a Kobe 8 Protro? Even better. You know where I'm a little on the fence, though? This Halo name. I don't want this like, afterlife-themed trend to continue after this. I'm not trying to cop the Kobe 6 'Nirvana' or the Kobe 4 'Stairway To Heaven' nahmean. Let's just make this a one-and-done please Nike.
Cop your pair now on eBay.
Yeezy 350 v2 'Granite'
August 2023 was the month of Yeezy releases. Slides, Foams, Knits, 500s, so many Yeezys to choose from. If you ask me? The 700 Utility Black was the best of the bunch. Ask a reseller, and they'll tell you the best returns were on the Foams. But I'm talking to the people right now. The general public. The blue-collar sneaker lovers out there who saw the Roshe Run in 2012 and thought "You know what would be better? The same thing but triple the price." And, still to this day, 10 years later, after trends have ebbed and flowed and changed, they still want the same thing. You're an unusual bunch.
All gone at retail, but cop now on eBay.
For more of whatever this is, sign up to The Weekly Drop Newsletter to get sneaker release info delivered to your inbox every Thursday morning.