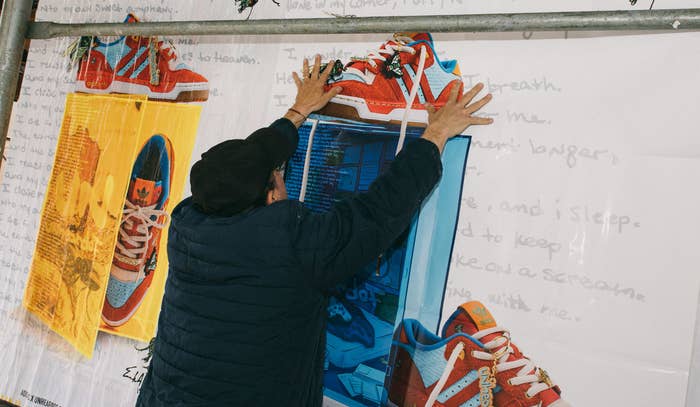 Designing his latest footwear collaboration was a taxing endeavor for Philip Lipschutz, owner of the sneaker store Unheardof in Cincinnati. He had to negotiate family politics and navigate factory limitations. When Lipschutz received a first sample of the upcoming shoe, a collaboration with Adidas on the brand's Rivalry Low silhouette, the design was so far off from what he'd intended that it drove him to physical illness.
"I was a nervous wreck," says Lipschutz. "I think I threw up a couple of times."
In creating the shoe with Adidas, he had to confront memories of a teenage tragedy: the Unheardof x Adidas Rivalry Low is a eulogy for his late sister, Erika.
As part of the Adidas' rollout, Lipschutz flew to New York in May to have images of the shoe wheatpasted around the city. The promo posters enlarge the sneaker's most intimate detail, a fragment of poetry written by his little sister. As the posters went up on a sunny morning in downtown Manhattan, Lipschutz's demeanor alternated between enthusiastic and stoic.
"I was trying to balance two things," Lipschutz says.
He passed out stickers to onlookers on Lafayette Street and took photos of the install, but also took time for himself, breaking away to reflect. He was there to celebrate the launch of a shoe and to memorialize his sibling who died by suicide in 2005 at age 16.
An obituary describes Erika as a student journalist at Holy Cross High School in Latonia, Kentucky. Its details render her a busy teenager who worked at Dairy Queen between her time dancing, acting, sculpting, and editing the school newspaper.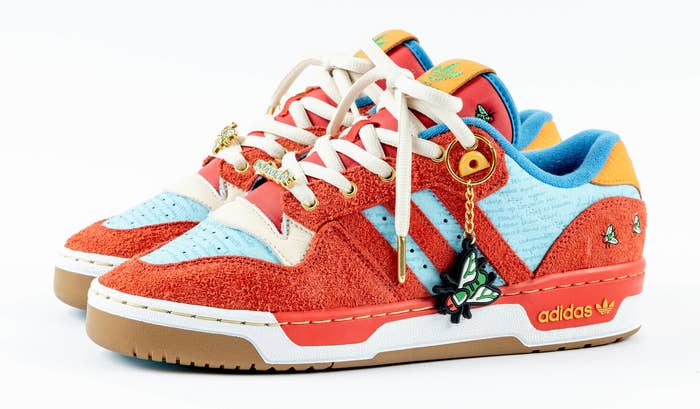 The tribute shoe, done in fuzzy, vivid red suede and blue bird panels, recalls Erika through her own words and oblique references to her musical taste.
"I close my eyes & let myself in, into my own sweet symphony," begins the poem, which his family found in one of her notebooks after her passing. "I die a little once again. The earth opens up beneath me, and the stars are clearly holes to heaven."
The flies embroidered on the shoe, and its orange peel leather sections, evoke the album art from No Doubt's album Tragic Kingdom, which she would blast while watching Lipschutz and his friends during skateboarding sessions.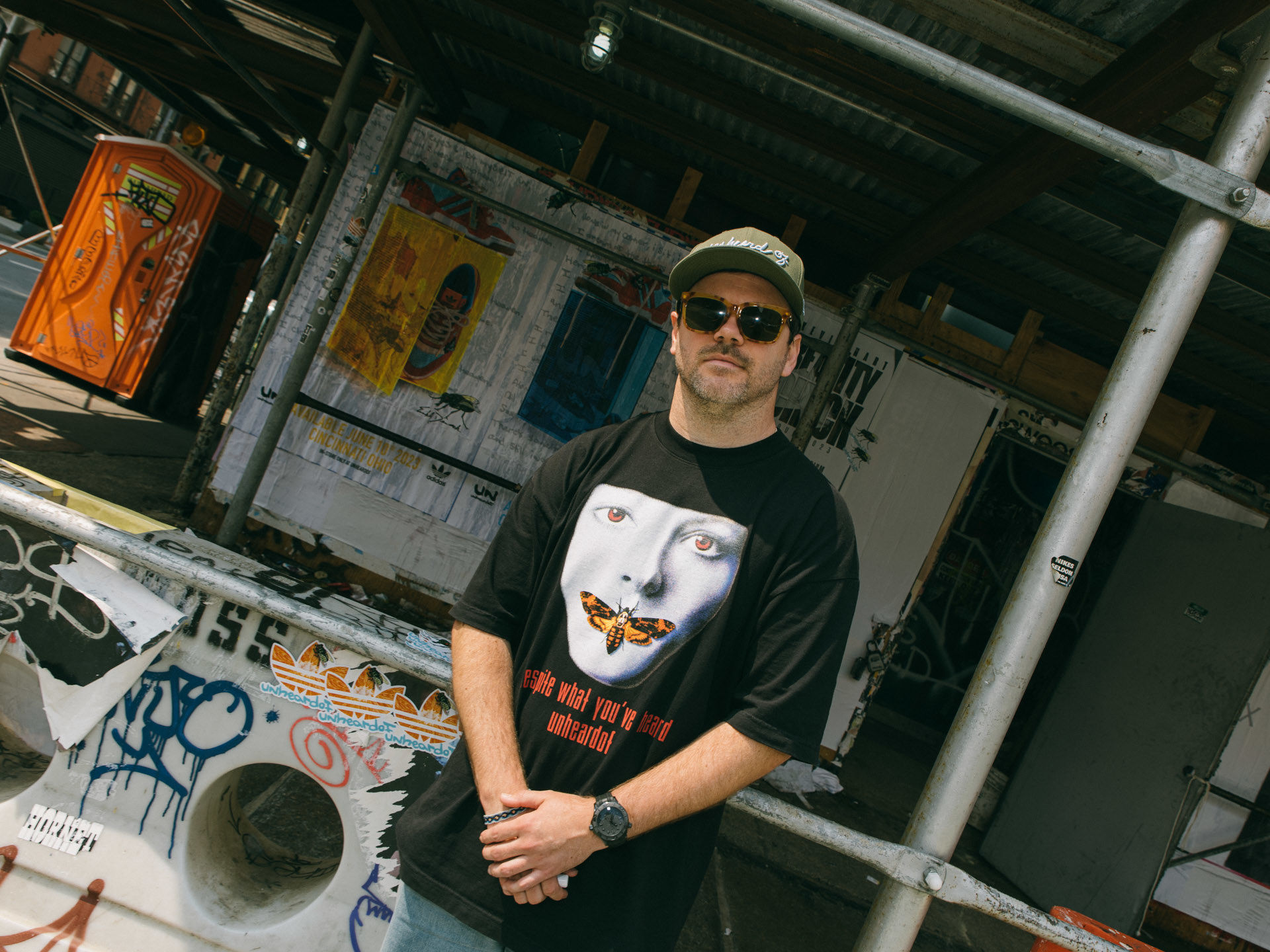 The Adidas shoes come in clear acrylic boxes that reference cassette tape packaging, one as a nod to No Doubt and another to the Postal Service, because Erika once stole her a burned disc of Postal Service songs from her brother. (He admits that CD-style cases would be more era appropriate, but not at all fitting with respect to dimensions of a shoe.) They are packaged with stickers, lace charms, a pen, a printout of the poetry, and four sets of laces.

The Unheardof x Adidas Rivalry Low "Erika's Poem" (style code GZ9434) will release on June 10 in men's sizes 4 to 14 for $165. The project is exclusive to Unheardof, which will sell 500 pairs in the orange box at Cincinatti's Contemporary Arts Center and 500 in the blue box online via the Unheardof website at 11 a.m. ET. (There are another 100 pairs to be distributed in a red box specifically for friends and family.) For the Cincinnati release at the Contemporary Arts Center, Unheardof will re-create Erika's childhood bedroom and display her poetry.
When Lipschutz first got the opportunity to work on the Rivalry Low with Adidas product line manager Tony Holmes at the end of 2021, he did not wait to receive design files templates from the brand. Instead, Lipschutz says, he made them himself.
"I bought a bunch of Rivalries from Europe, had them shipped to America, and then I just started drawing over and over and over," he says. "I drew them by hand, drawing them out, and then tracing them to Illustrator."
He had to push the collaboration through constant revisions—it took six samples total to get the shoe right—at a time when factories in Asia were still hindered by pandemic-related restrictions.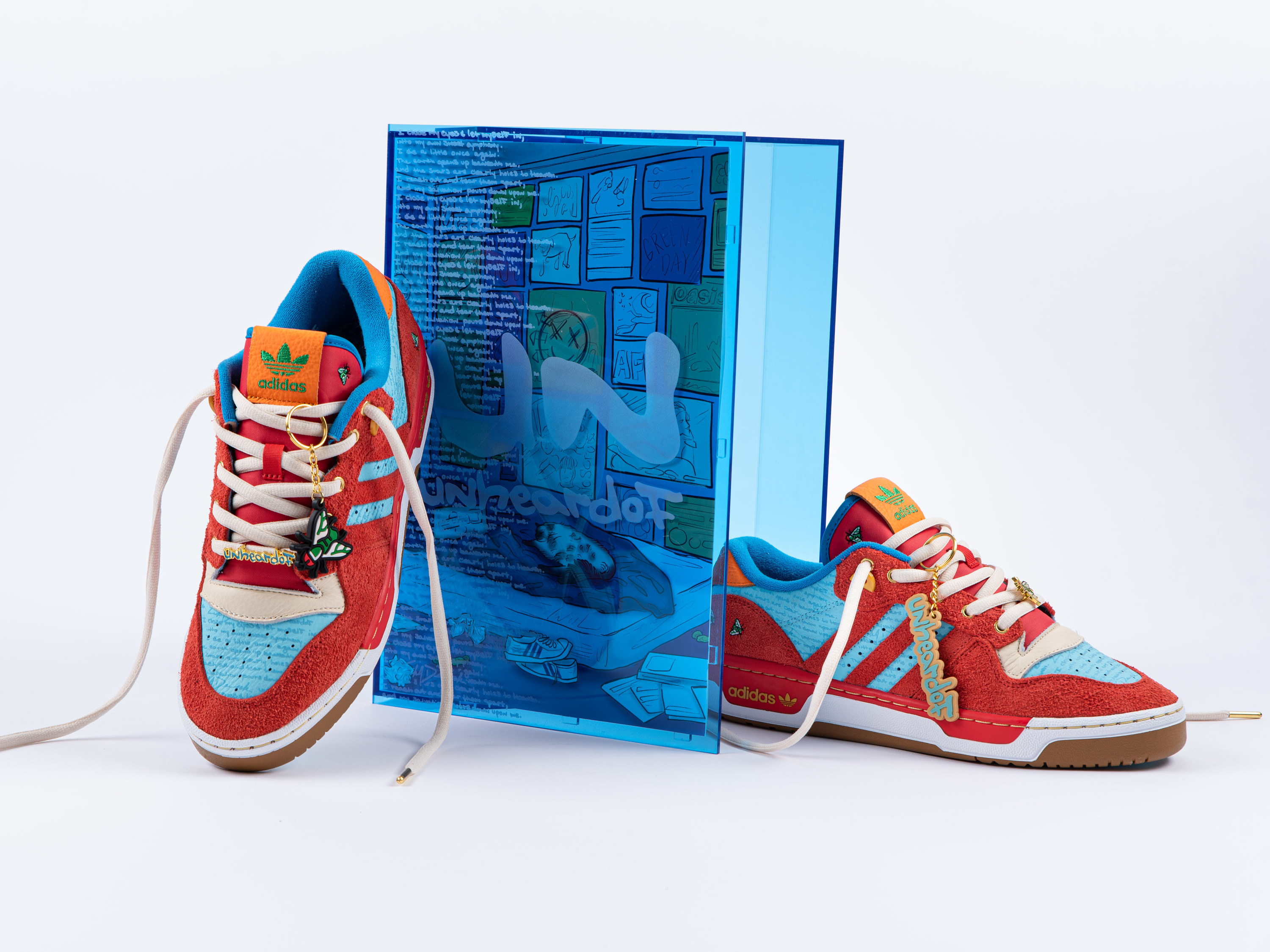 Lipschutz retraced his sister's handwriting to translate it to the upper. At first, the factory producing it simplified the work by retyping her words and applying them to Rivalry Low in regular Helvetica font.
There were other hiccups, like when he had to scrap the cream-colored tongue because it wasn't passing wash-test standards and succumbed too much to the threat of color transfer from other components on the shoe. Or when the factory balked at the decision to take Adidas' three stripes off the medial side of the silhouette.
"What are you doing?" was the response. "You can't do that."
Even picking the lace involved a battle.
"Getting the oval laces was the biggest challenge because typically the Rivalry comes in a flat lace," Lipschutz says. "It was a fight to get them to use this lace."
The distinct lace is an important signifier in the shoe. That piece, along with the puffed up tongue and bold colorway used on Unheardof's version of the Rivalry, immediately drew comparisons between it and Nike's SB Dunks. When Lipschutz debuted the shoe in Paris in January and images spread online, commenters noted how much the Adidas looked like one of Nike's most hyped models.
The similarities are intentional for Lipschutz, who was a skate rat with pro aspirations in the golden era of Nike SB Dunks. He mixed some of that line's flavor into his Adidas in an effort to give it a similar allure. His history with the SB Dunk includes a two-shoe sneaker collaboration from 2015 that paid homage to the 1990 World Series between the Cincinnati Reds and the Oakland A's.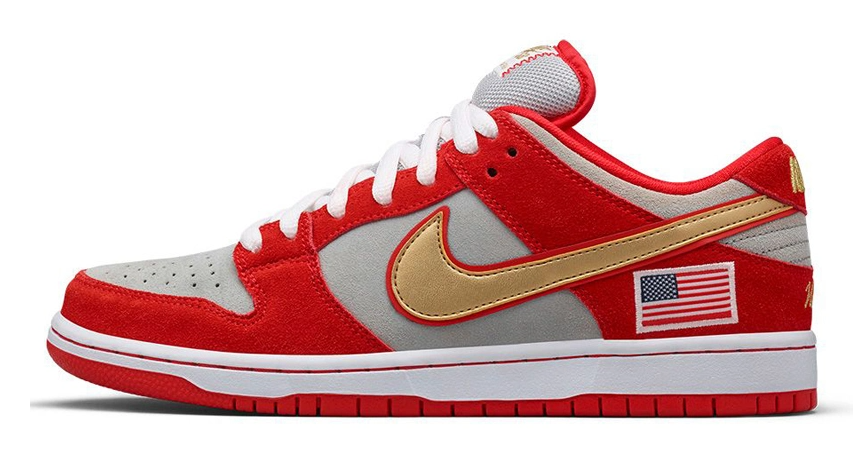 Lipschutz's work on SB Dunks informs not only the design of the Unheardof x Adidas Rivalry Low "Erikas' Poem," but also its approach to storytelling and pop culture reference. His SB project was complicated by a behind-the-scenes legal battle with Major League Baseball. The Unheardof Dunks didn't officially reference any MLB teams, but came close enough to irk the league and scare Nike away from really supporting the shoes.
Because of that precedent, Lipschutz is careful not to explicitly tout the ways in which its Adidas Rivalry Low ties, via his sister, to the music of No Doubt or the Postal Service. Unheardof does not mention those connections in its marketing. The symbolism is there, though, most prominently in the fly that recurs throughout the shoe the Tragic Kingdom artwork.
The insect is meant to represent a dark or decaying side of something that seems healthy on the surface. It becomes weirdly salient as Lipschutz pitches the shoe. He remembers flies and bugs crawling around his childhood home. Ahead of an interview about the project for this story, the Unheardof owner asked if a sneaker industry friend could listen in as a "fly on the wall." There is also a literal fly in the room that buzzes around during our conversation.
The Unheardof x Adidas Rivalry Low is sensitive outside of its allusions to famous bands. Its subject, Erika, cannot consent to the use of her work on the shoe. According to Lipschutz, there was disagreement among his siblings over how appropriate it was to use her poetry. His siblings, he says, have not remained connected into adulthood.
For him, the important co-sign came from his grandma. He says she approved of the shoes and insisted his sister would be proud of him. The matriarch took care of Lipschutz and his siblings in their childhood, cleaning them up and feeding them bologna sandwiches. She provided respite from what Lipschutz describes as a "white trash" environment where drug and alcohol use were common.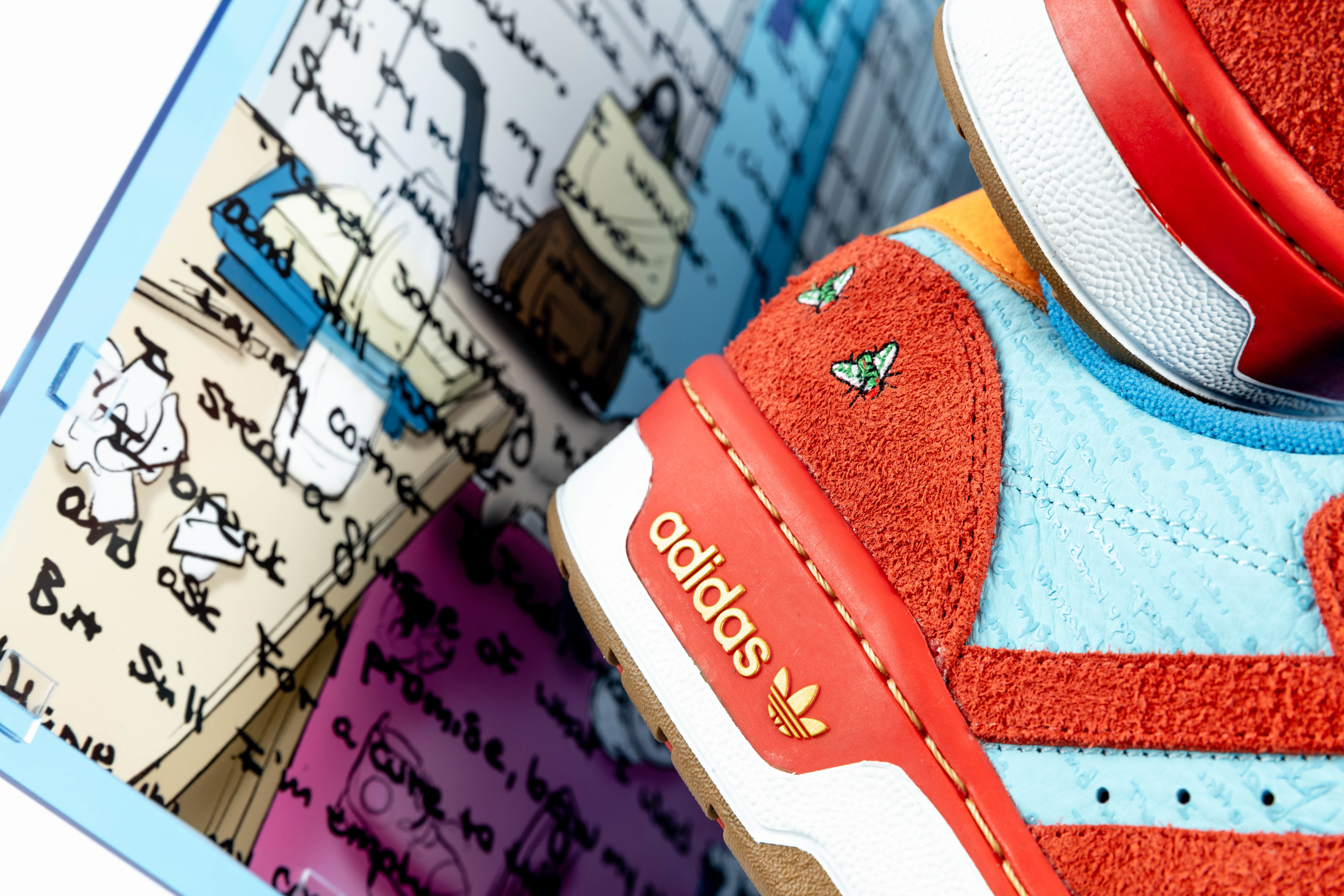 His grandmother is one of only a handful of people who got a pair of his Adidas before even the friends and family release.
"Before my grandpa passed, he saw the whole project, too," Lipschutz says.
Beyond doing right by his family, his plan is to honor his sister by inviting students from her high school to the release in Ohio. There, her work will be on display, along with the sample versions of the shoe that didn't make it to retail. Lipschutz wants to give the students a creative outlet by holding workshops where they can try their hands at sneaker design.
He wants the sneaker to raise awareness about suicide prevention and the mental health challenges that teenagers face. He sees the shoe, plastered up in New York City, as a victory for a guy from a flyover state who got a message out by telling a story that's deeply personal and local.
He wants his Adidas to be a beacon, not just for area teens and people lining up at his store to buy the limited edition shoes, but also to the sister that he hasn't seen in decades.
"Hopefully wherever she is," Lipschutz says, "she'll be able to see it."