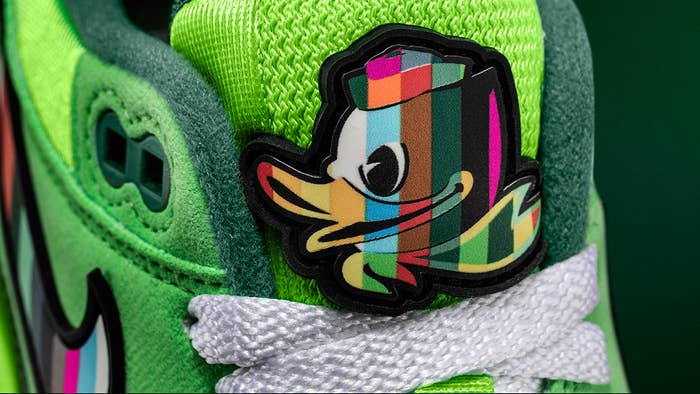 Tinker Hatfield's latest Nike sneaker is so elusive that the designer himself doesn't even have a pair. Nor has he seen the final thing, a retro Air Max 1 blasted with shades of radiant grass and forest green, in person. In this era of Zoom design sessions and products made remotely, he's not been able to keep close track of the shoes.
"I have no idea who has anything to be honest," he says. "This is the strangest world we're living in."
The University of Oregon-themed sneaker is his newest creation for his alma mater, a school that's been connected to Nike since the footwear brand's inception. Before Hatfield competed as a pole vaulter at Oregon, Nike co-founder Phil Knight ran track there. (The late Bill Bowerman, Nike's other co-founder, was Knight's coach.) Both are fans and fixtures at its biggest sporting events. Hatfield talks to Knight more now than he ever has, despite rarely meeting with him in person.
"I don't see hardly anybody because I'm in my studio with my face buried in my iPad all the time," Hatfield says.
Part of his work at that studio has been concerned with how to give back to Oregon. The links between Nike leaders and the university have manifested in charitable donations, endless uniform combinations for the Oregon Ducks football team, and an enviable run of limited-edition sneakers building hype around its athletics programs.
The Ducks version of the Air Max 1 has felt something like an object in the ether for Hatfield, which is fitting given its introduction through a new NFT project benefitting student athletes at Oregon. The shoes are available via Flying Formations, a series of 120 unique non-fungible tokens he made for Ducks of a Feather, a Ducks-focused NFT platform. The NFTs will be sold in a Dutch auction on Feb. 20 starting at 10 a.m. and owners of the tokens will have access to one of the 120 physical pairs of Air Max 1s made. Each shoe, with a Ducks logo on the tongue representing the token, will be signed by Hatfield.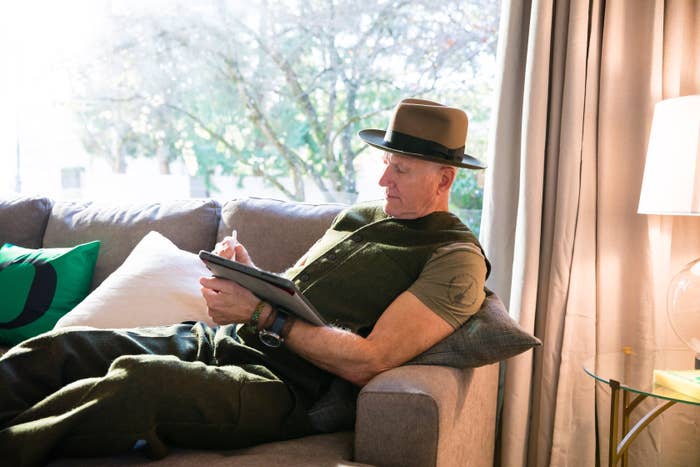 Money raised from the auctions will go to Oregon student athletes. According to the Ducks of a Feather website, 67.5 percent of it will be split equally among Oregon football players, 10 percent will go to a fund for all Oregon athletes. The remaining 22.5 will be held to offset costs for Division Street, the company behind this release, and other recent projects helping Ducks players get paid in the wake of NCAA rules changes.
The push to find ways for players to earn money comes in part from Knight, a major Oregon donor who is also involved in Division Street. Hatfield says the Nike co-founder is intent on creating revenue streams for Oregon athletes rather than just writing checks for them.
"Phil's driving force is to help student athletes," he explains.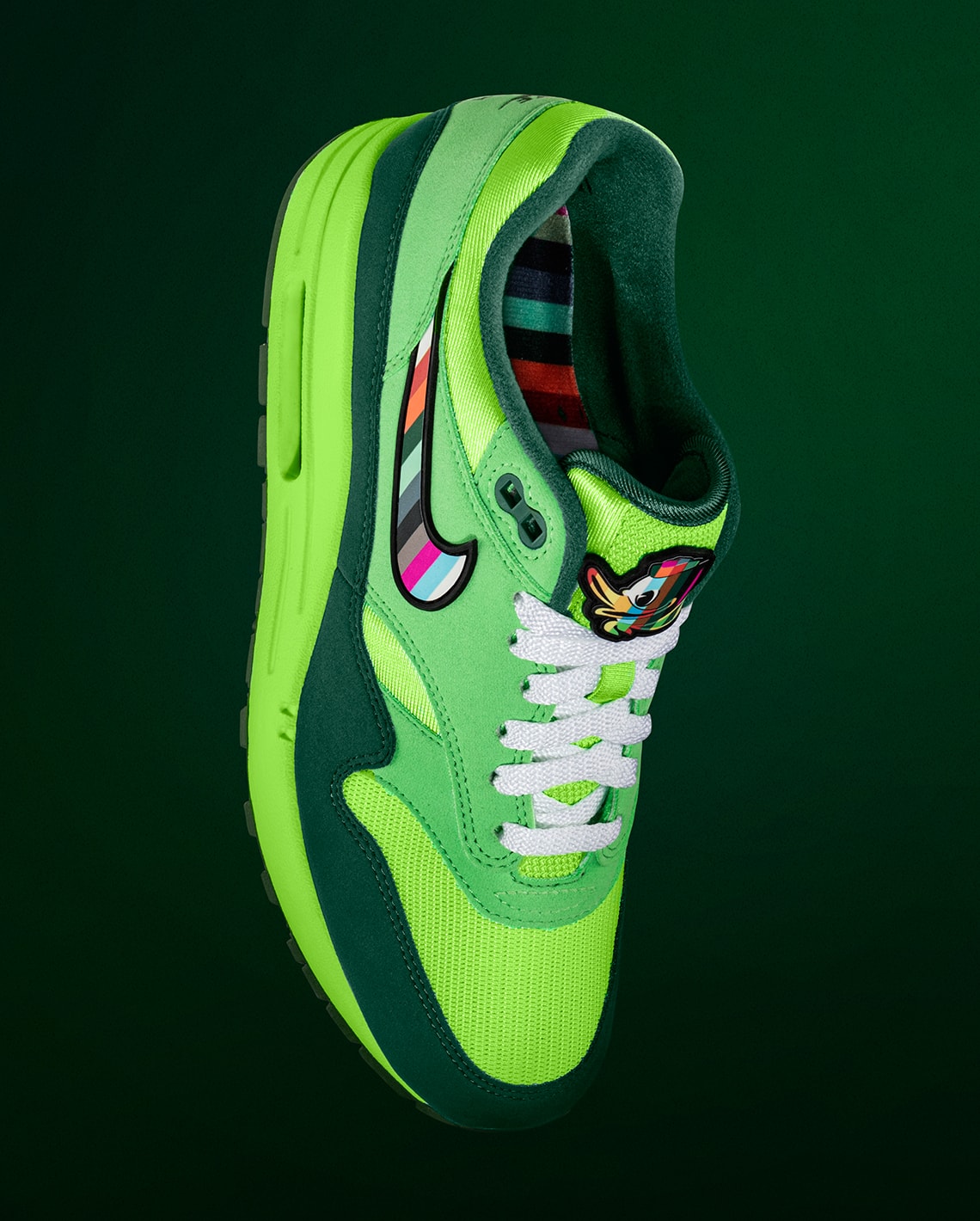 It was Knight who prompted Hatfield to create an NFT for Oregon football player Kayvon Thibodeaux last summer. Hatfield is the world's most famous sneaker designer, with a résumé that's already War and Peace long, so he's quick to share credit. He says that a Nike employee named Bobby Legaye acted as a guide, helping him and Knight understand the world of crypto assets. 
Neither the Thibodeaux project nor the Ducks of a Feather one are Nike NFTs, although Nike is very much invested in NFTs. In describing his work around NFTs and NIL deals for Oregon players, Hatfield is careful to distinguish between Division Street and Nike.
"Division Street is a separate company that Phil Knight has started," he says. "What's probably important about that is that even though it's a separate company, it's really partnering with Nike. The partnership is largely what I could call a fledgling one." 
The distinction between the entities is important in this nascent era of name, image, and likeness deals for college athletes. The new rules around how players are allowed to profit are presently somewhat murky and lacking precedent. Sportico reported in January that the NCAA was looking into the University of Oregon's relationship with Division Street.
"We are aware of the inquiry, and we welcome a look into Division Street and all institutions operating in the NIL space," says Division Street CEO Rosemary St. Clair. "We are extremely confident that our work to create and monetize elevated marketing programs for Oregon student athletes falls within the existing guidelines and we will continue to do everything necessary to stay in compliance."
The resources that Nike and Division Street have access to overlap to a degree. The NIL company's staff includes Nike veterans, St. Clair among them. The Air Max 1s for Ducks of a Feather were created in part by Elizabeth Brock-Jones, a Nike developer who worked on Virgil Abloh's "The Ten" collection. (Brock-Jones also has a connection to the University of Oregon, where she is an instructor in its sports product management program.) Here Hatfield is again eager to credit his collaborator, lauding her as one of the most talented people he's worked with.
"I give her these half-baked drawings off of my iPad and then she has her own technical team that just launches into prototyping," he says, explaining Brock-Jones' role in the shoe.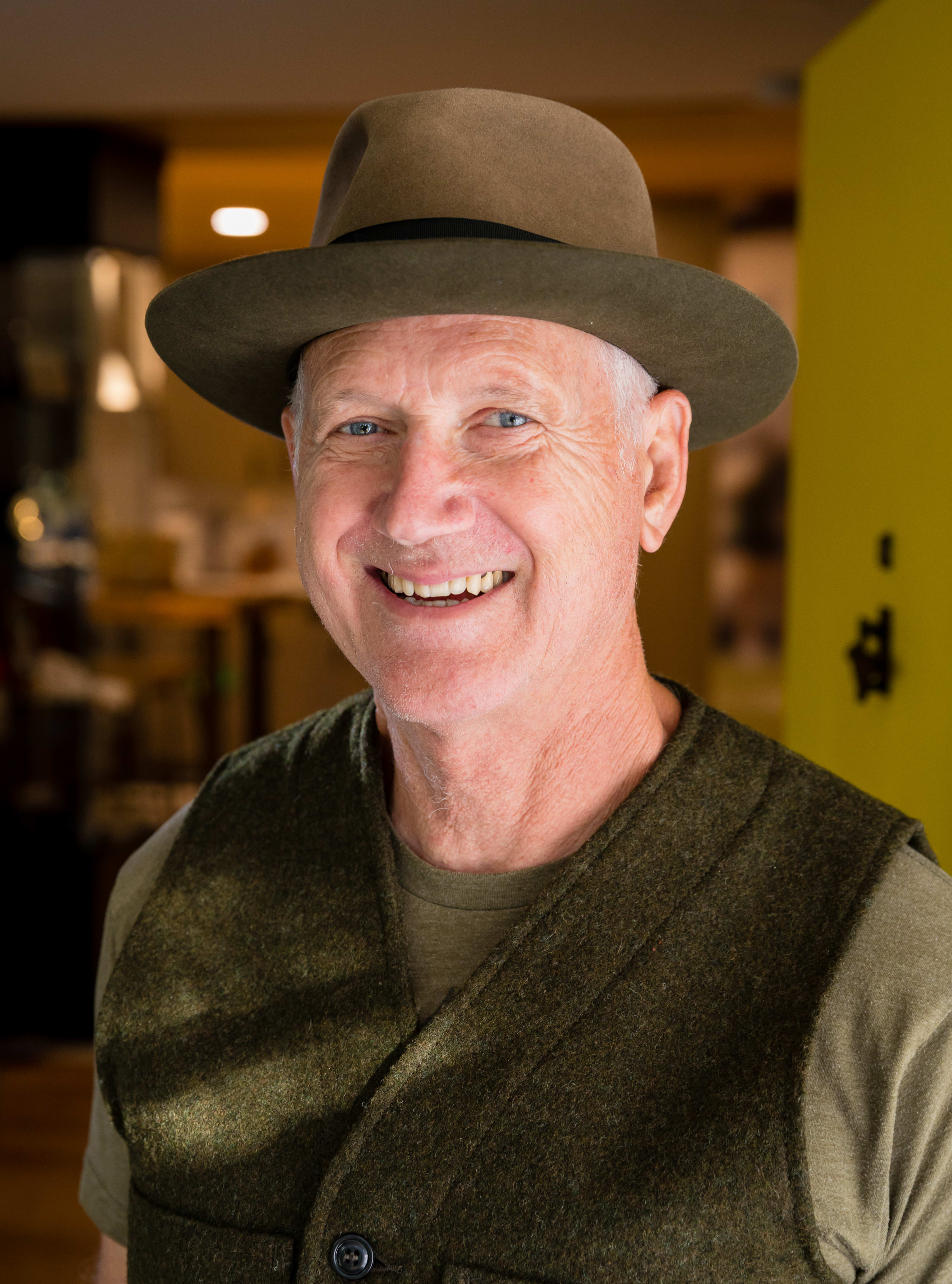 While he handed the sneaker off for development—Hatfield is generally working on too many projects to dwell too long on one—it's very much guided by his experiences. The silhouette itself is an important one for Hatfield, the Air Max 1 having established him as an important designer in 1987. He wanted the Oregon version to look unlike something thought of by Nike's in-house fashion and color experts. Its colors are tied both to his alma mater and his birthplace.
"It comes from the state of Oregon," he says. "To me there was a little bit of personal decision making there."
His work on University of Oregon-style Air Jordans in the past decade has grown the number of green sneakers at the top tier of the resell market. But the school's colors haven't always been seen as viable on footwear. Macklemore once relayed a story about Michael Jordan hating a green version of the Air Jordan 6 made for the Seattle rapper. Hatfield has also run into opposition over the color.
"Many years ago, I remember being told green doesn't sell," he says. "Green shoes don't sell."
He shouldn't be expected to heed such a warning—the original Air Max 1 was deemed a risk for its flashes of color, which were at the time bold for running footwear. Hatfield's tendency to be more focused on posterity over tradition has been tested a bit by his entrance into the NFT space, which he's working on his understanding of.
"It's different," he says. "Everything's spinning at a faster rate. I guess you could say I'm trying to adjust."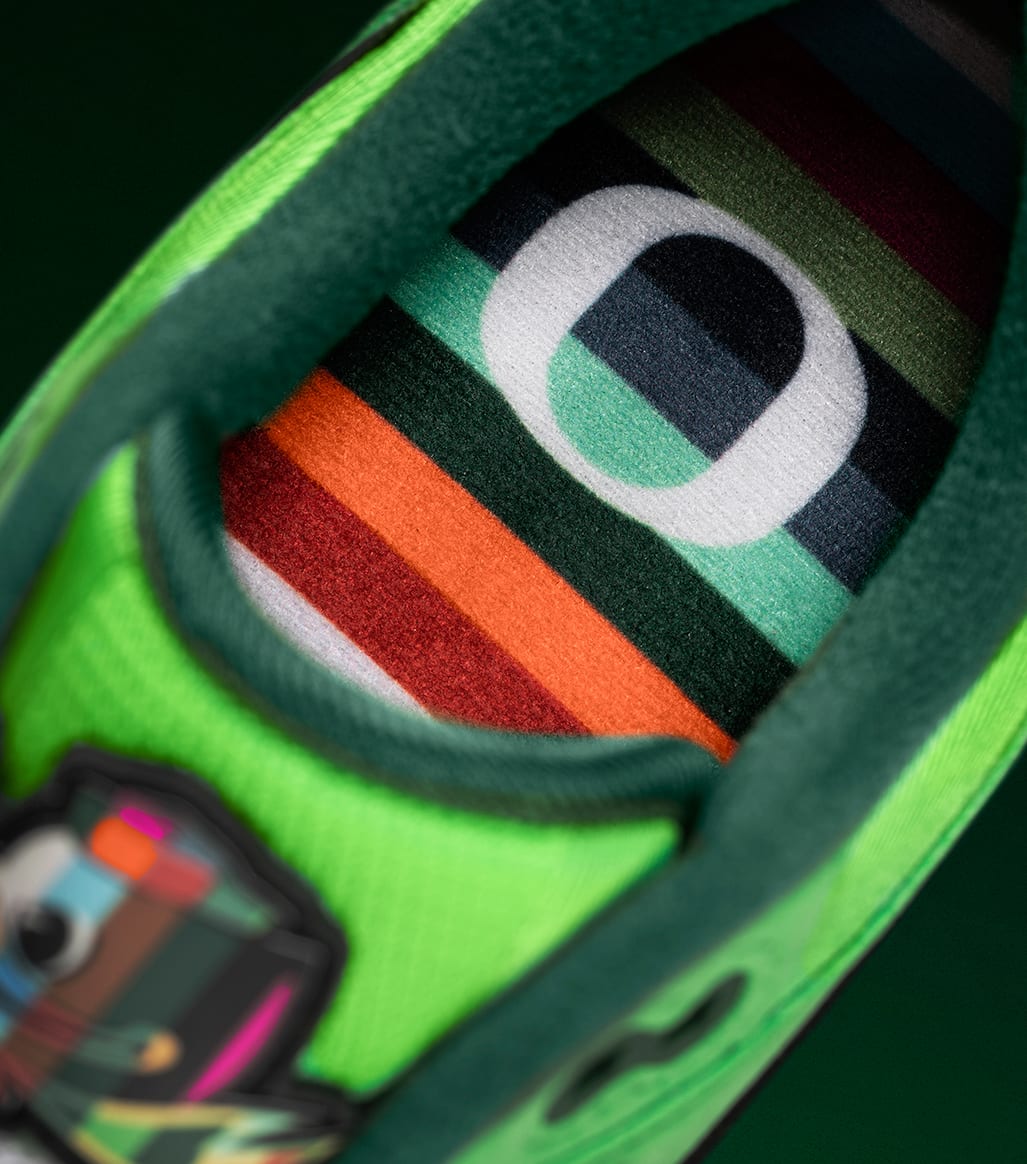 Though Hatfield is engaged in the NFT market through his work with Division Street, he is not fully immersed in it. He is responsible for the artistic input on the tokens bearing his name, but not their actual minting on the blockchain. He has a crypto wallet but doesn't own any NFTs yet, as he's been too busy creating them.
Hatfield is a boomer, so some level of reticence around the metaverse is expected. But he's also a futurist who's spent his career making today what people will wear tomorrow. In conversation you can hear his gears turning as he rationalizes the ownership of virtual goods. 
"I think you have to sort of throw out some of your preconceived notions," he says.
The idea that a pair of shoes or a piece of art or a house must exist in the physical world to be a store of value is one of those preconceptions.
Hatfield has an easy reference point in his life for how impermanent tangible goods can be in the shoes that he owns. In his studio he has a signed Air Jordan 14 that Michael Jordan wore in the NBA Finals against the Utah Jazz while battling for his last championship. The designer noticed recently that the autographed sneaker was beginning to degrade.
"The paint had started to change, like it was getting sticky," Hatfield says. "It had lost some of its resiliency."
The conclusion: These things are not forever. There is a half-life to the sneakers piled up behind you. Hatfield does not consider himself a collector—despite having authored many of history's most important sneakers—but has thought about their durability over decades.
The Air Max 1 from the Ducks of a Feather project is not a response to this. It's being introduced alongside an NFT, but is very much a physical sneaker. Still, it's pulled Hatfield closer to the world of digital items and shoes that exist on the blockchain.
"There's a lot of talk about people owning virtual sneakers," he says, "and I'm like, whoa. That's something I never would have thought was worth anything."
He's thought about it more recently, imagining the upsides of holding a file as a token of ownership or a library of shoes that is purely digital.
"That's kinda weird," Hatfield says, "but maybe it's part of where we're headed."