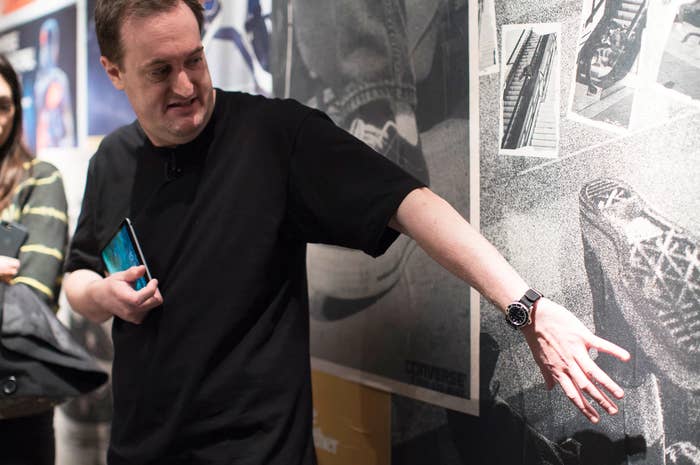 Everyone who knew Gary Warnett or was an admirer of his work was shocked and saddened to hear of his tragic passing on Wednesday. I've seen lots of kind words, high praise, and thoughtful condolences offered across the internet. I suppose it's a small consolation to see such widespread recognition of the things we'll all remember him for.
When the world loses someone who is the best ever at what they did in life, proper acknowledgement is due—and Gary was that. He would have likely scoffed at being labeled a "sneaker journalist" or "cultural historian," but the fact is that he was one of a small handful of guys who laid the groundwork for something so seemingly preposterous to actually be a viable way to make a living.
First and foremost, Gary was a brilliant guy with a kind demeanor and razor-sharp wit. I wasn't a close friend of his, but I'm fortunate to have had the privilege of knowing him personally for the last eight or nine years. We'd always chat at industry events and exchange emails from time to time. When I was working in media, I'd try to find reasons for him to write stuff for me every chance I got.
The first time I met Gary was in Cleveland at Nike's unveiling of the LeBron 7. At dinner the first night, we somehow struck up a conversation about a recently released Iron Maiden documentary, and by the time about three or four hours had passed, we had covered the most intricate details of a wide variety of topics including, but not limited to: '80s death metal, the incomparable genius of The Simpsons, highlights of Mike Tyson's early career, and Pelle Pelle-era NYC hip-hop.
By the end of the night, I realized that I was not only talking to a British dude who was wearing Black/Cement Jordan 3s and knew more about American pop culture than me (or any other American), but I was talking to a guy who seemed to know everything about everything.
I learned of his blog and it's been in my RSS feed ever since. For anyone who has ever visited gwarizm.com (and if you haven't, I highly suggest you do), you know that it was a weekly treasure trove of some of the most impressively obscure and compelling content to ever bless an address bar.
It was a bible for the people who geek out on the deepest nooks and crannies of the things they love—and the stream of gems never stopped. Even when Gary would throw up a "lazy" post or random tweet, it could easily bounce you into a late night YouTube vortex of Big Brother skate videos or local TV commercials from long-defunct sporting goods shops.
Every few weeks, I'd read one of his posts and think, "He puts so much care into curating this incredible source of information and joy and it's probably a fairly thankless endeavor. Let me write him a quick email just to express my gratitude for taking the time to share these crazy finds with the people who appreciate them."
Then I'd get sidetracked by something and forget to do it, which I now regret greatly and will hopefully learn from. The most recent time was just a few weeks ago, when I spent an enjoyable hour-plus going through hundreds of pages of items from a movie prop auction, all thanks to another random Gwarizm unearthing.
Aside from his incomparable thirst and capacity for knowledge and his mastery of proverbial crate digging, Gary was someone who people respected and looked to for answers and opinions because they knew they'd get something smart and honest in response. His co-sign meant the world to those who know that his bullshit detector was always plugged in and always impervious.
Since meeting him, I can honestly say there have been times that I've been writing or designing something and thought to myself, "What would Gary Warnett think of this? Would he rate it? Would it pass his authenticity radar?" There are not too many people in this industry that I'd ever think that way about, and I'm pretty sure I'm not alone in holding his standards and approval in that kind of regard.
As I write this, I'm wondering what he would think of my attempt at a tribute.
Gary's passing is so sad for so many reasons, but among those tragedies is the endless wealth of knowledge that exits with him—countless things that he may have been the only person on earth to actually have educated accounts of. There is no question that the world just became significantly dumber without his presence—this is the guy that brands would go to to teach them about their own history.
As Gary would modestly tell you, he "wrote some things for some people," but that doesn't begin to scratch the surface of the legacy and imprint that he leaves behind. His influence wasn't defined by Instagram likes or a desire to impress people. It was a lesson in substance, studiousness, and unbridled enthusiasm for whatever it is you love. May his passions and memory live on through everyone lucky enough to have crossed his path.​
Aaron Kr. worked in sneaker media for years before transitioning to do design work full time for Packer Shoes. He and the team at Packer extend their best wishes and deepest condolences to Gary's friends and family in this difficult time.