Last weekend, PUMA shut down Amsterdam to bring space-age swagger to the streets as they launched their new intergalactic-inspired silhouette, the RS 9.8.
Inspired by new frontiers, galaxies and people who defy societal rules and the laws of physics, the kick enters new realms with its aerodynamic simplicity. A nod to our growing interplanetary aspirations, the RS 9.8 model name relates to 9.8 m/s2 – the approximate speed of gravitational acceleration near the Earth's surface.
The settings for the launch were, naturally, a space ship, where a host of creatives rolled through to experience the collection's lift-off in some out-of-this-world settings. We caught up with photographer Levi Armstrong who was in attendance at the launch to talk through his creative journey, pushing the boundaries and how he's challenged the norm with his work down the years.
The new PUMA RS 9.8 'Space' is available at JD Sports now.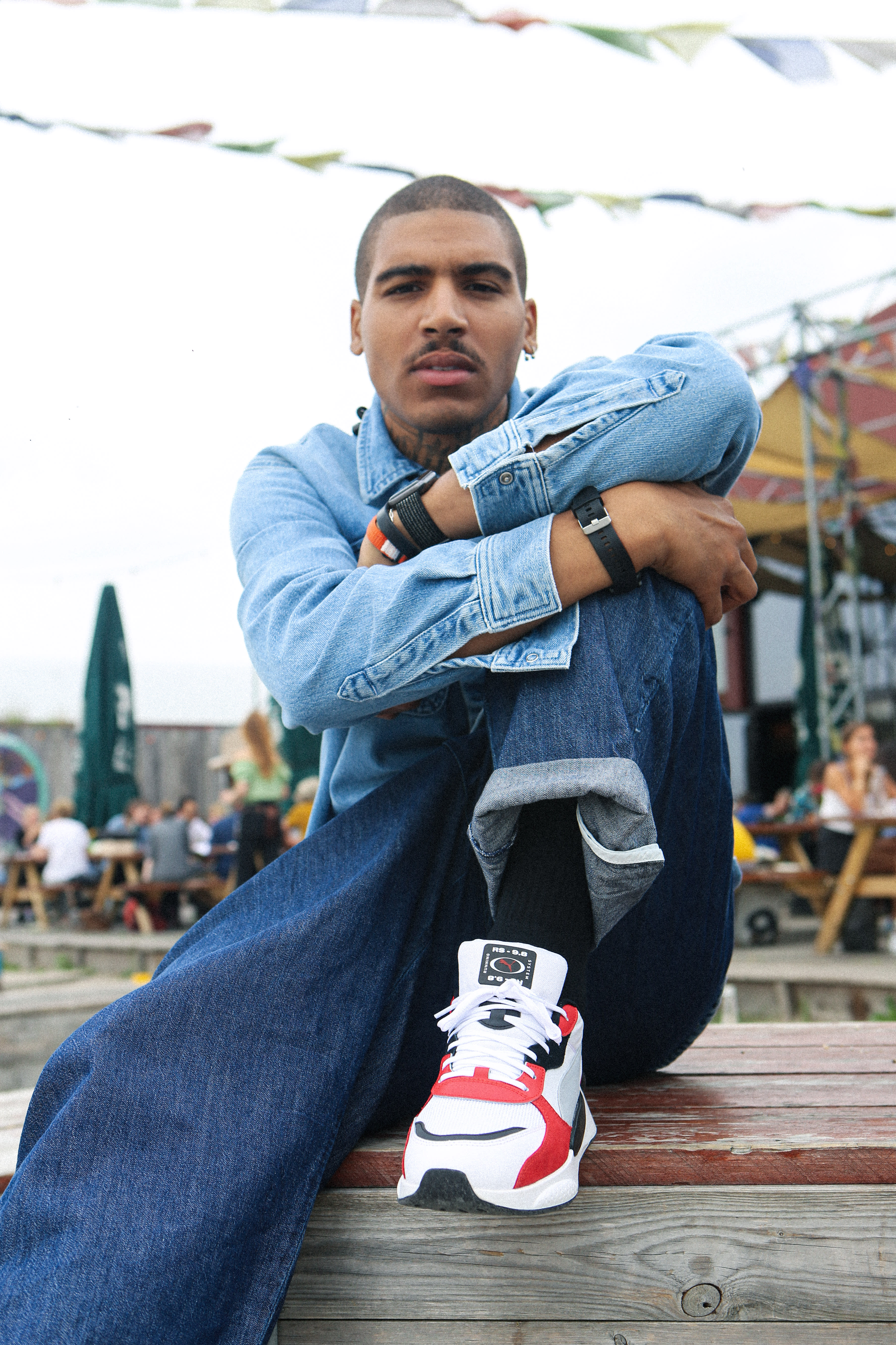 Complex: Talk us through the event in Amsterdam last week, what was the vibe like? 
Levi Armstrong: The event was dope! The music and the quiz really made it a great experience. Not many of us will be able to experience the cosmos while on a boat. The crowd had an amazing aura as well.
Are you rating the new PUMA RS 9.8? 
Most definitely! It's a daring but familiar design, which is a perfect piece to have in anyone's shoe collection. 
Have you always worn and supported PUMA? What is it about the brand you like? 
I have been wearing Puma since my childhood, so I guess it became more of a lifestyle for me rather than hype. I like the fact that Puma has an unparalleled presence within community projects and bringing relatively unknown talent to light such as myself.
You were traveling with lots of big sneakerheads – J2K, King of Trainers, The Sole Supplier – how were those guys to work with? 
The guys were just great company and even better people. It felt more like a holiday with friends to be honest. That's why I had so much fun capturing the trip from that angle.
The colours on this shoe are pretty strong. What makes a sneaker good to shoot?
Exactly what you just mentioned. Sometimes, colorways may be easily drowned out by a background depending on where you shoot. However, this isn't the case with the RS 9.8, they were a joy to capture. 
When was the first time you picked up a camera and how did you move from a kid with a dream, to someone working as a professional photographer with huge brands and talent?
I first picked up a camera around six years ago but it was a hobby I never took too seriously up until 2016. It's mad because if you told my 16-year-old self I would be doing what I am doing today, I would have laughed. I think if you really want something in life, as cliche as it sounds you must take that risk and trust your own process. It's better to dream and fail than to live with regret. 
What is it about your work that sets you apart from other photographers, in your opinion?
I have always remained true to who I am through my art and never took myself too seriously as that may snuff away your magic. Also growing up I always practised drawing, music and writing poetry. I feel like those elements combined can create a very interesting vision of the world to photograph. So yeah, I would say what sets me apart from some photographers is me fully embracing my personal journey and sharing that vision regardless of whether it's trendy or not.
What's the most exciting thing about working in photography right now? 
The most exciting thing about working in photography right now is what's always been: creating memories and making other human beings feel amazing when looking back at a moment or themselves.
Get a closer look at the PUMA RS 9.8 from Levi's photos below.
The new PUMA RS 9.8 'Space' is available at JD Sports now.