I don't have the emails anymore, but I believe it was 2009 when I contacted sneaker reseller Corgi Shoe about a pair of deadstock Nike Air Max Deluxes he had from the year 2000. He didn't want a lot for the shoes, $150 I think. And what I got in exchange was a pair of Air Maxes that not many others owned and which had never been retroed. Over the next year or so, I wore the shoes a handful of times, then put them back in the box and forgot about them for a good five years.
When I pulled the shoes out from a stack in 2014, I dusted the box off and was saddened by what I saw inside. The plastic on the toecap had cracked and the foam on the midsole had split, like an old NERF football that had been tossed around the schoolyard one too many times. I thought I was out of luck. There were no signs that Nike was planning on bringing back the Deluxe anytime soon, and I hadn't worn the shoes as much as I had hoped.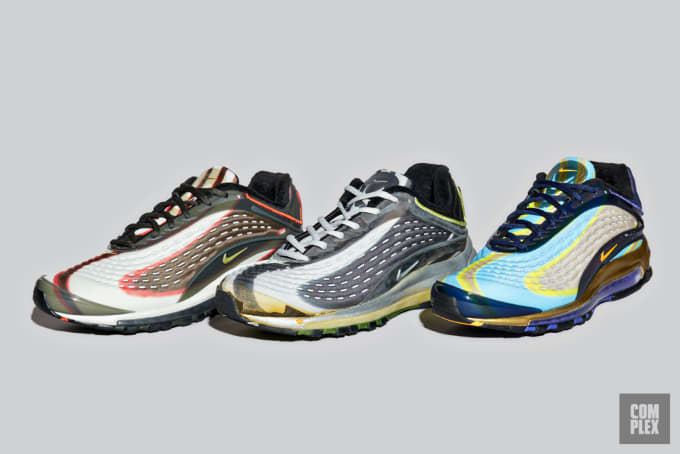 Then rumors started to circulate this year that Nike was bringing the shoe back. It didn't come as much of a surprise, though. Years ago it would have been an oddball choice, with the brand's over-reliance on models such as the Air Max 1, 90, 95, and even 97. But that well has run dry to a certain extent, and the more futuristic silhouettes of the early '00s have piqued the interest of connoisseurs and style enthusiasts alike. Every shoe has its second time in the sun, and right now it's the Deluxe's turn.
Nike just dropped an O.G. colorway of the Deluxe over in Europe, but that's a pain in the ass to get. They were supposed to release two more colorways of the shoe in the States on July 12, but changed the date to the 26th.
It's weird to have an obscure Air Max shoe re-release after being in the vault for almost 20 years, though. For one thing, Nike can't—or won't—make the bubbles to the same specifications and PSI as they were in the '90s or early 2000s. This mainly has to do with the greenhouse gas that was found in many of the older Air units that made them swell to bulbous proportions.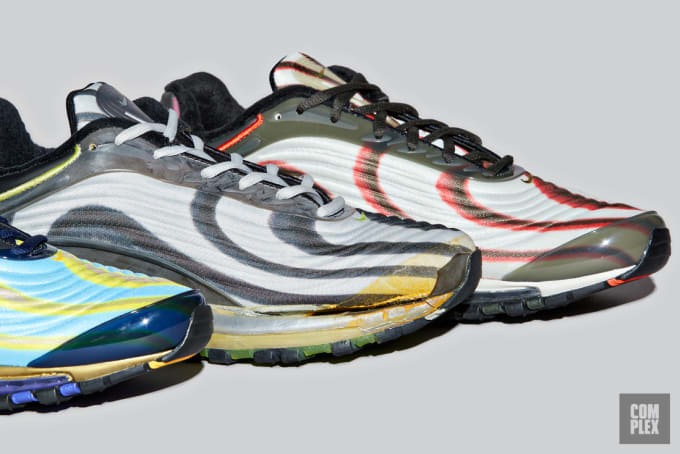 There's also a feeling when you have the original version of something that makes you not want the reissue. Aside from every aspect of the shoe not being the same, the initial release is able to capture a moment in time. Retros are fun, but they often feel like revisionist history.
That's the life that Air Max collectors, sadly, have to come to terms with. Air Maxes, unlike Air Jordan 1s, Air Force 1s, or terrace Adidas shoes from the '70s, don't live forever. They have a finite time on this Earth before they crumble to dust, only to be saved by a sole swap or forever to be retired to the big sneaker box in the sky.
Either be happy with the retros, or never wear your sneakers. Like I said, you can sole swap your shoes—buying newer pairs, ripping the soles off, and applying them to your older uppers— but they never really look the same, due to the previously mentioned issues with shape and bubble size.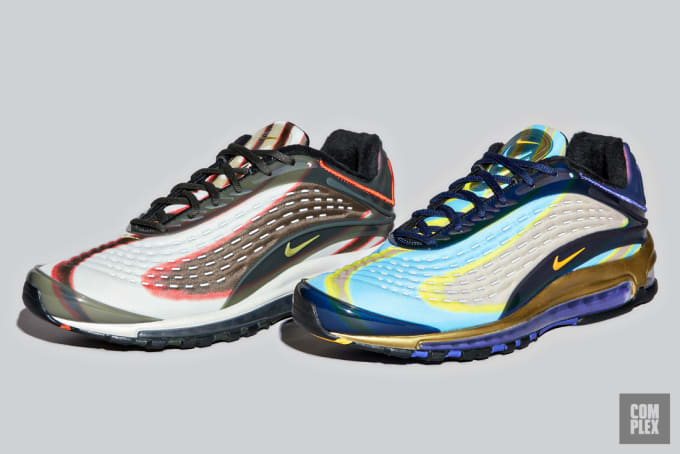 So you really have one option: Just wear your shoes while they're still able to be worn. It's an adage as old as time: If you own something, it's yours to do whatever the hell you want with it, which means you should wear it into the ground. This is nothing new. DJ Clark Kent and Russ Bengtson said this for years on their show, Quickstrike.
How the hell did we get to point where I'm getting philosophical about an old pair of shoes that I can't even wear anymore? That's a good question. Why you're reading this is an even better question. We took some fancy photos of the shoes, too, to show what 18 years can do to a pair of sneakers. Maybe you'll grab yourself the new Deluxes and wear the hell out of them. It's better to burn out than crumble away anyway.