The Nike Air More Uptempo was one of Nike designer Wilson Smith's boldest creations, and Scottie Pippen gave the sneaker an on-court legend. It's a shoe, however, that had a moment in the fashion scene this year. Much of it can be credited to Hatfield's design still being fresh and relevant 20 years after its debut, but menswear designer John Elliott had a big impact on the sneaker, too, when he decided to feature in a runway show. The Nike Air Max 2 Uptempo from 1995 might now be in the shadow of its younger sibling, but it's a sneaker that has a large impact on NCAA basketball and Elliott as a young basketball player.
The Uptempo, in fact, is what got Elliott into sneakers. In time for the re-release of the Nike Air Max Uptempo 2 this weekend for the brand's 12 soles program, Elliott explained how the shoe impacted him back in the day.
This is what he had to say:
The '95 Uptempos forever changed my sneaker lust. Elevating it from childish desire to lifelong obsession. Because the design was just so dramatically new. It looked like it had Air throughout the entire sole. It was a technique that blew the mind, erasing every previous expectation.
It checked two boxes. First, just by putting them on, you gained something extra in terms of social equity––on the street, they didn't just get you a second glance, but a look of respect. But then it also gave you an added boost in terms of style and separating yourself on the court. Which was important to me at that time, because I hooped seriously. I wore my blue and white '95 Uptempos for like an entire summer, and went through all my basketball camps with them.
The thing about the 95 Uptempo is that you can't argue its impact on sneaker culture then or now.  You really can't not recognize it or its generation of Nikes. The 96 Uptempo, with the AIR, is also such a striking silhouette. And the 97, with the extended air bag– were a crazy design. It was a paradigm shift that was affecting really the entire culture of sneakers.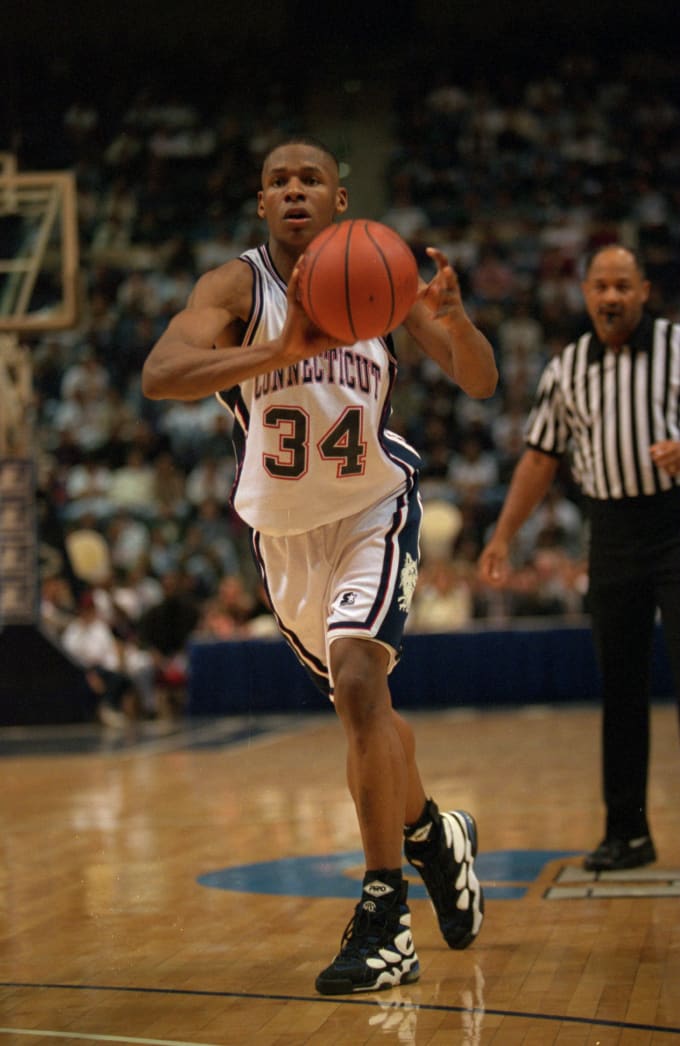 I went back and got the black '95 Uptempos. I think the majority of the guys on UConn wore them then, and for whatever reason I remember that team — the shoes really resonated and stuck with me. Then Scottie Pippen, when MJ came back — those '96 Uptempos Scottie had been kind of unexpected, they were so dope and they made such a statement, especially when worn with all-black socks. And, the '97 still gets me, the way it was sculpted. My brother was only two years younger than me, but he and his whole team all wore those.
Today, there is a subversive kind of appeal to having a subtle style, kind of like more toned down, monochromatic look, and then going left with the footwear. It's an altogether dope move, because it's unexpected and it also shows that you have a taste level that has been curated for like your entire life. If you know how to pull something like that off, it means that you pay attention.  So, in a way, it kind of gives you some extra juice.
We do castings for runways shows, and it's so interesting because we'll have like, you know, 75, 100, 200, sometimes 400 kids. So many are wearing these silhouettes, finding vintage Uptempos, and wearing them with high socks and shorts, or high socks and like oversized cropped chinos. It's really cool to see, honestly. It's super-dope.