Takashi Murakami is preparing a pop-up gallery in celebration of his new project with Vans, setting up painted surfboards and skateboards, carnival games, graffiti pieces that read "Vans x Murakami," and display cases of slip-on shoes. It's Paris Fashion Week, and a host of fashion and art world elite will arrive the next day to celebrate the artist's first major retail collaboration since designing for Louis Vuitton in 2002.
Yet Murakami exists in both the present and the future, as does his 24-hour studio back in Tokyo; he's also taking breaks to sketch a garden reference for a new piece.
Murakami has all the art market success and institutional credibility of an icon, yet in conversation, he still humbly refers to himself as a "geek." In addition to Louis Vuitton, and now Vans, he's done acclaimed collaborations with Issey Miyake, visvim, Supreme, COMME des GARÇONS​​, KAWS, Kanye West, and Pharrell Williams. He's the founder and President of Kaikai Kiki Co., Ltd., an organization that manages his studio, multiple galleries and artists in Tokyo, and the on-hiatus art fair, GEISAI. In 2013, he made his debut in Japan as a filmmaker with Jellyfish Eyes, a coming-of-age action film examining the impact of natural disaster through the eyes of a young boy.
The sometimes rigid, exclusive structure of the art world doesn't intimidate Murakami, yet he embraces the role of the contemporary creator, assembling a studio and acting as more of a CEO than an artist on most days. He works long hours with his team, sometimes napping in a cardboard box to momentarily block out the bright studio lights.
Murakami put the Vans collaboration into the universe two years ago in an interview with Harper's Bazaar, telling the journalist he'd like to collaborate with the brand who many know for its appeal to a younger, creative, beach or skatepark-going crowd. At the time, Vans didn't know about Murakami's collection of 60 white slip-ons, which he rotates between and wears daily. "I wear them for one week maximum, and then I wash them and wear another pair," he says, adding that they are like "a second skin" for him, as natural as "breathing air and drinking water."
When Vans struck a deal with Murakami, they gave him full creative control (something Murakami calls their "very West Coast style"). What Murakami did with that control is surprising. The prints on his collaboration slip-ons are his signature, iconic flowers and skulls that people have seen in his work for years. He also made slip-ons for toddlers; the three versions have a single skull, a single flower, and a cartoon rendition of his dog, Pom. And in typical Murakami fashion, one version of the skatedeck has his self-portrait (the surfboards are currently not for sale, to the dismay of art collectors).
The impact of Murakami putting his widely seen, expensive art onto clothing available for mass consumption cannot be understated. He has sold paintings and sculptures for millions of dollars, and he's listed as one of the top 10 richest living artists year after year. His Blue Skull Painting, which now exists on Vans slip-ons, sold for $1,565,000 at auction in 2013. Additionally, his Open Your Hands Wide, Embrace Happiness! painting, also now on Vans slip-ons and a T-shirt, sold for $1,290,270 at auction in 2012.
When asked about whether he fears a momentary shift in the value of his art, Murakami openly admits that this happened when he released the Louis Vuitton collaboration in 2002. He says that his auction prices dropped for the following two years.
Yet Murakami went ahead with Vans anyway, in part because he understands the cyclical nature of any market, including the art market, and he feels that its bubble is about to burst. The collaboration, combined with his venture into filmmaking, reflects his decision to continue building a long term brand, no matter the temporary effects on his auction prices. "I'm making art for the fans, so it doesn't affect the art market. But if it's a big success, it will move my market. It's all the same," he says.
As both an artist and a businessman, Murakami compares the fall of the music industry in the 2000s to the potential crash of the volatile, overheated art industry. To him, mainstream collaborations that mass-reproduce art onto objects and clothing are an important way of democratizing art. He explains, "When MTV got big in the '90s, the music industry was having an explosion. But then Napster and Internet culture took away CD sales, and the business crashed. Maybe in the near future, our [art] business will crash, and then people will also be able to enjoy it for much cheaper, some of it free. Then people will understand what art is. The market crashes, and then then there's a more democratic situation, and then the idea comes back that art is necessary, and pieces come back. But now, any artist can make a collaboration and make money."
Though he says it's purely a coincidence, the Vans release coincides with Murakami's U.S. debut as a director. The first film in the Jellyfish Eyes trilogy brings his art to more young people than ever, with a familiar "boy meets girl" narrative and the kind of CGI-filled action scenes one might expect from Star Wars or Harry Potter. And like Star Wars, Jellyfish Eyes begins with a cryptic line scaling the screen: "In this vast universe, we encounter one another miraculously," which sets the tone for a film that follows the interactions of the protagonist, a young boy named Masashi.
The film begins with Masashi trying to find his way in a new town he's moved to with his mother. He encounters a F.R.I.E.N.D., one of 200 characters in the film who help and entertain young people in exchange for data on their energy levels (the kids compete with their F.R.I.E.N.D.s during breaks at school, for instance). The lab who created the F.R.I.E.N.D.s, and its uncertain benefit to the community, is meant to parallel a nuclear power plant, particularly the Fukushima Daini Nuclear Power Plant, which had a nearly disastrous meltdown in March 2011.
After the Tōhoku earthquake and subsequent Fukushima power plant failure, Murakami says he changed the entire storyline of Jellyfish Eyes. He originally thought that Masashi should be an old man, until he decided that post-disaster, children are the truly marginalized members of society who need the most help. By focusing on how to communicate with young people through the film, Murakami says that, even beyond Jellyfish Eyes, "We have to tell kids to believe in themselves."
The day after Murakami's big Vans release in Paris, he held a special event where only kids and their families were invited. Organized by his gallerist, Emmanuel Perrotin, Murakami gave out slip-ons and led drawing activities.
However, earlier in Murakami's career, the pieces that got him widespread attention (and remain his highest sold at auction) weren't as kid-friendly or "safe for work." His 1998 sculpture, My Lonesome Cowboy, which sold for $15,161,000 in 2008, depicts a boy masturbating and smiling. The piece combines the aesthetic of Japanese post-war art with Otaku culture from the '80s, and he named it after an Andy Warhol film.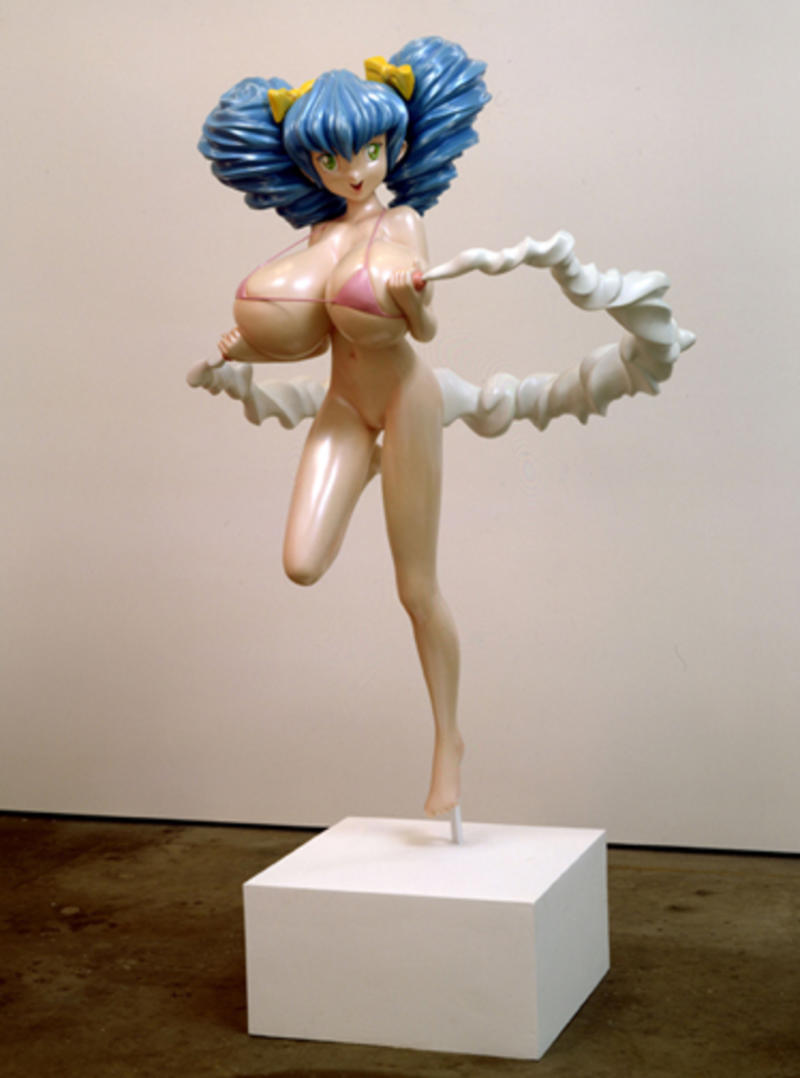 Hiropon, another sculpture depicting the inherent sexuality of anime characters, depicts a busty female character jump-roping with a stream of milk. This sculpture got Murakami on the radar of a newly famous rapper, Kanye West, who visited Takashi in Tokyo specifically to see and photograph Hiropon. Soon after, he asked Murakami to create the album artwork for his third album, Graduation, and the animated music video for "Good Morning." In many ways, this 2007 collaboration with West was the first to open up Murakami to a generation of music-loving youth, even if the Louis Vuitton project brought him into mainstream culture five years earlier. Murakami's Gold Kanye Bear sculpture sold for $1,202,500 at auction in 2009.
Murakami recognizes that these collaborations with musicians have helped bring his work to a younger audience, but he seems confused as to why Kanye West, Pharrell, or the youth have gravitated to his work overall. When we interviewed him last year, he said, "It's actually a mystery to me why they like my work. Even if I ask Kanye or Pharrell, they usually say that it's really colorful, or pop, or nice. I would really like to know and understand more why your readers like my work, to consciously do something and make work that would appeal to them, as well. Right now I'm still exploring what that is."
Perhaps now it doesn't matter why, except that Murakami is intentionally pursuing the young viewership and has gotten even closer to it through Vans and Jellyfish Eyes. His Vans collaboration sold out instantly and is being resold on eBay at rapidly escalating prices. In fact, it's proven so popular that Murakami let it slip that his team bought products from the aftermarket for friends who weren't able to secure a pair. And just last week, Louis Vuitton announced that his monogram collection would be discontinued, which will inevitably drive up those prices, too.
Murakami is not only making his art accessible to more young people than ever before, he's actively helping the careers of young artists (Mr. and Aya Takano began as his assistants and now have successful individual careers). Lately, Murakami is showing the work of young graffiti artists in his Tokyo galleries. In October, he will present his first exhibition in Japan in 14 years, "The 500 Arhats," despite opposition he has faced in his home country in years past.
In many ways, Murakami is exploring new avenues—ones that are potentially risky for him in the short term—but his mission is clear. When explaining the mysterious opening line of Jellyfish Eyes, "In this vast universe, we encounter one another miraculously," he says, "My target for this movie is kids. Kids don't understand what the sentence means, but it's the set-up for something really strange happening."
The same could be said for Murakami's art. The young people now discovering it—the toddlers who get a pair of Murakami Vans, the millennials who learn about him through Kanye or Pharrell, or young art school students who watch Jellyfish Eyes—may not know what it means, but they can wear it, watch it, and eventually learn why it's important. Though Murakami is not essential to the youth's understanding of art and culture, he understands the present and future value of their patronage.