Every generation has a handful of moments where they remember exactly where they were at the exact moment that it happened. For people immersed in sports and sneaker culture, you probably remember where you were when Michael Jordan dragged his foot back across the key during his famous step back shot against the Utah Jazz in 1998 in the Air Jordan XIV—his last game as a Chicago Bull.
the past continues to influence the future.
Mike broke the XIV out months early, because who is going to tell Mike what to do? The move paid off, Jordan hit one of the most iconic shots of all time in a shoe he would never play in again. Kids who watched that game turned on the driveway lights and tried to emulate the move over and over. Anyone old enough to remember that game will never forget the red Chicago jerseys, the questionable push off, and the shoes.
Being nostalgic is a very common and natural tendency.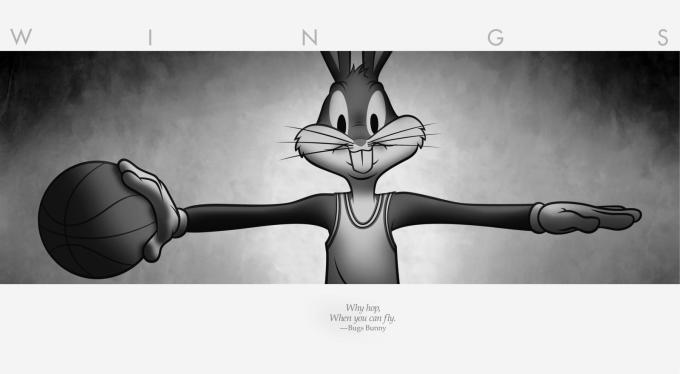 People use nostalgia to hold on to the feelings from the past, typically ones that make us feel good since it's damn near impossible to get that back. It's pretty standard for people of all ages to go through waves of nostalgia to help cope with current challenges and transitions. We benefit from the comfort of our past experiences.
Nike, Jordan Brand and others have made a killing over our love for nostalgia. For every person on your timeline annoyed with brands re-releasing the same colorway every few years, there are far more people who are drawn to some of the stories around sneakers whether they lived through it or are just learning about it.
We're creeping up on 20 years since Space Jam released and 22 years since the Bugs and MJ first linked in a commercial.  That might make some of you feel old in terms of where you are in life but there are still grown men excited for this Saturday's release of the "Hare" Jordan VIIs, all because it takes them back to a childhood obsession for the game, not social media stunting. If you have been on Instagram lately, you know Jordan Brand has done a perfect job of skillfully influencing the right people into being nostalgic with its gift of "Hare" Jordan products. It's not just sports that have us reminiscing over the past and sneakers. Music has been just as instrumental taking us back, with Nike bringing back the De La Soul Dunks after its 10-year anniversary. Whether it moved you sonically or the album cover design was a must for your vinyl collection, when you saw the shoe was coming back you had the album on repeat.
People are still hopelessly waiting on a Nike Yeezy restock since his departure to adidas and it's more than likely it'll never happen. Nike won't even have to market it if they do, there will be a flood of content featuring Mr. West himself performing at the 2008 Grammys in the all-black samples. And everyone that witnessed the moment will immediately tie in the memory of Kanye's heartfelt tribute to Dr. Donda West as he did "Hey Mama" on one knee. Yeah, the Yeezy is dope enough to sell on its own, but again the history and story behind it will make it a must have for everyone who lived it.
Did the Nike Mag really warrant five-figure prices? It was for a great cause so we hate to downplay the charitable factor, but even if they will be a semi-general release this fall, they're going to keep demanding high resell prices. Cool, they light up and have a unique design but you can't front on the fact that everyone that has wanted them dreamed of the pair coming to fruition since they appeared in Back to the Future II in 1989. Even with the retro craze slowing down due to various reasons—mainly oversaturating the market—sneakers from our past trend well because they are more relatable than that new new. The average hypebeast is far too cool to rock a Bugs Bunny shirt in their late 20s but Jordan Brand is gonna do alright slanging tees at $40 a pop on a recycled idea that won't break the bank to market—thanks to your childhood memories.
Will I be picking up a pair of "Hare" VIIs this weekend? Probably not. But with a rumored 500,000 pairs projected to sell out before the end of the weekend, the past continues to influence the future.
Name a non-retro sneaker with all the greatest technology and in the latest trendy colorway that could move that kind of weight. You can't. 
Brandon Edler is a contributor for Complex and content manager at Finish Line. You can follow him on Twitter here.