Apparently Russell Westbrook isn't the only member of the Oklahoma City Thunder with some serious eyewear game.
Earlier today, Nike Vision announced a collaboration with Kevin Durant for a eyeglasses line that'll be available during the course of the NBA season. The collection will consist of two unisex styles, for both adults and kids, and will feature Durant's signature logo on the frames.
"Since I wear glasses as part of my daily routine, it was a natural extension for me to become involved with eyewear," said Durant. "This is a new venture for me, and I'm excited for fans to see the final outcome of the product. As with my footwear, I haven't compromised any technical details for aesthetics, and vice versa."
The The NK 7230 KD (Adult version) comes in a vintage inspired square shape frame, and comes in mix of colors, both flashy and toned down, depending on whatever your feeling. In January of 2015, Nike Vision will drop the NK 5530 KD, a versatile design that's built for young adults and has the durability to withstand the rigors of daily wear.
"With Kevin Durant's eyewear, we wanted to play with color," said Sarah Von de Luft, Color Specialist at Marchon, Nike Vision's licensing company. "We paired classic patterns – such as tortoise – with contemporary hues to ensure that the eyewear appeals to a variety of tastes. The eyewear is fun, yet timeless – it's on-trend, but won't go out of style."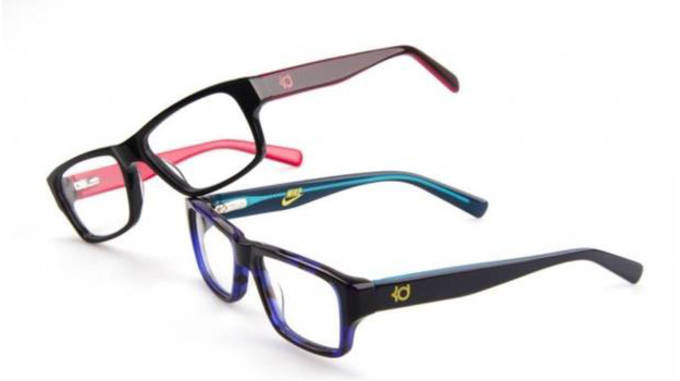 RELATED: Kevin Durant's Favorite NBA 2K Player Is Not Kevin Durant?
RELATED: Ranking Kevin Durant's 5 Most Unstoppable Moves in GIFs