UPDATED 3/16, 7:45 p.m. ET: Months after revealing their 1-year-old son's new name, Kylie Jenner and Travis Scott have filed for a legal change.
According to TMZ, the on-again/off-again couple have submitted a petition seeking to switch their child's name from Wolfe Jacques Webster to Aire Webster. The documents state Jenner and Scott "regret" their initial name choice and now that they've "had the chance to spend time with their baby, they believe the name Aire Webster is a better fit."
The outlet reports the document was signed by both parents.
See original story below.
Kylie Jenner and Travis Scott have announced their baby boy's new name.
Nearly a year after giving birth to the child, Jenner took to Instagram to confirm the infant is now named "AIRE." The announcement included several photos of their son, marking the first time Jenner has showed his full face. One picture showed Jenner taking a mirror selfie while holding Aire in her arms. Another featured the baby sitting on his high chair while wearing a food-covered bib.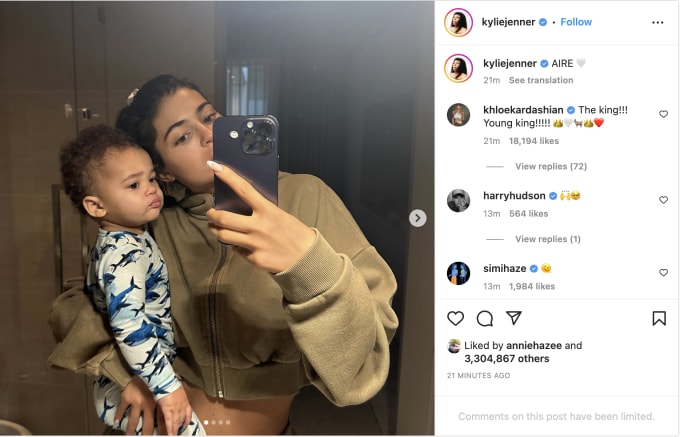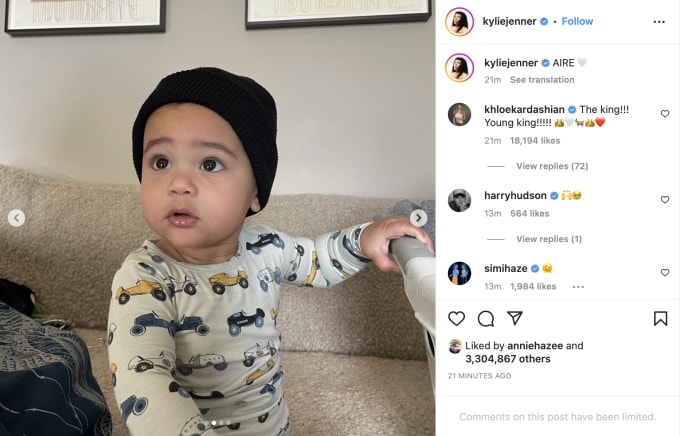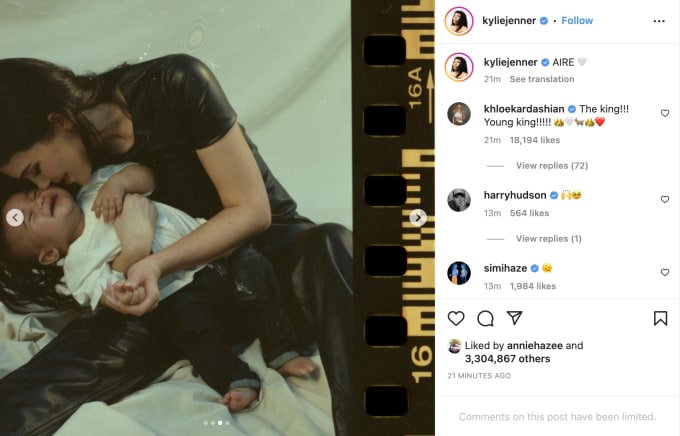 Scott and Jenner—who also share a 4-year-old daughter, Stormi Webster—welcomed the baby boy last February. Shortly after the pair revealed they decided to name the child "Wolf"; however, Jenner ultimately chose to ditch that name because she didn't believe it suited him.
"FYI our son's name isn't Wolf anymore," Jenner wrote on Instagram last March, after sharing a tribute video for her son. "We just really didn't feel like it was him. Just wanted to share because I keep seeing Wolf everywhere." 
Insiders told People magazine that the couple initially liked the name Wolf, "but after getting to know their son, they felt like the name didn't fit him. They wanted to choose the perfect name that they both loved."
The second name announcement came just weeks after Jenner and Scott reportedly  called it quits. A source claimed the on-again, off-again couple intended to spend the holidays together, but Jenner instead chose to join her friends and family in Aspen.
"This has happened so many times before," the source told Us Weekly. "They're known to be on again off again, but always remain friends and great coparents."