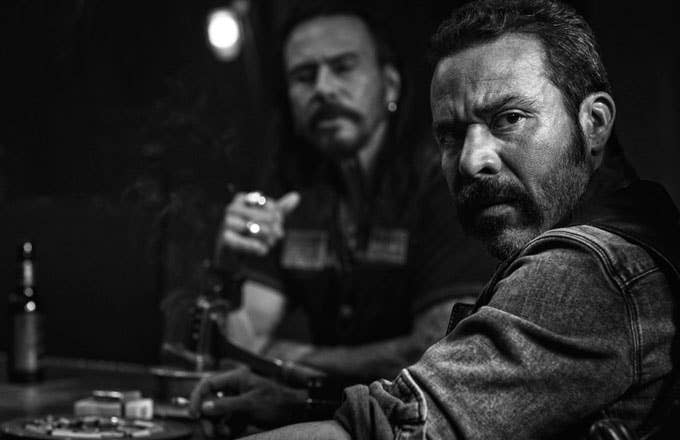 Michael Irby is having a really good year. A veteran actor whose IMDb boasts nearly 70 credits over 20+ years, he's been a steady character actor, working (mostly) in television. But the past year-and-a-half has been a real breakout for Irby, with an increased, recurring role in HBO's Barry and FX's high-octane Mayans M.C., the Sons of Anarchy spin-off which recently had its sophomore season premiere.
Complex caught up with Irby to talk about Mayans, learning how to ride motorcycles, getting back into comedic roles, working alongside the GOAT Anthony Carrigan (aka NoHo Hank), doing stuff that scares him, and much more.
So, let's take it back to the very beginning if you don't mind. Can you talk a little bit about how you got involved in Mayans M.C.? Was it all intimating to get involved in a show that's got such rich connections to a beloved show like Sons of Anarchy? 
You know, I don't like the word "intimidation." I definitely like the word "responsibility." I felt like we were handed something here; I knew there were big shoes to fill, but in the positive way of having to approach it, which is the only way you can, is to make everybody proud, to make the franchise proud, and to make those fans proud. But, you know, this is 10 years later and the people that loved Sons, we were hoping would come and enjoy our show—and it seems to be that they are. Which is kind of exciting. 
I want to talk about Bishop specifically. When you were first looking at the part, was there anything that immediately jumped off the page about his personality that you bonded with?
I definitely understood his sense of loyalty to Marcus Alvarez (Emilio Rivera) who kind of saved him from himself and his own circumstance and existence. He introduced [Bishop] into the Mayan culture, asked him to be a part of his thing, he sponsored me. [Bishop] was up in Oakland for probably many years while the Sons were doing their thing, finding [his] sea legs in that organization before he asked me to open Santo Padre. I started to see all these stories being told, and I started to connect with Bishop's loneliness and his loyalty and his violent side. There were so many things about Bishop that—I tell you man, my mouth just went wet right away. I just wanted to eat. After working for 20 years, you get certain jobs that you think are going to take you into that next phase of your career—and the Mayans is it.
You mentioned sponsorship and I want to focus on EZ (J.D. Pardo) for a second. The season premiere does a good job of establishing a new kind of relationship between Bishop and EZ. With you sponsoring him now, we see more of a direct paternal relationship between you two, including moments where you have to praise and scold him in equal measure. Can you talk about what else we might see from that relationship as we move through the rest of Season 2?
I think Bishop probably sees a little bit of himself in EZ, probably knows he could have walked a different walk had he been given the love and support that he had needed to avoid such obstacles in life. He also knows that the kid is extremely smart; at the end of the day, we all know where this is headed. And if anybody is going to present themselves—even though they might not be a full patch yet—that I see I could hand this over to [it would be him]. There is something in EZ that I actually respect about the young man. The relationship between the two brothers [EZ and Angel] is, as stressed as that is, I see that maybe Bishop could be coming in between those two, but in a way that could only bring them together. 
Which is what I think we're seeing here in the first episode [of Season 2]. It's a delicate dance, cause I sponsored Angel and EZ was Angel's prospect. And that all changed at the end of last year when EZ came and asked me if I could be his sponsor there [at the Mayans]. So, I think what we're going to see more throughout the season is more of that connection. And more is going to be asked of EZ as we move along in this process. He's going to be asked to do bad things, all for the sake of the club and all for the sake of the brotherhood. And if he's able to do that then he's just checking things off the list, you know?
Touching again on EZ, the Season 1 finale had that great revelation that Happy [David Labrava, reprising his Sons of Anarchy role] was responsible for the death of EZ and Angel's (Clayton Cardenas) mother. We know that's going to eventually cause some tension between the two clubs, but how did you react to that reveal?
I just said, "Wow. Freaking Kurt Sutter." Freaking. Kurt. Sutter. Able to tie this web all the way back to the beginning, on some arbitrary kill that he [Happy] got handed from what we're finding out to be another member of the Sons. And being on that pay list, Packer (Robert Patrick) might have something to do with it. I would have never tied all those things together, but Happy from Sons, he was a hitman. He was a hired hand. In all possibility, when we're all living in these same areas, and in the same hoods, and worlds cross each other—that's why when you're riding through someone else's town, you need to let them know. There's all of these rules within this subculture, that you really have to respect those. If things go unheard, unseen they will come back, because it is such a small community that it can always find its way back to the guilty. That just happens to be Happy [laughs]. I was blown away. I knew that was going to add for some great story. I knew it was going to come back to the MC [motorcycle club]. We'll deal with that when we have to, but we're not there yet.
Speaking of old MCs, I wanted to talk about Ron Perlman's Clay. That was a pretty iconic role at the time and him as a club leader is obviously very different from your take, but I wanted to know if there was anything from that role that you personally wanted to draw from or take from his specific kind of leadership. I'm curious as to what you process may have been.
As far as that goes, I was just really trying to create Bishop and my own breath and my own truth in that story. I was aware of what Ron did, I've always been a fan of his work—and totally appreciated and respected what he did on Sons—but growing up Latino and growing up with a different filter on life, on things that are brought to you, or things that you perceive, I knew that there might be some similarities there—but only through the script. Nothing that I was really trying to duplicate. I really want to make it my own and I think Bishop is his own breathing and living human being. But there are connections, you can't ever escape that, but that's through the script. I think Ron felt a little different about his boys than I do about mine, but hey, you know, we might have that conversation and he might tell me it wasn't what you think. I truly appreciate what Ron pulled off there and I only hope I can do everybody justice.
Throughout the show—and a lot of your career—you've gotten to do a lot of stunt and physical work. But riding a motorcycle, having the cut on, feels a little different. Was there a particular moment or setpiece from either the first season, or maybe upcoming, that you were really excited to do or hadn't done prior to joining the show?
I'll tell you man, throughout my audition process: I went in, I met with Kurt, and they were feeling it. And we're talking—and these meetings, sometimes don't last five minutes, sometimes they can last thirty minutes—it's always better when it goes longer. And he just asked me if I ride and I just said that I don't and he asked if I was afraid of it and I said no, just never really needed to ride. We left, and I knew it felt good. And then my manager called me and she goes, "So, you have motorcycle lessons at Glendale Harley." So I went down there, I learned how to ride a motorcycle in two days. It was an eight-hour class that spanned over two days. Long story short: I get my license, I'm feeling pretty good about myself. I drive out to Santa Clarita and say, "Hey guys, here's my license, I can start work next week." And then they say, "Hey come outside and check out your bike." 
Brother, I've only been riding for about eight hours. My driver's license is still wet—it's just printed, it didn't even dry yet—I'm on this bike and this guy says, "Here, we're just gonna ride around the parking lot a little bit and then we're just gonna come over here and take a left . . ." And all of a sudden, I'm riding in traffic and there's red lights, and there's no cones, and there's not guys standing around in safety vest or anything. I'm out there, in the world—the civilized world—riding a motorcycle. There was a lot of really pretty, beautiful, crazy conversations going on in my head. I'm like, "What the hell are you doing?! Why are you doing this?!" 
It's actually such a joy: A part of this job is to go out and ride the bike with just my boys there. We're just riding down the freeway, doing a night shot, and the moon is out and they've got the camera car in front of you, or just rolling down the street at 50 miles an hour, just cruising. That's one of those times you've gotta pinch yourself and say, "Man, I'm at work. I cannot believe I am at work right now." I was able to bring in my military experience to this—I don't have [actual] military experience, but I've played a lot characters on television and film [that do]—and it all [became] a part of Bishop. I knew we could start to add these layers to who this guy is. I think throughout the season, we're gonna start keep finding out more and more [about him].
So you've kind of hinted and teased a few things that we might see in Season 2, but are any other tidbits or kernels you can give us?
I would say make sure you have your popcorn and don't miss a thing. There is so much coming, I really don't want to give anything away. I'm such a big fan in that respect that I never want to share too much. I hope that's not a boring answer, but there's just so much stuff to go on. We're just shooting the ninth episode now, and my head is kind of full with that. But as a fan, I show up to work and I love the people I'm working with—both old and new—if that could be a teaser.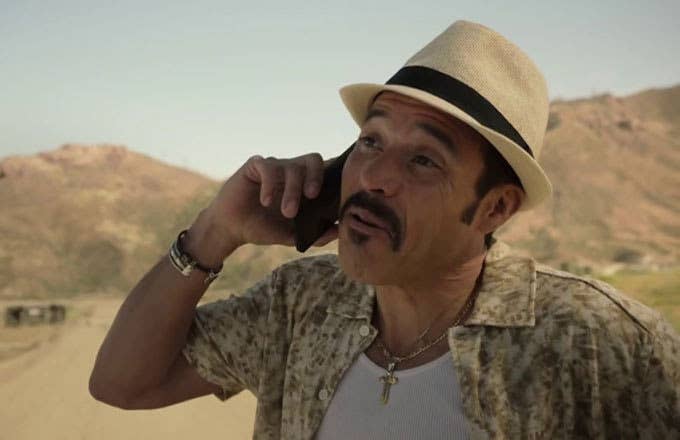 I want to pivot to this other little show that you're also a part of—the Emmy-nominated Barry. Congratulations. 
Thank you, thank you. I've heard about that little show [laughs]. I hear a few people are watching it. And it's actually being appreciated by the critics, which is always a beautiful thing.
I read elsewhere that you actually did a lot of comedic work while you were in school, so I wanted to know what that was like for you to return to. I know the show constantly switches between both dramatic and comedic tones, but what's that comedic process been like and it is something you'd like to do more of in the future?
It was something that I did a lot in school, and it wasn't that I did a lot of it, it's just that the teachers in our groups were like, "Oh, you're funny." So I'd just be getting these guys that weren't necessarily written funny, but I could put my own spin on them just because of my own sense of humor, or whatnot. When they called and asked me if I was interested in coming for it, I said, "Well, yeah!" I was literally coming in for two days in the first season, so I didn't really know what I was doing. It kind of excited me, it kind of scared me a little bit because I hadn't done something like that in a long time. I heard Bill Hader and I heard Alec Berg and I knew the casting directors and was like, "Yeah, I'll come in and give a shot." 
So I got dressed up! I don't really get dressed up for certain things. I got a little wig and put a little costume and I wore a little hat and I just got into this other side of it again. Which just really freed me up, you know? I went in there and they totally responded and I got the part. And then they called me back to come and do Season 2 and I was just overwhelmed. The show had become a huge hit during that time and it was an absolute honor to be asked to come back and do season 2. I find it so funny that the gangsters of this show are the comic relief. 
But NoHo Hank, the first time working with Anthony [Carringan] I said, "Wow, this guy . . . this guy is amazing!" [Laughs] "He's off his rocker! I don't even know how to respond." You're not trying to match, but you're playing at this point. A lot of the serious, serious, serious stuff I was doing [with Mayans]—there's all this life or death on the line and you're looking into somebody's soul and you're getting ready to murder them— but on [Barry] I'm just looking at NoHo and I'm just like, "Bro! Hey listen, hey buddy, I love you!" It was just such an interesting space to play in, I hadn't been there in such a long time. You know, like [Robert] De Niro and some of the older guys who have transitioned into a bit more of a heavy, serial comedy guy, I think I could go that way when I'm done kicking in doors and riding Harleys. After I got out of school and started working, for better or for worse, I was typecast as this tough guy, and it's so not the truth. Anyone that knows me knows that, which is funny cause Cristobal has that line in the beginning like, "Nooo! Who did you hear that from?! I'm a sweetheart, bro!" So, just a credit to those guys, you know, 17 Emmy nominations, it's incredible. Bill is just—for him to go this route and to create this show after 20 years in the business, you think you've seen it all, you think you've done it all. He created something that's absolutely unique and special. And the fact people have responded [to it] has just been awesome.
You mentioned Anthony and I'd be remiss if I didn't ask you what it's like to work together. I think the chemistry you have there is great and I'm curious as to what he's like as a scene partner for you and what he may bring to your process.
He's a magical dude. We can sit there and have our coffee and we're just talking shop and life and what not. Then you hear "Action!" and see this thing kind of come on. As an actor, when you're playing with someone that is giving you so much, it really excited me and inspired me and shook me up to just say, "Hey, there's no bad takes. You're not even sure what you're doing. They're not sure what you're doing! Just go for it!" To be able to hear from Bill when he would come in and just say, "More, more, more!" it's so rare to hear that. On the heavy side it's always, "Hey, a little less. A little less." I used to leave work from that and say, "Whoa. What did I just do? What have I just thrown out there for the world to see?"
This has just been crazy too, the response from my friends and fans. I'll be certain places and I see someone make eye contact and I think they must be watching Mayans and then the guy is like, "Hey, I love you on Barry!" To able to be in such different worlds of happiness and loneliness, sadness and joy—it's great to be able to do that as an actor. It's been a fantastic year and I hope there's more to come.
That last point is definitely something I wanted to touch on. You've been in the business for a really long time, but in the last few years you've really exploded in a big way. What's next? I know you've got these two shows, but is there anything else on the horizon you can tease for us?
We were in Italy over the holidays. I'm staring at this 5,000 year-old-building and a woman comes up and she says, "Ah, excuse me. Are you Bishop?" and I said, "Oh wow, the world domination—the world takeover—has begun!" 
No, but in all seriousness, I just want to keep on creating, doing stuff that scares me. There's really nothing on the plate right now. Supposedly—whisper whisper—there is a conversation about Season 3 of Barry. I do know that we all saw Cristobal escape out of the back of the monastery when Barry came in and shot the joint up. He was able to escape in his tight white jeans out through the back door there so I believe that is a conversation being had. I would love to be back. I would like to hop into one of these movies during my break here. We're getting ready to go on a break [from filming Mayans] here in a few weeks and I just—hey, my Dad used to say, "You'll sleep when you're dead." I knew what that meant [back] then—I had like five different jobs as a kid—I was always a hustler. And if the time is now, the time is now. I'm ready for the next greatest thing.