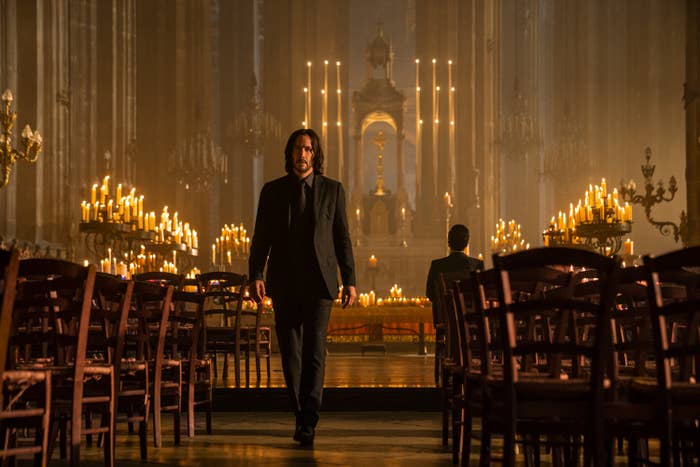 In talking about John Wick: Chapter 4, it's best to discuss South Park first.
In browsing TikTok the other day, I came across a recirculated video of Park creators Trey Parker and Matt Stone lecturing a group of NYU students over a decade ago about storytelling—specifically, the idea that good scripts are moments assembled around the concept of "but" or "therefore."
"This happens, and therefore, this happens," says Parker in the clip. "But this happens; therefore, this happens." It's a simple concept, but it highlights the importance of cause and effect throughout storytelling. 
Messing around and finding out is the core ethos of the John Wick franchise, but the latest installment of the Keanu Reeves-fronted action series turns its gaze towards the horizon and sees the chickens come home to roost. Picking up moments after the end of Parabellum, Chapter 4 begins with Wick renewing his crusade against the High Table and its governance over the shadowy underworld of assassins. Only this time, the Table is taking a more involved approach, sending high-ranking official Marquis Vincent de Gramont (Bill Skarsgård) to execute a series of schemes to bring Wick down once and for all. 
Gramont quickly asserts his will, decommissioning the New York branch of the Contential and putting Winston Scott (Ian McShane) and Charon (the late, great Lance Reddick) out of business. From there, Gramont recruits the retired killer—and friend to Wick—Caine (Donnie Yen) and enlists the upstart tracker Mr. Nobody (Shamier Anderson) to end the Baba Yaga's reign of terror (and the Table's suffering) once and for all.
With his list of allies diminished and the Table leveraging every means necessary, Wick begins another globetrotting trip to gather what resources he can find while working to usurp the Table. Chapter 4 hits Japan, New York, Berlin, and Paris while playing to the franchise's storied formula: We meet new friends and foes and dive deeper into the ever-expanding lore of the world. Oh, and there's lots and lots of killing. The thing about a formula is that if it works, it works—and that's still very much the case here.
The expertly-choreographed and rollercoaster-like nature of Wick's action sequences remains an equivocal bright spot in the action genre since Reeves and director Chad Stahelski redefined it with the release of the first film almost a decade ago. Chapter 4 is seemingly hellbent on reimagining what's possible; the first two-thirds of the film feature pseudo callbacks to other entries in the franchise. It's not just the greatest hits of what's come before but an improved execution of familiar beats, which lulls the audience into thinking they can anticipate what's next.