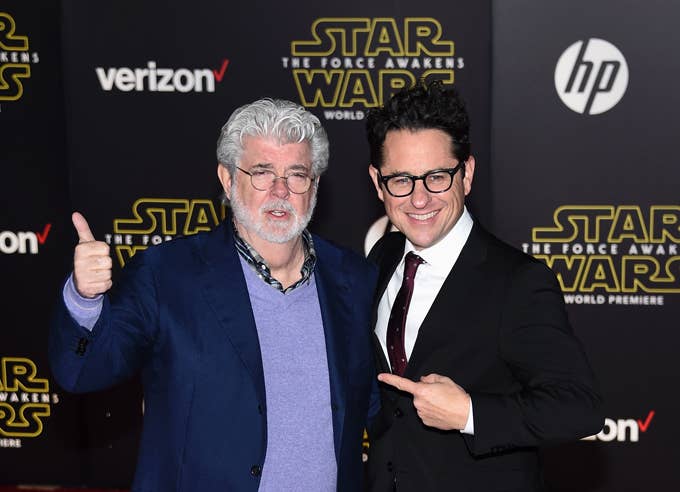 When it was announced that a Star Wars TV show brought on by the Game of Thrones showrunners is on its way, I had two thoughts: "Yay more Star Wars!" and "Ugh, more Star Wars from the perspective of white men."
While the most recent Star Wars films made major leaps for including people of color on the screen with John Boyega as Finn, Oscar Isaac as Poe and Kelly Marie Tran as Rose Tico, the creators behind the screen remain the same.
Variety reports that twenty-three out of twenty-four key Star Wars' creators (writers, directors or creative leaders) were white men. (That's 96% for the non-math folks). The only non-white man who sat on the creative team is Leigh Brackett, a white woman who earned screenplay credit for The Empire Strikes Back. So, not only has it been 38 years since Star Wars hired a non-white man for its creative team, they have also never hired a person of color to be a director or writer in its decades-spanning existence.
The Star Wars franchise is over 40 years old with 17 theatrical films (including the ones that have only been announced). Now, that they've brought on Game of Thrones' David Benioff and D.B. Weiss for the newest series, they've continued an unfortunate trend in its creation. It doesn't help that the GOT duo has drawn criticism by people of color for wanting to create a now-canceled Confederate series that would explore a world if the South won the Civil War as well as for rarely including people of color in Game of Thrones outside of the Unsullied army led by Daenerys.
Even Boyega, who holds a major role in Star Wars, called them out on it.
"There are no black people in Game Of Thrones," said Boyega in an interview with GQ last year. "You don't see one black person in Lord Of The Rings. I ain't paying money to always see one type of person on-screen."
But as Disney continues to expand the Star Wars universe, we can only hope that they also broaden the opportunity for people of color to tell the epic storylines about "a galaxy far, far away" as well.