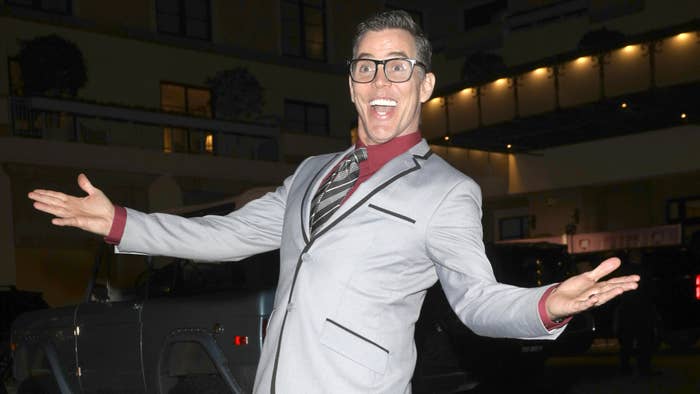 With the critically and commercially well-received Jackass Forever now nearly a year and a half in the rearview, Steve-O is reflecting on how the experience differed from previous entries in the franchise.
Speaking with Kevin EG Perry for a recent NME profile, the Wild Ride! podcast host—who's currently out on the road with his Bucket List tour—tapped into the powers of the word "bummer" when looking back on the sequel's production.
"This last Jackass movie… it was kind of a bummer, man," he told the publication. Getting specific, Steve-O highlighted a bull-based stunt from the film that left fellow star Johnny Knoxville with brain damage and other injuries.
"It's not fun to watch Knoxville get hit in the head any more," Steve-O said, adding that he shared a message with the Jackass Forever cast on the day that stunt was performed. In it, he revealed, he thanked his co-star for all their "sacrifices" while simultaneously urging them to chill with the brain stuff.
"It was one of my more serious and sincere messages," Steve-O recalled.
Knoxville himself opened up about the severity of his bull stunt injuries in February of last year, the same month Jackass Forever rolled into theaters after a series of pandemic-spurred delays. Asked by the Guardian whether he regretted the stunt given how it turned out, Knoxville noted he did not. According to Knoxville, he knew ahead of time that this was going to mark his "last time" doing stunts at this level. "I have nothing to complain about, only things to be grateful for," he said at the time.
The new Steve-O profile, meanwhile, also includes further insight on Bam Margera's recent issues and a broader sobriety discussion, as well as a wish from the A Hard Kick in the Nuts author that Machine Gun Kelly's Jackass Forever appearance had been centered on a "higher level" stunt. Read more here.
Jackass Forever opened to strong reviews last February, ultimately going on to earn more than $80 million at the global box office. In addition to touring, Steve-O has maintained a consistently headlined presence on YouTube and elsewhere with his Wild Ride! podcast series.
Its most recent episode at the time of this writing featured Josh Peck, who opened up about his experience as a child star and his appreciation for the work of Amanda Bynes. Other recent Wild Ride! guests include Fred Armisen, Eric André, Benny Blanco, Jasper Dolphin, and Mod Sun.