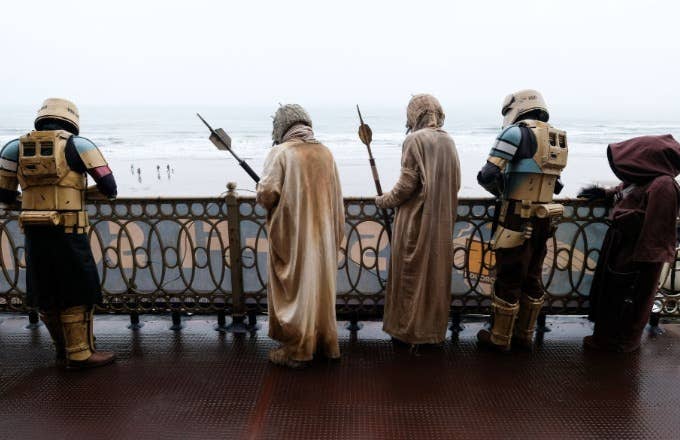 Speaking with Bloomberg Thursday, Disney CEO Bob Iger pointed to a post-release "hiatus" for the cinematic extension of the George Lucas-crafted universe. "We will take a pause, some time, and reset, because the Skywalker saga comes to an end with this ninth movie," Iger, who also noted that no "specific plans" for additional films have been announced, said. "There will be other Stars Wars movies, but there will be a bit of a hiatus."
The focus in the interim, it seems, will be placed on the brand's brewing television prospects. Returning franchise director J.J. Abrams' Episode IX, meanwhile, wrapped principal production back in February and is set for release Dec. 20. Its subtitle has yet to be revealed, and a trailer's status is unknown.
In June 2018, with Solo underperforming at the box office ($393M globally all told), reports emerged that Disney was pausing all its Star Wars Story standalones. Rian Johnson's new trilogy and the Game of Thrones' creators shadowy "series" of films were said to be unaffected. In September Iger gave official comment: "I made the timing decision, and as I look back, I think the mistake that I made—I take the blame—was a little too much, too fast. You can expect some slowdown, but that doesn't mean we're not going to make films."
During a recent stop by the Awards Chatter podcast, prolific actor/living legend Mark Hamill pondered the possibility of coming down with Star Wars fatigue. As Hamill explained, even for someone in his position—i.e. that coveted Luke Skywalker spot—fatigue was a very real possibility. "I'm not gonna tell them how to run their business, but is there a possibility of 'Star Wars fatigue'? Yeah, I think there is," Hamill said earlier this month. "I've experienced it, to a certain degree. But they never listen to my ideas anyway, so who needs 'em?" 
Hamill made similar comments in March 2018, shortly after Episode VIII: The Last Jedi, saying the powers that be should "pace themselves" before they "over-saturate it. I said to Disney, 'Really? Five months after we come out comes [Solo]? Can't you at least wait until Christmas?'"
For those not keeping a close eye on developments surrounding Disney's new Disney+ subscription service, Lucasfilm boss Kathleen Kennedy announced at this week's Disney Investor Day that the full Star Wars franchise would be available on the platform within the first year of release. Multiple Disney+ live-action series are underway.