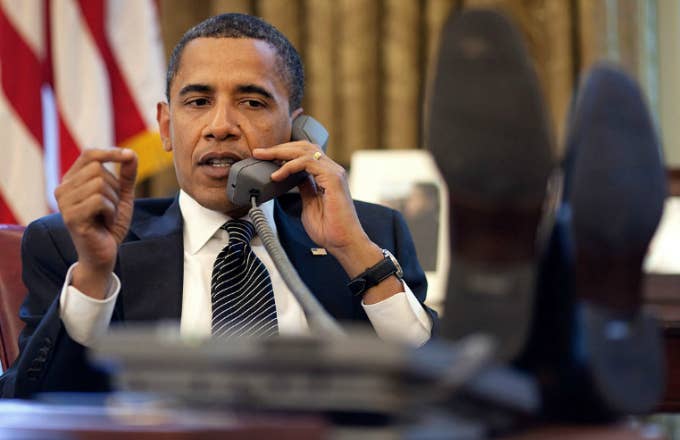 If the current political climate has you feeling abysmally depressed about the future of the nation (and, thus, the planet), then you can at least take comfort in knowing you're far from alone. In fact, even President Barack Obama isn't feeling the current election season vibes. Taking specific aim at the current crop of anti-brain Republicans, Obama told Politico's Glenn Thrush the fate of 2016 rests firmly in the hands of voters who must measure "the degree to which the Republican rhetoric and Republican vision has moved, not just to the right, but has moved to a place that is unrecognizable."
Adding that American politics had grown noticeably "meaner" since he took office in 2008, Obama also spoke candidly about his fellow Democrats. "Bernie [Sanders] came in with the luxury of being a complete long shot and just letting loose," Obama said during an episode of Politico's "Off Message" podcast, as quoted by the New York Times. According to Obama, Sanders is "fearless" and has "the virtue of saying exactly what he believes."
Though he offered genuine praise for Sanders, Obama reserved the bulk of his support for former rival Hillary Clinton, admitting that her almost immediate status as a front-runner was both a "privilege and a burden." However, the most illuminating moment in Obama's chat with Thrush revolved around old pizza and a dash of 2008 Iowa nostalgia:
"If you were feeling bad, you went to Iowa for a while and you went to the headquarters and you ate some, you know, old pizza and just talked to these guys and you got fired up all over again."
At this rate, an actual slice of pizza would likely make a better president than any of these "unrecognizable" Republican hopefuls, yeah?