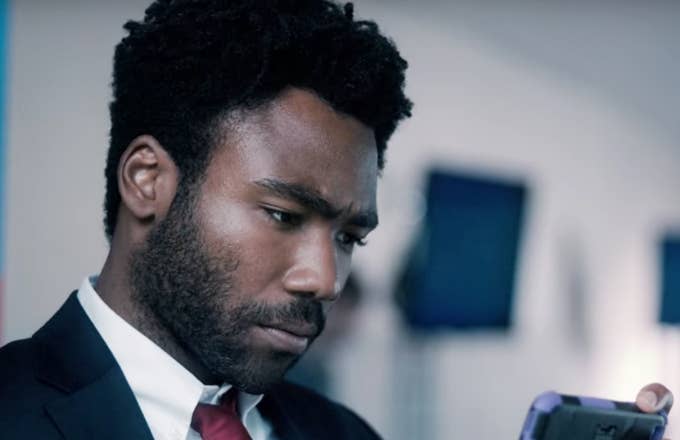 Donald Glover is waiting on the right idea to come along before he makes his feature-length directorial debut. In a new interview with Deadline, Glover discussed his desire to one day helm a feature film and the flexibility of his creative process.
"Absolutely," Glover said when asked if he could see himself eventually directing a movie. "I think it'd be fun. I just have to have the right idea. I think directing is like everything else; if you're storytelling, then you have to be really confident in what you're telling. I think Atlanta only works because I was confident. Even if I was wrong, it had a perspective and I was very confident in what I wanted to achieve. I think eventually I will, but I'd have to be confident in what the story was and what the script was, and right now, I feel pretty good just focusing on Atlanta. It's kind of scratching that itch for me."
Glover directed the short film "Chicken and Futility" in 2014 and multiple episodes of his FX series Atlanta last year.
Glover's creative process follows a "rough schedule," allowing him the freedom to walk away from his desk and live some life when he's not feeling it. "I just have a little office and I sit at my desk and I just play around with sounds or writing," he toldDeadline. "Some days it's all work, and I'll work until two in morning, four in the morning if I'm really on a roll. And then some days it doesn't feel right and I'll go to the park with my son. It really depends."
The ultimate goal, Glover explained, is to reach Steven Spielberg levels of creative freedom. "If Steven Spielberg wanted to make a movie right now about, I don't know, horses that shit gold, no one's going to be like, 'We're not going to let you do that,'" he said. "He has everything."
Read the full Donald Glover x Deadline interview, including some on-set Star Wars thoughts, right here.