 Kendrick Lamar dropped his second Damn video Tuesday, bringing in Don Cheadle for the very GIFable visuals of "DNA." Brocky Marciano, Schoolboy Q, and Lamar's niece also make appearances in the "Humble" follow-up, directed by Nabil (Frank Ocean, the Weeknd) and the Little Homies (a.k.a. Lamar and Dave Free). With so many instantly classic moments to take in, a few people (myself included) missed a reference that now seems obvious in retrospect.
In "DNA," Lamar fully embodies the "Kung Fu Kenny" moniker first mentioned on Damnin the track "Yah." Lamar also teased the new name shortly after releasing "Humble" in March:
But the original Kung Fu Kenny? That distinction goes to none other than Cheadle himself. In the hit 2001 sequel Rush Hour 2, starring Chris Tucker and Jackie Chan, Cheadle makes an uncredited appearance as a minor character named Kenny:
Kenny, an old pal of Tucker's character James Carter, owns a Chinese restaurant on Crenshaw Blvd. in Los Angeles. The original Kenny is a proven expert in the utilization of the Twisting Tiger technique, as Cheadle himself reminded us Wednesday: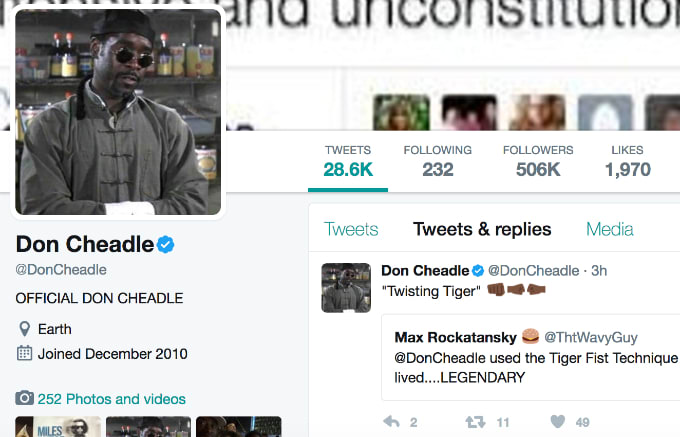 For those asking: Yes, Cheadle did his own stunts.
Cheadle also recently changed his Twitter profile pic to a photo of the honorable Kenny:
Prior to the release of "DNA," Cheadle was dropping hints all over Twitter about an imminent Lamar collab:
Speaking of people who are really good at Twitter, Complex recently included Cheadle in a ranking of other celebrities who drop nothing but gems on social media.