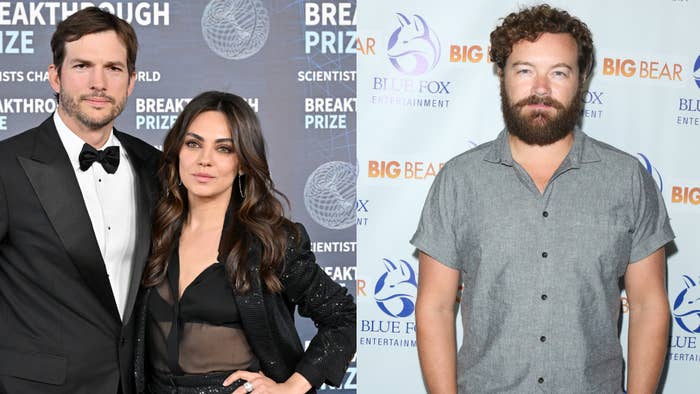 A clip of Ashton Kutcher and Mila Kunis discussing their That '70s Show characters' first onscreen kiss on an episode of The Rosie O'Donnell Show back in 2002 has resurfaced.
The resurfacing, of course, follows the 30-year sentence given to the couple's fellow That '70s Show star Danny Masterson after the actor was convicted on two counts of rape by force or fear in a retrial. The clip, which first aired in April 2002, is taken from a Rosie O'Donnell episode featuring several stars from the then-current comedy.
"What's funny is she was 14 when we started the show," Kutcher said in the 2002 interview. "I was, like, 19. And they're like, 'OK, you guys are gonna be making out in this scene.'"
At the time, Kutcher joked, he wondered if this was "slightly illegal." From there, Kunis noted that her first kiss was this particular onscreen one with Kutcher. On the series, Kutcher played Michael Kelso and Kunis played Jackie Burkhart. As fans know, the storyline of the eight-season comedy saw the two characters dating, while the more recent spinoff That '90s Show revealed they eventually married.
In the resurfaced clip, Kunis is seen jokingly asking Kutcher to tell the host about the "bet you made with Danny about our first kiss." Kutcher responded by disputing that this was the first kiss and also pushing back against Kunis stating it occurred during the first week of shooting. Kunis eventually detailed the apparent bet, which she said centered around $10.
"Danny goes to him and goes, 'Dude, I'll give you 10 dollars if you French kiss her,'" she said.
Looking back on the moment, Kunis recalled being nervous about the onscreen kiss while complimenting how Kutcher initially approached this aspect of their characters' stories prior to the bet.
"We had a little side bet going," Kutcher said of the bet, later adding that it was for $20, not $10.
"So Danny bets me like 20 bucks that I wouldn't do it and of course I'm like, 'Yeah, sure, what's the deal?'" he said.
Masterson, who played Steven Hyde on the series, was sentenced to 30 years to life last week. As previously reported, this isn't the first clip to be resurfaced following Masterson's sentencing.
Amid coverage of Masterson's conviction and eventual sentencing, it was revealed that Kutcher and Kunis (and other That '70s Show alumni) had written character letters to the judge. After Kutcher and Kunis' letters received public criticism, the couple—who married in 2015 and now share two children—took to IG to offer an apology.
"[The letters] were intended for the judge to read and not to undermine the testimony of the victims or re-traumatize them in any way," Kutcher said in a joint video statement with Kunis. "We would never want to do that, and we're sorry if that has taken place."
The couple's character letters have continued to be the source of criticism, including from Chrissie Carnell Bixler, one of three different women who alleged they had been raped by Masterson.